While they don't have a pick in tonight's first round of the NHL Draft the Detroit Red Wings still found a way to make news this morning, reportedly agreeing to terms with Swiss star Damien Brunner on a 1-year 2-way contract.
"Swiss media is reporting Brunner will sign with the Wings, though he cannot officially do so until July 1. General manager Ken Holland told the Free Press the Wings have interest in Brunner, but "he's under contract for '12-'13, so we'll see where it goes."
And just in case that leaves too much doubt in your mind, DetroitRedWings.com managing editor Bill Roose himself confirms:
Just receiving word that the #RedWings have agreed to a deal with Damien Brunner, but can't sign the Swiss star before July 1.

— Wheel Deal (@Bill_Roose) June 22, 2012
While the deal won't be confirmed until July 1st, Red Wings GM Ken Holland was more than happy to confirm the team's interest in Brunner to the Free Press:
"Mike Babcock and I saw him play at the World Champions, and we liked what we saw. He's very talented."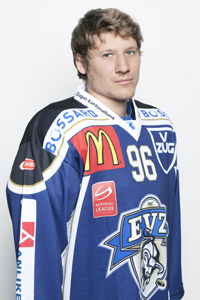 The high praise doesn't come unwarranted; Brunner lead the entire Swiss-A league in scoring with 24 goals and 60 points in 2011-12, garnering himself a plethora of NHL attention from teams like Pittsburgh, Tampa Bay, and of course Detroit. The excellent output isn't a one-off performance either, Brunner has put up better than point per game numbers in each of his last 3 seasons, totaling 164 points in just 132 games.
He brings more than a point-accumulating knack to the table though:
"Brunner, 26, isn't big (5-11, 180), but he's a fast-skating, highly skilled winger who shoots right-handed […] He's a Jiri Hudler-type of player, except with speed."
"He isn't a big guy – around 5-foot-10, 176 pounds – but he's a good skater, stick-handler, has a good shot and shows grit around the net."
"Brunner, 26, is only listed at 5-foot-11, 180 pounds but scouts like his speed and goal-scoring ability."
"A slick offensive forward who can shoot as well as pass the puck. Has great wheels and hands. Plays a gritty game."
While there's clearly some discrepancy on Brunner's height and weight, the unanimous conclusion is that Brunner is Jiri Hudler 2.0, which works out great since the 1.0 version is likely on his way out the door (there also seems to be little argument that Brunner is 26).
With Jiri on his way to payday, and the Wings expected to sign an NHL-proven goal scorer, Gustav Nyquist may have just found out who his top-6 competition is going to be, but even if Brunner can't earn a spot on the top 2 lines, he'll easily fill the shootout lineup vacancy Hudler leaves.
http://www.youtube.com/watch?feature=player_embedded&v=jdaOemuCXp8#!
(Thanks to HFBoards user DatsRatchet for finding these clips)
If there's still a question in your mind as to how much talent Brunner brings to the table, there's one last hope to convince you that this signing is a good thing.
Brunner's contract will be a 1-year 2-way entry-level deal. That limits his base pay to a maximum of $925,000 (though bonuses can, and likely will be, a part of the contract). If he's unable to adjust to NHL ice quickly, or fails to perform at all, he can be sent to the team's AHL affiliate Grand Rapids Griffins without passing through waivers where he'd surely be snatched up. There's little risk involved in this signing, and the potential for a whole lot of reward.
We'll have to wait until July 1st for the official news, but it appears to be a done deal, and it's almost certainly a good one.
EDIT: July 1st is here, and the signing has been made official.
The Red Wings have signed RW Damien Brunner to a one-year contact. Per club policy, terms of the deal are not disclosed.

— Detroit Red Wings (@DetroitRedWings) July 1, 2012
The deal is reportedly worth $925,000 plus bonuses.