Malcolm Subban THW Close-up:
Date of Birth: December 21, 1993 Hometown: Rexdale, Ontario  Height: 6'1″  Weight: 188 lbs  Catches: Left Position: Goaltender NHL Draft Eligibility: 2012
Click here to view the 2012 NHL Entry Draft Guide – "The Next Ones" – your quintessential draft resource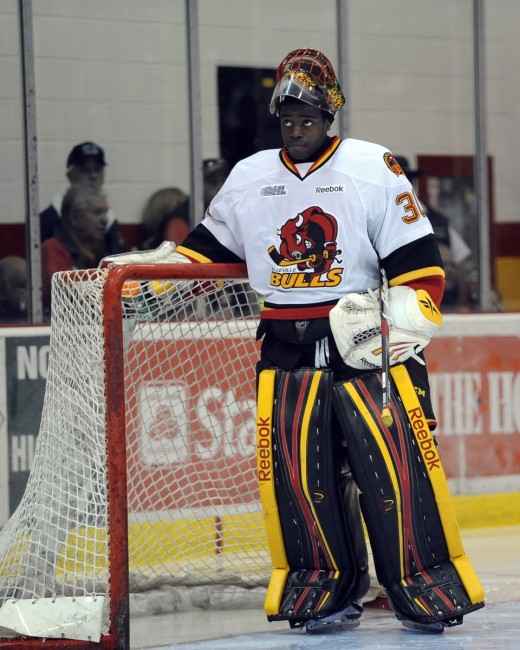 Perhaps the hardest position in all of hockey to predict long-term, goaltenders tend to slide up and down draft rankings throughout the year as their performance goes.  The Belleville Bulls Malcolm Subban represents the best right now and potentially in the long-term of the goaltenders of the 2012 draft class.
Subban plays a butterfly style,  is solid technically and plays with poise and confidence.   He possesses exceptional quickness and agility and moves post to post with great mobility.  His strengths are certainly his athleticism and his extremely quick reflexes allow him to make saves many other junior goaltenders would not make.  He compares his style to that of the Penguins Marc-Andre Fleury, and you can see the similarities in terms of the pure athleticism.
He is still somewhat of a work in progress as he didn't start playing goal until age 12 and still has some work to do with positioning and rebound control but he has perhaps the most upside as any goaltender in the draft and the most long term potential in the last few years of any goaltender.
Known as much for his surname as he play for the Bulls, Malcolm is hoping to follow in big brother PK's steps and make an impact at the NHL level.  The Subban brothers are already becoming household names in Belleville as PK was a star defenceman there, Malcolm has followed in his footsteps in being a main attraction for the team and younger brother Jordan who just finished his first OHL season, also patrols the blueline for the Bulls. With PK having success, Malcolm a potential first round pick, and Jordan already turning heads, it could be another family affair in the NHL following the likes of the Sutters or Staals.
International Tournaments:
2010-2011 World U-18 Hockey Championships – Canada – 5GP 2.98GAA .913S%
Scouts Honour:
Subban will enter the draft as the consensus #1 goaltender on most lists.  He is currently the #1 ranked netminder in North America by NHL Central Scouting.  He has also jumped up to #8 overall on TSN draft analyst Craig Button's May rankings, and is ranked at #31 overall by THW draft analyst Chris Ralph.  Just goes to show the unpredictability of where goaltenders will be drafted.
"It's in his blood. He's a natural goaltender…..He's big but he doesn't just stand and get hit by the puck. He's so athletic, he uses a lot of his reflexes." – Bulls' goalie coach Sebastien Farrese
"The younger brother of Montreal Canadiens defender P.K. Subban might play a different position, but he is no less talented. Belleville Bulls' goaltending prospect Malcolm Subban is arguably the best North American netminder of the 2012 draft class. Blessed with athleticism and a fiery work ethic, Subban placed among the top five in goals against average and save percentage in 2011-12" –DobberProspects.com
"I see Malcolm as Carey Price," Jensen told NHL.com. "He's calm and poised. I find Fleury as more of an acrobatic goalie and getting out there, but Malcolm is very good with his positioning with outstanding lateral ability and quickness. He can make the big save to turn a game around, but he covers post-to-post so well with his butterfly. His leg extension is incredible and he has a very quick glove hand." – Al Jensen, NHL Central Scouting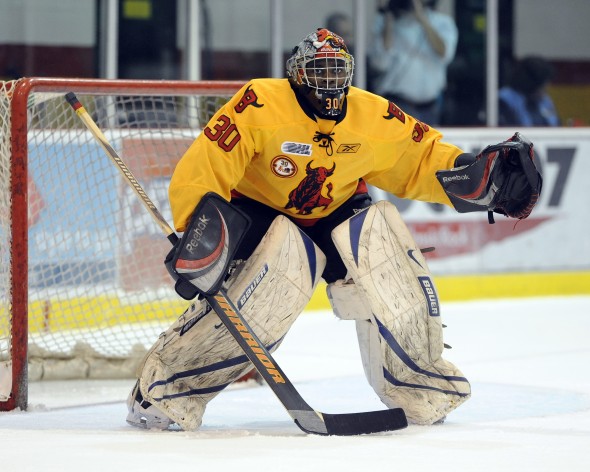 Statistics:
Bio/Interview Links:
NHL ETA:
Risk/Reward Analysis:
Risk: 2/5  Reward: 5/5
NHL Upside Potential:
Strengths (See THW Close-up):
Athleticism
Quick Reflexes
Lateral Movement
Quick Glove Hand
Poise
Flaws/Aspects to Work On:
Rebound Control
Work in Progress (Only been playing goal for 6 years)
Fantasy Hockey Potential:
NHL Player Comparison(s):
Subban compares his game to Marc-Andre Fleury, but many scouts see him more like the Habs Carey Price
Video:
http://www.youtube.com/watch?v=ZC3wVQnPmQA
Off The Iron (Interesting Notes):
Not only does Malcolm have older brother PK, and younger brother Jordan who have donned the Bulls sweater, but there is also younger cousin Marselis who was drafted by the London Knights and hopes to be in their lineup next season
THW "The Next Ones" prospect profile design architect is Chris Ralph
Carl covers the Edmonton Oilers for THW as well as providing additional prospect coverage. Follow him on twitter @carlTHW, connect on Facebook or contact at carl.maloney@hotmail.com for questions, comments or if you're interested in him writing for you.