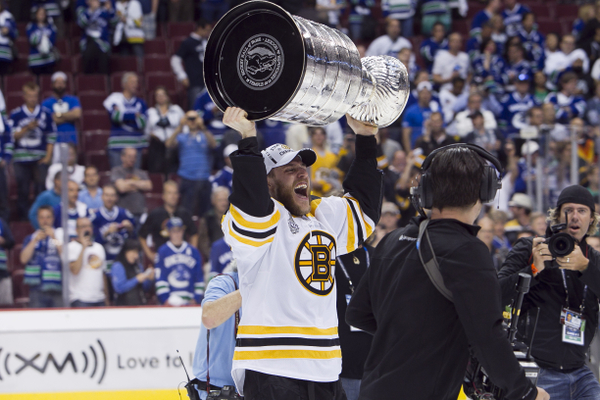 Boston Bruins 2012 NHL Draft – The "Big-Board"
The Boston Bruins possess the 24th pick in the upcoming 2012 NHL Draft and there's considerable speculation on which players will be available – and which they should take.
The following is an estimation of the Bruins' First-Round Draft-Board. These rankings aren't simply derived from my personal rankings (which you can find here); but are instead an amalgam of my opinion, the opinions of many within the scouting/analysis community, and the Bruins' track record at the Draft.
1. Nail Yakupov; 2. Ryan Murray; 3. Morgan Rielly; 4. Alex Galchenyuk; 5. Matt Dumba
None of those guys will be available after pick-ten. None. Zilch. No way, no how… OK… maaaaaybe Rielly. All of them (save for Rielly) should be gone by pick-five.  The Bruins would have to make some crazy, game-changing trade to snag one of them. If you've already got a Yakupov nameplate for your Bruins jersey: Get off the drugs… but, man, how good would Rielly look alongside Dougie in five years… sigh.
6. Filip Forsberg; 7. Griffin Reinhart ; 8. Teuvo Teräväinen; 9. Jacob Trouba; 10. Cody Ceci
Much the same can be said of this quintet as the previous. Forsberg is almost a lock to go top-five, Teräväinen's stock continues to climb even after the season's ended and Reinhart, Trouba and Ceci look like low-risk – high reward blueliners with first-pairing upside.
Most of these characters will find new homes in the top-twelve selections. If one or two happen to slide to fifteen, expect the B's to make a significant push to move up.
Still, it would take significant value (we're talking something on the order of a roster player, a top prospect and the Bruins' first) for the B's to situate themselves in a position to even have an outside shot at these youngsters. Sorry, folks… only in your dreams.
11. Mikhail Grigorenko; 12. Radek Faksa; 13. Hampus Lindholm; 14. Olli Määttä; 15. Zemgus Girgensons
OK, here's where things start to get interesting. Grigorenko and Faksa… yep, they'll be gone. Girgensons, too.
…But Lindholm and Määttä could still be around. Some consider both dark-horses for the top-ten – but there's a shot that either could make it through to 24. Määttä is far less likely to find his way to Boston but Lindholm may have a slim chance of falling to the Bruins, and he's good enough – and has upside enticing enough – to warrant almost 'no-brainer' selection.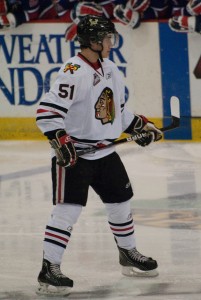 16. Derrick Pouliot, D – Portland Winterhawks, WHL; 5'11, 190 lbs., L; Born: 1/16/94
Yep – we're going one-by-one, now. Smooth-skating blueliner, Derrick Pouliot owns some high-end offensive chops: Enough to warrant overlooking his (significant) defensive inadequacies.
Some scouts argue that Pouliot's attacking prowess is equal to Morgan Rielly's. I don't agree – but these arguments evince this kid's massive upside. Size and that underdeveloped own-zone game hurt him, but should the B's get a shot at him, expect them to pull the trigger.
17. Slater Koekkoek, D – Peterborough Petes, OHL; 6'2, 185 lbs., L; Born: 2/18/94
Another high-upside kid, Slater Koekkoek's two-way skillset is very promising. He missed all of the second-half of the season recovering from shoulder surgery to repair a torn labrum – but his stock appears to be rising after a successful and impressive performance at the NHL Draft Combine.
Koekoek physical, has a great shot, is a capable distributor and puck-mover and can really turn on the jets. Plus, he's 6'2 and there's some sandpaper to his game.
In other words, don't expect him to be around for long.
18. Pontus Åberg, LW – Djurgården IF, Elitserien; 6'0, 190 lbs., R; Born: 9/23/93
Pontus (seriously, some fantastic names in this draft-year: Pontus, Hampus, Koekkoek, Zemgus…) brings the speed. He's a lightning-quick winger with above-average finish and a complete, two-way game. You can find Åberg slotted all over draft boards: I've got him at sixteen; Corey Pronman of Hockey Prospectus has him at nine and THW's very own Chris Ralph has him down at 41.
Still, you can't fault a player for modest second-half numbers thanks to injuries – especially when their first-half performance (against men as an eighteen year-old) was so robust. Åberg may not possess first-line talent, but a top-six NHL future seems in the cards – making him a nice pickup for the Bruins at 24.
Unfortunately, thanks to that impressive start, Åberg spent much of the season in the conversation for top-ten selection. That alone ought to be enough to see him don a different uni in Pittsburgh, tonight.
19. Matt Finn, D – Guelph Storm (OHL); 6'0, 195 lbs., L; Born: 2/24/94
Not the 'toolsiest' player in the first-round, Finn's rise (from mid-round preseason expectations) is largely due to an increased commitment to the gym – and heaping helpings of that most intangible of intangibles, 'hockey-sense'.
As I discussed previously, Finn is a fit for many reasons: His hockey-IQ is something Boston actively looks for, he's from the OHL – where many of the B's recent picks have hailed from, and he's a relatively safe pick. With a solid skating game and modest (but not poor) size, there's no explicit reason to stay away.
Despite the 'fit', it's unwise to pencil him into the Bruins organization just yet – many services and scouts place Finn well within their top-20, so it wouldn't be a stretch to find him riding off into the sunset just a few picks before Boston.
20. Brendan Gaunce, C – Belleville Bulls, OHL; 6'2, 210 lbs., L; Born: 2/25/94
Varying quantifications of Gaunces offensive 'upside' (and mediocre skating) might keep this hard-playing forward on the market until the early twenties. A strong, gritty, two-way game will pique Boston's interest and force them to make a hard choice if he falls to 24 with one of their targeted defensemen on the table.
Boston loves its meat-and-potatoes-types and Gaunce firmly fits the Bruins' heavy stylings.
21. Sebastian Collberg, RW – Frölunda HC, Elitserien; 5'11, 175 lbs., R; Born: 2/23/94
I don't expect him to be there at 24, but Sebastian Collberg remains an intriguing option should he drop to within the Bruins' grasp. Collberg had a disappointing (point-less) season in the Elitserien as a rookie with Frölunda (mostly as a seventeen year-old) but was largely lights-out during several international tournaments for the Three Crowns. In those two tourneys, Collberg scored at a better-than a point-per-game and helped the Swedes capture gold in the WJC and silver at the U-18 championship.
Collberg's chief problems remain his size and strength. He often looks his best along the perimeter or sneaking into the scoring-areas. He's got a first-line talent-level, but the Bruins may be wary of his bust potential. Even so, it's improbable he'll be on the board this late – so the debate may be academic.
22. Brady Skjei, D – U.S. NTDP U-18; 6'3, 200 lbs., L; Born: 3/24/94
Another defenseman (a theme, perhaps?) the Bruins almost undoubtedly have the "hots" for is the U.S. National Team Development Program's Brady Skjei. Skjei was another strong riser this season thanks to his impressive size (6'3) and solid defensive performances for the U.S. National Team. He plays a physical, intelligent game and displays advanced understanding of positioning and gap-control.
Skjei won't wow those looking for offensive upside (and his probable future as a middle-pairing shut-down guy is far from 'elite' potential) but he's developed into a much more able attacker and is definitely a capable distributor at this point.
Again, the problem here is Skjei is far from certain to land past 23. He's on the B's radar, be sure of it.
23. Tomáš Hertl, C – Slavia Praha, Czech Extraliga; 6'2, 190 lbs., L; Born: 12/11/93
An impressive performance for the Czech Republic at the World Juniors slingshotted Hertl into a solid place in the second-half of round one, where he's remained thanks to excellent performance with Slavia Praha of the Extraliga where he scored twelve goals and twenty-five points in under forty games playing against men.
Primarily a playmaker, Hertl sees the ice well and is heavy on the forecheck and cycle. There are significant issues with his foot-speed and agility but he's a 200 ft. player who'll see even more success on the smaller North American ice. The Bruins love combinations of size, skill and grit – and if they believe in their staff's ability to bring his skating game up to 'average', he could be a solid selection at 24.
24. Dalton Thrower, D – Saskatoon Blades, WHL; 6'0, 190 lbs., R; Born: 12/20/93
With an apt name and a playstyle that seemingly fits right into the Bruins' system, Dalton Thrower is a tough, straightforward blueliner. He's ready and willing to drop the gloves to defend himself or teammates and he brings an element of puck-moving you wouldn't expect from a player of his demeanor.
Holy Jumpin – and he should be available at 24.
The problem resides in his upside: He's a bit undersized, particularly for his style and unless he makes significant strides offensively, he'll arguably be a below-average NHL powerplay contributor. In an ideal scenario, he'd be an early second-round pick – but even if the B's trade-down, he might not last that long. As a result, it behooves Boston to select him when they can.
Others: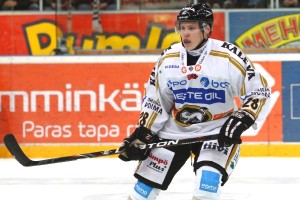 Sweden's Ludvig Bystrom and Finland's Ville Pokka are intelligent (some have even used the term 'cerebral') defenders with excellent puck-skills and possession-play. Neither possesses excellent athleticism or ideal size but they could be great fits as mid-pairing puck-movers. If the B's are intent on selecting either, trading down is a solid option.
Additional options the B's may consider on defense are Kelowna's Damon Severson, Green Bay's Jordan Schmaltz and Dubuque's Mike Matheson – but they're a bit of a reach at 24.
Up-front, the Plymouth Whalers' Tom Wilson made some considerable noise thanks to his outstanding and productive postseason, but even the most optimistic projections of his offensive capabilities put him as a borderline top-six talent.
He isn't the prototypical first-round forward but his physicality, solid skating and toughness are enticing tools (particularly to the Big, Bad Bruins) but some would argue it's a major stretch to consider selecting him as early as 24.
Additonal forwards including the U.S. NTDP's Nicolas Kerdiles, Phil Di Giuseppe of the University of Michigan and Edmonton's Henrik Samuelsson could be in the picture at 24 – but the combination of the B's more pressing organizational needs on defense and the absence of truly dynamic upside from that trio may see the B's look elsewhere.
In net, I'll reiterate what I said before – I don't believe Boston will aim for a goaltender in round-one. Chiarelli hasn't picked a netminder before the third round (77) and the Bruins have solid organizational depth in the position, even if they lack a grade-A option.
Still, if they're going to pick a goalie early, it will be Oscar Dansk. His fellow 'big three' 'tenders each have major concerns heading forward: Andrei Vasilevski is a Russian in the MHL (the KHL juniors) and Malcolm Subban has some injury issues and is a much more 'raw' prospect. Dansk's upside is modestly less impressive than either of those two but he's got the size, athleticism and technique to get the job done without the significant bust potential that the others present.
For more NHL Draft news, profiles and insight: Head over to THW's Dedicated 2012 Draft Page – The Next Ones 
For even more Boston Bruins 2012 NHL Draft news, follow Bob Mand on Twitter at @HockeyMand