Morgan Rielly THW Close-Up:
Dynamic Blue-liner could make big splash
Date of birth: March 9/1994
Place of birth:Vancouver, B.C.
Ht:6'0  Wt: 197
Shoots: Left
Position: Defense
NHL Entry Draft Eligibility: 1st time eligible 2012
*Click here for Notes Up Front for various topics covered below in the live updated NHL 2012 Entry Draft Guide – The Next Ones home page – your quintessential draft resource.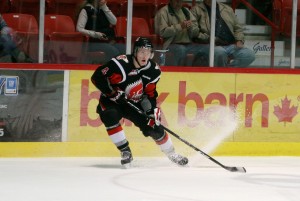 As we get closer and closer to the 2012 NHL Draft you start to get the feeling that every defenseman in the Western Hockey League is a top prospect. There certainly will be a run of WHL Blue-liners that go in the first round this season. Morgan Rielly of the Moose Jaw Warriors has the potential to be one of the most exciting players in that bunch. The 18 year old defenseman from Vancouver is a dynamic offensive prospect who will push play, can quarterback your power play and might just treat you to some edge of your seat end to end rushes.
After a rookie season with the Warriors in 2010-2011 that saw him score 28 points in 65 games Rielly launched out of the gates this past season. In the first 18 games of the season he scored 18 points on three goals and 15 assists. Unfortunately he suffered torn ACL before he could play game 19 and it cost him the rest of the regular season and what might have been an incredible run. While you might worry that a player who relies on speed and skating might become a risk after a knee injury Rielly has not slipped in the pre-draft rankings and is still ranked in the top ten in most NHL lists.
The good news is that the injury healed enough for him to play in the Warriors last five playoff games and he seemed to have all his mobility and speed intact. He also has been deemed healthy enough to participate in the NHL Combine this spring. This is important as Rielly is a tremendously fast skater and has a keen offensive sense. Like a lot of the WHL defensemen he needs to put some more muscle on his slight frame and develop some more physicality, especially in his own end.
You never want to saddle a kid with tough comparisons but you'll find scouts and analysts throwing names like Scott Niedermayer and Erik Karlsson around when describing Rielly's game. He will be back in Moose Jaw this season and will be a player to keep an eye on as he has the potential to put up a monster season for the Warriors this year. That will make whatever team is fortunate to draft him very happy.
Scout's Honour:
" His speed is good with a dangerous top gear and Rielly can be especially impressive from a standstill with his acceleration, four-way mobility, and his elusive quickness. He can also really make things happen on a power play with his footwork and ability to maneuver in tight spaces. Rielly is a very skilled offensive player with plus puck skills and passing ability who can dangle an opponent out of his skates or thread a bullet pass through a tight lane. He creates a lot with his individual ability but much more so with his hockey sense and ability to control the flow. Rielly is very aware of his time and space and rarely seems pressured when making plays." – Corey Pronman, Hockey Prospectus
"Morgan Rielly might have the most high end offensive potential of any defenceman in this draft.  Before his injury he was scoring at a point per game pace for the Moose Jaw Warriors of the WHL.  Rielly is an absolutely elite skater, and is in the conversation with Matt Dumba for the best skater in this draft class.  His speed is off the charts, he uses his edges effectively, he has a great first step and quick acceleration, and his pivots and changes of direction are quick and crisp.  His skating is already at a level that would leave many NHLers in his dust." – Last Word On Sports
"There's no doubt that when it's all said and done and some team drafts Rielly inside the top 10-12 in the NHL draft, they are going to get a hell of a player. He might not have the poise of Ryan Murray or the explosiveness of Mathew Dumba, but he's a great offensive defenceman who was well on his way to proving himself in his own zone." – Cody Nickolet – WHL From Above
Statistics:
Bio/Interview(s)/Link(s):
ETA =2-3 yr
Risk-Reward Analysis:
Risk = 1/5   Reward = 5/5
NHL Potential:
Elite scoring defensemen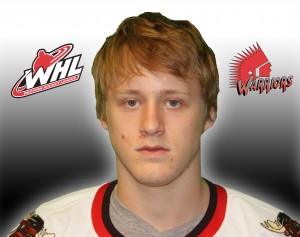 Strengths:
*See "THW Close-Up" section above.
Offensive Instincts
Speed
Fluid skater
Flaws/Aspects He Needs To Work On:
Needs to stay healthy to assuage fears of knee
Needs to add muscle and play more physical.
Fantasy Hockey Potential:
Offensive = 10/10   Defensive = 8.5/10
NHL Player(s) Comparison:
Erik Karlsson
THW's The Next Ones prospect profile template design architect: Chris Ralph