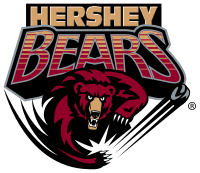 The Capitals and Bears Renew Vows
To the uninitiated the Hershey Bears may sound like some sort of chocolate-candy confection, but the Bears are (and will continue to be) the Washington Capitals' AHL affiliate. On Wednesday the Bears announced they are renewing their contract with the Capitals remaining as the Caps' AHL affiliate for the 8th season now. Since the two joined forces they've accomplished quite a lot. The Bears have won three Calder Cups, including back-to-back titles in `09 and `10. Nineteen roster players for the Washington Capitals have all played with the Hershey Bears at some point. This wasn't the only announcement of the day, with the Bears re-newing the contracts of head coach Mark French and assistant Troy Mann. This will be the fourth-straight season for the coaching tandem. The Hershey Bears provided an NHL coach in Bruce Boudreau who is a former coach for Hershey and is also a member of the AHL`s Hall of Fame. The Bears will be celebrating their 75th anniversary this year and they are doing it in style by hosting an outdoor game at Hershey Park Stadium.  You can also credit Hershey for grooming Washington's playoff hero Braden Holtby who spent 40 games with the Bears before going into the NHL Stanley Cup playoffs like a man possessed.
Speaking of Holtby…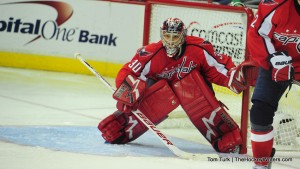 Michal Neuvirth said earlier this week he "will do whatever it takes" to be the Caps` No. 1 started next year. Neuvirth has some stiff competition between Holtby and perhaps Vokoun, though it appears unlikely that Vokoun will return as a Capital next year. For Holtby to get the starting position in the playoffs it took the injuries of both Neuvirth and Vokoun.  Neuvirth who suffered a hip injury in Early April knows just how tenuous a goalie's position is when there are multiple suitors and only one net. "The season's pretty long. You've got 82 games and anything can happen. Look at Holtsy, you know. He was in Hershey the whole time and now he was starting goalie for us," Neuvirth told The Washington Times last week. "So you never know. Gonna go home, work hard and be ready for training camp. I know I can be the No. 1 in this league. That's my goal. I will do whatever it takes to be the man." Holtby on the other hand seems quite relaxed about what next season has in store for him. "Neuvy had an unfortunate injury that caused this; it's nothing that he can control," he said. "We as a goaltending tandem, if we're asked to play for the Capitals next year, our goal is to do everything we can to win games as a group. Just because we play the same position, doesn't mean we're any less teammates," said Holtby. "We cheer each other on whoever is playing and whoever is doing the best job to win games, that's who's going to play."
Speaking of uncertainty…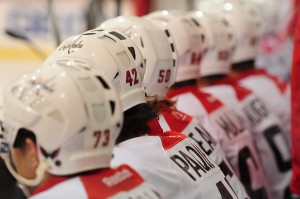 We don't know who will be in net next year, nor do we know who will be behind the bench, but this week's rumor has it that the new coach of the Washington Capitals will be former NHLer and former Cap Craig Berube. Berube actively serves as the Philadelphia Flyers' assistant coach, but said this week that "any time you get an opportunity to be a head coach, you're interested. My situation is good here. No one has contacted me about it. We'll see what happens." Berube played with Washington for eight seasons and skated alongside Dale Hunter. Berube, like Hunter, was not a fun guy to play against. Berube spent 3149 minutes in the box in just 1054 NHL games, for now it's all just speculation as to who GM George McPhee will hire as head coach, so I'll be serving five for rumor mongering.