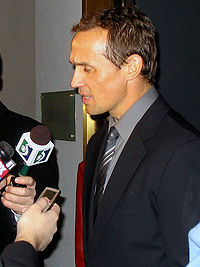 While the NHL playoffs continue on there hasn't been much of note emanating from the offices of the Tampa Bay Lightning. That doesn't mean General Manager Steve Yzerman and his staff hasn't been busy. They've been working hard at 401 Channelside Drive (and around the globe) to reshape the roster in order to make a run at the playoffs next season. While nothing major has happened, there have been some minor developments over the past few weeks.
Steve Yzerman Addresses the Goaltending Situation
On Thursday, Mr. Yzerman spoke about his off-season approach in regards to the goaltending situation. After acknowledging that they have "to get better in goal" he went on to insinuate that the elite goaltender he is looking for isn't available via trade. His approach no is to find what he hopes to be a Hall of Fame goalie via the draft or unrestricted free agency.
At face value those comments would seem to indicate that Roberto Luongo is off the table as far as he is concerned (and if he is only looking at UFA's then Anders Lindback and Corey Schneider would be out as well). It is very likely that he is being truthful when he utters those words, but there is also the chance that he's trying to establish some leverage in negotiations with other GMs. This early into the off-season things are very much in flux and a deal that is dead today could be revived in late August or early September.
During the interview Mr. Yzerman was also asked if the draft picks he's accumulated (2 first round and possibly 4 second round picks) were going to be used as trade bait or if he intended to draft players with the picks. He admitted that having a large number of high picks in what is thought to be a deep draft does give him ample options. From next week, when he meets with his scouting staff and determines what to do with his current roster, until the draft he will be exploring those option". However, if nothing is out there (which he defined as "young players or players with some term on their contract") he is more than willing to use those picks.
The entire interview Mr. Yzerman had with Tom Jones and Rick Stroud is available here.
Ryan Shannon heads to Switzerland
One player on the roster that Mr. Yzerman won't have to worry about is Ryan Shannon. The forward chose the security of a 3-year deal with the ZSC Lions of the Swiss-A League rather than the uncertainty of free agency. The departure of the 29-year-old leaves the Lightning even thinner up front, an issue that the general manager acknowledges needs to be addressed.
While he enjoyed his time in Tampa, telling the St. Pete Times that Tampa is "a great place to play, a great hockey city," Shannon's brief, one-year stint in Tampa was not successful. The speedy forward only netted 4 goals in 45 games and never seemed to fit into Coach Boucher's scheme. Injuries to his knee robbed him of some of his skating ability, one of the main assets he brought to the ice, and an injury to his right shoulder ended his season prematurely.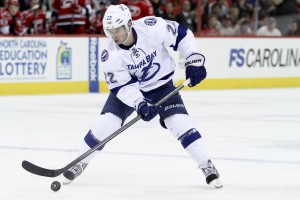 Adding a bit of salt to the wound in the eyes of some Lightning fans, the player he replaced on the roster, Sean Bergenheim, enjoyed a 17-goal season for the rival Florida Panthers. Many had hoped that the speedy Shannon would find similar success as an aggressive puck-pursuer in Coach Boucher's system. Unfortunately, the Connecticut native admitted that he never quite knew when to use that speed.
The move doesn't really affect the Lightning's future as it was unlikely that Shannon would have been re-signed this summer. The open spot could be filled through free agency or by one of the young prospects currently experiencing success in Norfolk.
The Norfolk Admirals continue their march to the Calder Cup
After ending their season with an unprecedented 28-game winning streak, the Lightning's AHL affiliate have found themselves in the finals of the league's playoffs. They dispatched the St. John's Ice Caps in the Eastern Conference Finals in four games and now await the outcome of the Western Conference matchup between the Oklahoma City Barons and Toronto Marlies to see who they will face for the Calder Cup. If the Marlies should advance (they currently have a 3-1 series lead) the Admirals would face former teammate Carter Ashton who spent most of the season in Norfolk before being moved to Toronto in February.
Alex Picard and Trevor Smith have led the Admirals in scoring with 15 and 13 points respectively. Newcomer Alex Killorn, who was scoring goals for Harvard less than 4 months ago, has chipped in 11 points as well. Dustin Tokarski, who may get a shot to be the number one goalie in Tampa next season, is 8-2 with 2 shutouts and a 1.65 GAA.
Radko Gudas might only have 2 assists in the 12 games that he's appeared in, but he definitely leads the team in facial hair.
As the playoffs come to an end and free agency approaches on July 1st, things will definitely heat up for the Lightning. Mr. Yzerman knows that he has to improve the defense, goaltending and frontline depth. Those three tasks should make him a very busy man this summer.