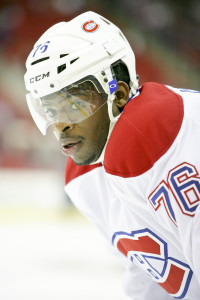 Looking at the Montreal Canadiens' defensive depth chart this off-season, it is difficult to decide whether the team boasts an embarrassment of riches…or just plain embarrassment. With so many question marks surrounding the Habs' blue line, it would be easy to justify an argument in either direction.
Perhaps Andrei Markov's surgically repaired knee cannot be trusted, and the team will be left footing the bill for yet another season of press box seats for the man who was, at his peak, one of the game's most elite defensemen.
Maybe last season's meteoric rise of Russian bone crusher Alexei Emelin was merely a flash in the pan, as was Raphael Diaz's highly successful first stint in the big league.
Or just as likely, maybe none of these things are true and Montreal will ice one of the deepest defensive cores in the Eastern Conference.
The truth is, playing off-season fortune teller is a risky game at best, and only time will tell how this will all play out. The club would certainly like to see more consistency on the back end than it has in recent years, but with the ongoing game of musical chairs being played in the Canadiens infirmary, this may amount to little more than wishful thinking.
We may be stuck with the cloud of question marks surrounding the Canadiens' blue line until October, but if the season were to start today, here's how it might play out:
Gorges/Subban
The only two defensemen who can stake a legitimate claim to having played a full season last year, Gorges and Subban represent the here and now of Montreal's defensive core.
Although still something of a liability in his decision making, Subban showed impressive growth in his expanded role during the 2011/12 campaign. Despite long periods of frustration last season, look for PK to reign in his energy level under a consistent coaching philosophy.
Paired with the rock solid defensive abilities of a player like Gorges, Subban's offensive upside should have a chance to shine under Michel Therrien's highly emotional style of leadership.
Gorges has been the model of consistency over the past few seasons and has demonstrated an ability to play in every situation. His versatility and composure make him the perfect partner for an offensive stud like Subban. With the ability to read plays and shut down top opposition, Gorges can expect to find himself as the Canadiens' go-to man on the back end.
There is potential for Markov to regain his throne and move back into a top pairing position, but until he has proven both his state of health and production consistency to be reliable, look for Gorges and Subban to eat up the lion's share of minutes.
There are plenty worse problems than having three defensemen worth of top two positioning…
Markov/Emelin
Assuming we can trust the news coming from the Canadiens front office, Andrei Markov should be back at full capacity by the time the puck drops on the 2012/13 season. While Habs fans will certainly be holding their collective breath until they see it with their own eyes, all signs are positive for a healthy return.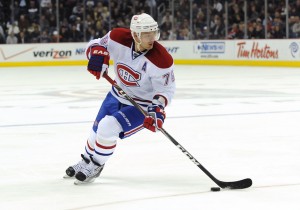 After missing nearly all of last year and playing a very limited role late in the season, the cloud of doubt surrounding Markov may stick around for a while. Still, even 80% of Andrei Markov is an upgrade from most defensemen in the league, so there is reason to be hopeful.
Many experts would disagree with Alexei Emelin being slotted into the second pairing, but the cold, hard truth is… the kid is for real.
As an over-aged rookie last season, Emelin was turning heads as one of the league's most dominant hitters. With a season of experience under his belt and the potential to be paired with countryman Markov, Emelin may well be the surprise of the year in Montreal. Look for his plus/minus to improve this season as he acclimates to the North American game.
Diaz/Kaberle
Raphael Diaz began last season as a huge question mark for the Canadiens, but with injuries to Chris Campoli and Andrei Markov right out of the gates, the door was opened for a young prospect to step in and make a difference. Despite the fact that many believed that door was opened specifically for Yannick Weber, it was Diaz who took the opportunity to walk through.
Although a spot in the top six is certainly still up for grabs depending upon who does what in training camp, the consensus is that Diaz has done enough to warrant being penciled in for the time being.
When Kaberle arrived in Montreal mid-way through last season, fans and media alike scoffed at the addition of an aging, offensive minded defenseman who had spent the majority of his career in a Maple Leafs uniform…and for some reason, the majority still seem content to pretend that they don't  understand the move.
Tomas Kaberle is an open book as far as hockey players go. He is a slightly below average defender who compensates by possessing an innate ability to move the puck and direct the power play. He is good for 40-50 points per season, but shouldn't be used to kill penalties.
The PP needed a boost, so the team acquired a PP specialist. They overpaid slightly because they were desperate, but Kaberle is still a top six d-man on any team in the league.
Weber/Tinordi/Beaulieu
The seventh spot has Yannick Weber written all over it once again. (Or Raphael Diaz, depending upon who wins the aforementioned training camp battle.) But with two very promising prospects nipping at their heels, the bottom half of Montreal's defensive depth chart had better watch their step.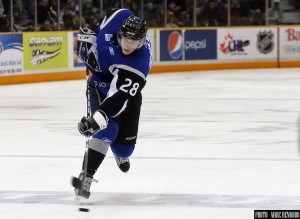 Tinordi is a hulking kid who already possesses NHL size at 6'6, 212 lbs. The former captain of the United States U-18 team has the experience and pedigree (his father is former Minnesota/Dallas captain Mark Tinordi) to be a legitimate difference maker in the very near future. After seeing his PIMs drop from 140 two seasons ago to just 63 this past year, Tinordi appears to be developing the maturity and discipline needed to compete at the top level.
Beaulieu, on the other hand, has been the model of maturity over the course of his junior career and was nominated for the Mike Bossy Trophy in 2011 as the QMJHL's most pro-ready prospect. With 45 points in 65 contests last season with the St. John Sea Dogs, Beaulieu has an offensive upside that few defensive prospects can match, and his 2011 Memorial Cup win also gives his resume some sparkle.
Regardless of where they stand right now, Montreal's defensive core is tight enough that there are bound to be a few surprises coming out of training camp this fall.
New head coach Michel Therrien has a notorious reputation for leaning heavily upon his superstars, but with the current state of affairs in Habs land, he's going to need more defensive responsibility than PK Subban and a potentially less than 100% Andrei Markov will be able provide. He's got the tools to patch together a very respectable line-up on the back end, but it's going to require a significant change in mentality from the Therrien we saw in Pittsburgh.
Here's hoping five years in the press box has taught the old dog some new tricks…