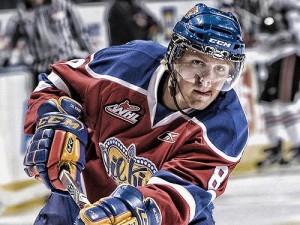 The New York Islanders had a very busy day last Friday as the team selected Griffin Reinhart with the fourth overall pick and acquired Lubomir Visnovsky from the Anaheim Ducks for a 2013 second round pick. The trade for Visnovsky was released before the Islanders selected Reinhart, but the defensive additions continued for New York as they selected a defenseman with all seven of their draft picks. With the 2012 NHL Draft having a plethora of defensive talent, it might not have been that much of a surprise to see the Islanders select defensemen such as Griffin Reinhart, Ville Pokka, and Adam Pelech, but seven defensive selections definitely raised some eyebrows.
Here's a quick recap of the selections from last Friday and Saturday:
Griffin Reinhart (4th Overall Selection from Edmonton Oil Kings) – While the Islanders have selected their fair share of undersized defensemen in the past, Reinhart was definitely a deviation from that method. Standing at 6'4″ and weighing in at over 200 lbs., Reinhart might provide the Islanders with some size and presence for their blue-line in a few years. Reinhart put up 36 points (12 Goals, 24 Assists) in 2011-2012 for the Oil Kings and registered a +23 overall rating for the season. Being the son of star defenseman and former NHLer Paul Reinhart, the Islanders would definitely be ecstatic if the younger Reinhart can equal the success of his father at the professional level, but the defenseman still has a couple of years left before he can make an impact on an NHL lineup.
Ville Pokka (34th Overall Selection from Karpat) – Pokka did not fail to amuse scouts and hockey fans this year at the WJC U20s as the defenseman tallied four points (1 Goal, 3 Assists) in seven games played for Team Finland. While some might look at Pokka's totals from the SM-liiga for 2011-2012 and be unimpressed, one has to remember that ice time and responsibility are given to the more senior members of the league rather than its youth. Pokka has the potential to turn into a good two-way defenseman, but his offensive game seems to be a little bit more refined than his defensive play at the moment. The Finnish defender might be a few years away from being NHL-ready, but he should bring an interesting aspect to the Isles once he is a finished product.
Adam Pelech (65th Overall Selection from Eerie Otters) – Adam Pelech becomes the third of three siblings to be drafted by an NHL team as the Islanders continued their trend of drafting big d-men in 2012. Pelech stands at 6'2″ and weighs in at 210 lbs., and his size will definitely be an asset that could be useful to New York in the near future. Pelech will not be the flashiest player on the ice, but Garth Snow did not draft the young man for his offensive skill set. Instead, Snow drafted Pelech for his defensive abilities as the youngest Pelech is widely seen as a shutdown defender that can make life very difficult for the opposition by blocking shots, killing penalties, and doing whatever it takes to make a defensive stop. While Pelech may not have the greatest offensive upside, the defenseman can still move the puck very well and make his teammates the beneficiaries. The young defender may also be a few seasons away from being completely ready, but fans should be excited to watch the development of this solid defensive prospect.
Loic Leduc (103rd Overall Selection from Cape Breton Screaming Eagles) – Loic Leduc was the Isles' fourth round selection that they received from the Buffalo Sabres after they were unable to sign Christian Ehrhoff to a deal. Leduc definitely has the size to compete in the NHL one day as he stands tall at 6'6″, but the d-man needs to fill out his frame a bit as he is not at the 200 lb. mark yet. Leduc can definitely add some grit to the Islanders lineup as d-man is not afraid to drop the gloves with the opposition, but he might be a bit more of a long-term project for the Islanders than the first three defenders that they selected in 2012.
Doyle Somerby (125th Overall Selection from Kimball Union Academy) – With their fifth round selection, Garth Snow stayed true to his defensive draft strategy and selected another big d-man in Doyle Somerby. At 6'5″ and 225 lbs., Somerby definitely has the frame of an NHL defenseman, but the defender knows that his chance to break into an NHL lineup may be several years away. Somerby will attend Boston University in 2013 and the defenseman should be able to make some great strides in the next few years as he develops various aspects of his game.
Jesse Graham (155th Overall Selection from Niagra IceDogs) – Graham becomes the third Niagra IceDog player to be picked by the New York Islanders in the last three years. Graham was one of the smaller defenseman chosen by the Islanders at the 2012 NHL Entry Draft, but the d-man definitely put in his work with the IceDogs as he finished with an impressive 41 points in his 2011-2012 regular season and 10 points in 20 games for his team in the post-season. Ryan Strome and Mitchell Theoret were the other two IceDog players that were chosen before Graham was this year and it seems as though Garth Snow likes what Niagra is doing in terms of youth development.
Jake Bischoff (185th Overall Selection from Omaha Lancers) – Bischoff was the final selection for the Islanders and the defenseman will be joining the Minnesota Golden Gophers for the 2014-2015 season. Bischoff split his 2011-2012 hockey play between his high school and the USHL and will be heading to a program in Minnesota that has helped churn out notable Islanders such as Kyle Okposo and other defensive prospects such as Aaron Ness. Bischoff is likely a long-term project for the Islanders, but it should be interesting to see how the defender will progress with his game in the next few years.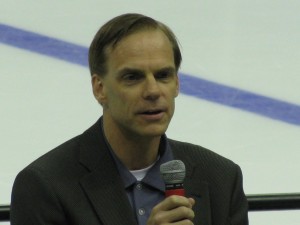 The Aftermath
After selecting seven defenseman with their seven picks in the 2012 NHL Entry Draft and receiving Lubomir Visnovsky to aid a thin blue-line, the Islanders seem to be addressing some of the team's defensive issues for the future. However, hockey fans know that draft day rarely passes without some interesting rumblings or moves that catch the fan's eye.
In the aftermath of the 2012 NHL Entry Draft, some fans might have caught wind of a possible deal between the Columbus Blue Jackets and New York Islanders. New York GM Garth Snow supposedly proposed a trade where he would give up all of his 2012 draft picks in order to move up two slots to select at second overall instead of fourth. Even though Scott Howson did not bite on the proposal and drafted Ryan Murray with the second overall pick, Garth Snow received a fair amount of slack from hockey fans for even offering Columbus such a "farfetched" scenario.
On the other hand, some hockey fans have questioned why Columbus GM Scott Howson would not take a trade that would give the Blue Jackets twelve picks in the 2012 NHL Draft. With the draft having been completed for several days, many hockey fans have been left wondering what could have been if the Isles and Jackets had pulled off a trade that mirrored Mike Ditka's efforts to select Ricky Williams in 1999.
According to Greg Wyshynski, the deal was largely dependent on the Oilers selecting Ryan Murray as he wrote:
"The version I heard had one contingency: That Nail Yakupov was available at No. 2, if the Edmonton Oilers decided to take defenseman Ryan Murray at No. 1. That the Islanders would trade all their picks for Yakupov, who eventually went No. 1 to the Oilers."
Trading up to select Yakupov would not have been a bad deal, but some still argue that trading away every draft pick for a player such as Yakupov would have been a very hefty price to pay for the forward. However, the proposal by Snow should not be seen as one that is beyond comprehension, especially since the 2012 NHL Entry Draft was believed by many to be thin on talent in the later stages of selection. Drafting a player such as Yakupov could have given the Islanders a potential all-star and dangerous scorer, but the deal could have also made sense on a few other levels.
Considering the fact that chances for success in the NHL decrease as the draft progresses to the later rounds, the trade could have made sense if the Islanders were pursuing a marquee player such as Yakupov. Ryan Murray was widely considered to be the top defensive prospect in this year's draft, but it wouldn't be prudent for Snow to make such a deal in a draft loaded with defensive talent. Yakupov would undoubtedly add a tremendous dynamic to the Islanders, but one also has to consider the fact that the closer that one drafts to number one overall, the closer they get to hitting a potential goldmine.
Many believe that Griffin Reinhart will be a good player in his own right when he is NHL-ready, but Yakupov's potential value to an NHL lineup featuring John Tavares and Ryan Strome would look enticing to any GM. Even if the Islanders were only giving up their first three selections of 2012, the price-tag for a talent such as Yakupov would still have been steep. However, the move would have bolstered the franchise's prospect pool and could have added some dangerous scoring potential to a young Islanders team.
While there may have been many a few scenarios that emerged out of the 2012 NHL Entry Draft, Garth Snow's supposed "all for one" draft pick trade was not accepted by Scott Howson. After choosing a fair amount of defensive prospects in 2012 and acquiring Lubomir Visnovsky for the 2012-2013 NHL season, the Islanders seem to be stocking up on defense for the near future. It is uncertain as to what Visnovsky will decide to do once he is a free agent in 2013, but the d-man will add a great dynamic to the Isles' defense and power-play units for the upcoming campaign. If anything, Islanders fans should see the development of a few defensive prospects in the next few years as de Haan, Ness, Donovan, Mayfield, and Reinhart make their way through the ranks with the hope of cracking an NHL lineup.
In his third year with The Hockey Writers, Toli covers all things related to the New York Islanders. Focusing on the Islanders, the NHL Draft & draft-eligible prospect goalies, and hockey history, Toli can be contacted on Facebook by searching/messaging Toli Metter and on twitter by searching @ToliMetterTHW.