An unknown author once said, "A brother shares childhood memories and grown-up dreams." In the case of Adam Pelech, he has two brothers to share the memories and dreams with.  He is carrying on a family tradition that has seen each of his older siblings play in the OHL and, in 2012, drafted to the NHL.  All three boys in the family have had big plans for the future and it seems as though the youngest member is doing whatever it takes to join the older two. Considering how incredible of a season Pelech had this year, despite the underachievement of the Erie Otters, it is not far-fetched to see that come to fruition, if not more than his older brothers.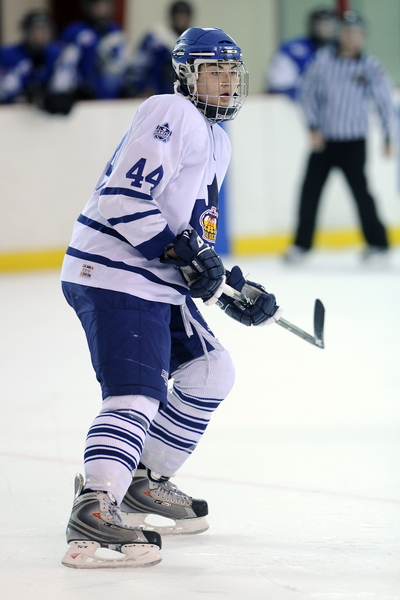 Going into the 2010 OHL Priority Selection, Pelech was considered one of the best prospects coming out of the Toronto Marlboros Minor Midgets.  The team that year had several players who have gone on to the OHL, including Matia Marcantuoni (Kitchener Rangers), Matt Finn (Guelph Storm), Scott Laughton (Oshawa Generals), Dylan Corson (Belleville Bulls) and Jake Paterson (London Knights).  Pelech scored 34 points (six goals, 28 assists) in 69 games as the Marlboros were one of the top contenders for the 2010 OHL Cup, only to lose to the Mississauga Rebels 2-1 in the deciding game.  Despite losing the OHL Cup championship, Pelech and his teammates were well-represented in the following draft.  In fact, he was one of three members of the team to be chosen by the Erie Otters when he was drafted 22nd overall by them; Chris Marchese was chosen in the first round, 11th overall, and Connor Brown was chosen in the tenth round, 251st overall.  (Remarkably, Marchese was traded to the Windsor Spitfires in 2011 for Anthony Cortellessa, who also played for the Marlboros in 2009-10).
On September 16, 2010, Otters general manager Sherwood Bassin went on a signing frenzy.  He signed six prospects that day to help build the youthful core of his team that will have to assert themselves after the graduation of veterans such as Shawn Szydlowski, Anthony Luciani and Phil Varone.  In addition to Pelech, the Otters signed three other players chosen in the 2010 OHL Draft (Marchese, Connor Crisp and Luke Cairns) as well as two chosen in the 2009 OHL Draft (Kristian Grant and Mark Gazdic).  Fans in Erie had quite an impressive roster to cheer for, one with a delicate balance of veteran wisdom and youthful exuberance, likely the best team that they had since 2001-02 when they won the league championship.
Major Junior Debut for Pelech
Eight days after signing his OHL contract, Pelech made his major junior début against the Brampton Battalion.  In that game, which the Otters won 5-1, he got his first OHL career point, an assist on a goal by Anthony Luciani.  On October 11, against the Kitchener Rangers, he scored his first OHL career goal, the only one he scored that season.  He did have his ups and downs during the season, much like any rookie defenceman, but it did not deter him.  Playing behind veterans such as David Shields, Tyler Hostetter, Brett Cook and Derek Holden meant that he would have to bide his time but Otters head coach Robbie Ftorek had considerable patience with the rookie.
Pelech had several stretches during the 2010-11 season where he did not record any points whatsoever.  In fact, out of the 65 games he played in his first OHL campaign, he was pointless in 53 of them.  Pelech, however, made points count when he did record them.  On January 28, 2011, he recorded his first two-assist game in his OHL career in a 6-4 win over the London Knights.  On March 6 that same year, he registered another two-assist contest, this one in a 8-2 victory over the Sarnia Sting.  At times when Pelech did go pointless, though, he was improving on his defensive game, something that continued to ameliorate as the season progressed.  A week before his first two-assist game, he was a +3 in a win over Sarnia.  In 11 games in February 2011, he was +1 in all but two of those contests.  Additionally, Pelech showed that he was a physical force.  On February 13, 2011, against Kingston, Pelech got in his first OHL career fight against Nathan Cull. Pelech finished the season with 14 points (one goal, 13 assists), a +14 ranking and 27 penalty minutes in 65 games.  He also recorded two assists and two penalty minutes in seven playoff games.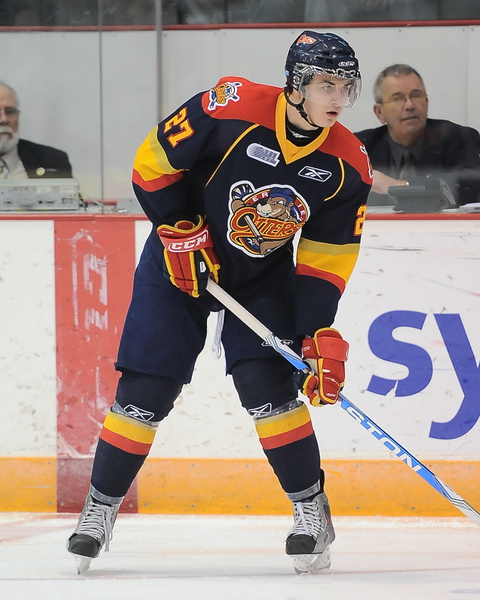 In 2010, Pelech also got an opportunity that no one in his family was given ever before.  He got to wear the maple leaf on his chest representing Ontario at the World Under-17 Hockey Challenge.  In addition to several players he had the pleasure of suiting up with in minor midgets, he was also given the opportunity to play with some of the OHL's other budding superstars born in 1994, players such as Sean Monahan (Ottawa 67's), Brendan Gaunce (Belleville Bulls), Andreas Athanasiou (London Knights), Kerby Rychel (Windsor Spitfires), Slater Koekkoek (Peterborough Petes), Jarrod Maidens (Owen Sound Attack) and Jesse Graham (Niagara IceDogs).  A 5-3 victory over the United States in the final, which included a beautiful penalty shot goal by Sudbury Wolves forward Mathew Campagna, gave Ontario another title and Pelech a gold medal to take back to both Toronto and Erie, Pennsylvania.
Adam Pelech's Return to Erie
After both a solid rookie season, as well as the gold medal at the Under-17s, Pelech returned to Erie with the hope in becoming one of the team's better defencemen in 2011-12.  The team knew that they were going to be quite young so Pelech's leadership was to be a necessity.  He started with two solid games in September, including getting his first assist of the season in only the second contest of the campaign.  Things, however, were about to go sour for Pelech, especially since 2012 is his draft year.  He fractured his wrist and he had to undergo surgery.  The injury was initially believed to be season-ending but Pelech was determined to recover in time to prove that he could still be a top prospect for the 2012 NHL Entry Draft.  He wound up missing ten weeks of action, not returning to the lineup until December 1, 2011, against the Niagara IceDogs.
Upon his return, Pelech started to put up points on a consistent basis.  In 12 games in December, Pelech recorded nine points, including his first goal of the season on the 16th against the Sudbury Wolves.  He even had two contests in which he recorded two assists, December 2 against the Barrie Colts and December 17 against the Sarnia Sting.  As well, his defensive play did not seem to suffer much from the layoff; he recorded a +3 rating in a game on December 9 against Sarnia.  The new year, however, started on a bit of a slow pace.  January, however, was very hard for him.  He only registered one assist in 12 games, a helper against the Sudbury Wolves on the 28th.  (That night, he was also in a fight with the OHL's leading scorer in 2011-12, Colorado Avalanche prospect Michael Sgarbossa.)   Additionally, he was named an alternate captain, proving the faith that Ftorek has in the young blueliner.
February started off quite well for Pelech.  On February 1, he participated at the Home Hardware CHL/NHL Top Prospects Game in Kelowna, British Columbia.  Two days later, he was back in Pennsylvania and he scored a goal.  He also recorded three assists in six days in the middle of the month, even though he missed some time with a brief touch with the flu.  He also recorded 15 penalty minutes, including a fight against Eric Diodati of the Mississauga St. Michael's Majors on February 26th.
In March, Pelech actually played very well.  He recorded five assists in eight games, and he also recorded ten penalty minutes.  He finished the season with 20 points (two goals, 18 assists) and 52 penalty minutes in only 44 games.  The Erie Otters, however, did not do well at all as a collective.  Despite winning games during the season against the Niagara IceDogs and the Sarnia Sting, as well as being within a goal in some games against the London Knights, the Otters had a rather abysmal 10-52-3-3 record.  Finishing last in the standings did, however, have one advantage; Erie used it to choose Connor McDavid first overall in the 2012 OHL Priority Selection after the 1997-born forward was granted "exceptional player status" to allow him to be picked with the top choice.
Player of the Year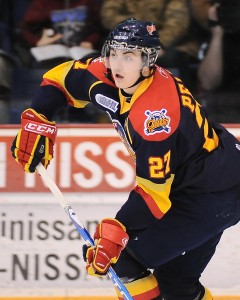 Pelech garnered considerable accolades during the offseason as well.  He was named the Otters' player of the year (he actually co-won the award) and defenceman of the year, joining Chris Campoli as the only blueliner in franchise history to win both awards in the same season.  As well, he won his second consecutive Sertz Family Scholastic Award.  A week before that, he won the Ivan Tennant Memorial Award (an award his brother Matt won in 2005) for the OHL's high school athlete of the year; he also won the Bobby Smith Trophy for the OHL's overall student-athlete of the year, becoming the first player to win both in the same season.  Pelech had an impressive 95% average with a full course load at McDowell Senior High School.
Shortly before winning his awards, Pelech was given the opportunity to travel to the Czech Republic to represent Canada at the World Under-18 Hockey Championships.  It was the first time anyone in his family, between him and his brothers, to ever represent Canada in an IIHF tournament. Canada had quite an impressive team, including players from other CHL member leagues such as captain Mathew Dumba (Red Deer Rebels), Hunter Shinkaruk (Medicine Hat Tigers), Sam Reinhart (Kootenay Ice), Anthony Mantha (Val-d'Or Foreurs) and Félix Girard (Baie-Comeau Drakkar).  Pelech and Kerby Rychel were named the team's two alternate captains.  Canada defeated Finland 5-4 in overtime after Shinkaruk scored his third goal of the game at 2:05 of the extra session to cap off a hat trick, winning them the bronze medal.
In addition to the bronze medal, Pelech has found himself on the final rankings of North American skaters for the 2012 NHL Entry Draft.  He has been ranked 120th after being ranked 54th in the midterm rankings but it was still an accomplishment to still be on the list.  He has joined teammates Dane Fox (46th), Connor Brown (110th), Troy Donnay (122nd) and Luke Cairns (189th) on the list.  It may not be too much of a stretch to see all of them chosen in the 2012 NHL Entry Draft in Pittsburgh this coming June.
Family Ties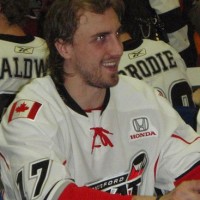 Pelech's incredible rise to being one of the emerging stars in the OHL should not come as much of a surprise.  He does come from considerable pedigree.  His older brothers each had quite impressive major junior careers.  The oldest brother, Matt Pelech, played four seasons in the OHL with the Sarnia Sting, London Knights and Belleville Bulls from 2003 to 2007, after being Sarnia's second-round pick (38th overall) in the 2003 OHL Priority Selection.  During that time, he was chosen 26th overall in the 2005 NHL Entry Draft by the Calgary Flames.  A hulky, stay-at-home defenceman, Matt scored 61 points (11 goals, 50 assists) in 203 OHL career games, as well as racking up 423 penalty minutes.  He also excelled in the classroom, winning the inaugural Ivan Tennant Memorial Award in 2005. Matt has since played five NHL games due to several injuries and, in 2011, he joined the San Jose Sharks organization.  He currently plays for the Worcester Sharks of the AHL. Despite being such a top prospect for Calgary for several seasons, Matt missed a lot of time with countless injuries, including a clot in his shoulder that could have been career-threatening.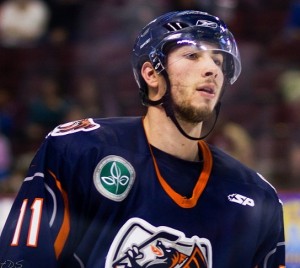 The middle brother of the family, Michael Pelech, is the only one of the three brothers who is a forward. (Remarkably, at his current weight of 203 pounds, he is also the lightest of the three brothers.)  Michael was the first-round pick (18th overall) of the Kitchener Rangers in the 2005 OHL Priority Selection after scoring 37 points in 47 games as an underage player with the St. Michael's Buzzers of the OPJHL, leading them to a Dudley Hewitt Cup championship.  He played in only 48 games for the Rangers as a rookie, scoring nine points (three goals, six assists).  The following season, Michael was traded to the Toronto St. Michael's Majors for Matt Halischuk and the trade benefited him immensely, playing in an arena that he knew quite well.  His point scoring exponentially improved, scoring 47 points (12 goals, 35 assists) in 65 games.  After the St. Michael's Majors relocated to Mississauga, Michael continued his surge in scoring. He scored 49 points (17 goals, 32 assists) in a complete 68-game schedule in 2007-08, his third OHL campaign.  The next year, Michael tallied 65 points (19 goals, 46 assists) in another complete 68-game schedule; he also recorded 121 penalty minutes.  Coupling that breakout year, and 13 points (four goals, nine assists) in 11 playoff games, the Los Angeles Kings chose Michael 156th overall in the 2009 NHL Entry Draft.  He has had incredible success in the ECHL over the last few seasons, including a 60-point season in 2011-12 where he went a point per game.
All three Pelech brothers also have another member of their family doing well.  Their uncle is Mike Gillis, the general manager of the Vancouver Canucks.  Originally from Sudbury, Gillis, like his nephews, also played major junior hockey.  He played three seasons with the Kingston Canadians of the OMJHL before graduating to an NHL career with the Colorado Rockies and the Boston Bruins.  He also spent some time in the AHL (Philadelphia Firebirds, Baltimore Skipjacks, Hershey Bears) and the Central Hockey League (Fort Worth Texans) before retiring in 1984.  Gillis returned to Kingston in 1985 to coach the Queen's University Golden Gaels men's hockey team.  Five years later, in 1990, he got a law degree from Queen's and became a player agent.  He became the Canucks' general manager in 2008 and, three years later, he was awarded the NHL's general manager of the year award.
*
The Erie Otters are going to be a team on the rise in the next few seasons.  Stephen Harper is looking to build upon a rookie season in which he scored 24 goals.  Connor Brown had a 53-point rookie season after a year of tier II hockey in the OJHL.  A trade with London saw the Otters acquire Dane Fox, a late 1993-born forward who scored 23 goals expected to be chosen in the 2012 NHL Entry Draft, and Troy Donnay, a 6'7″ stay-at-home blueliner with incredible defensive acumen and truculence.  Also, Devin Williams showed that he is capable of playing big games in goal for Erie down the stretch; the Otters also drafted 1995-born goaltender Jake Ryan Ireland in the 2012 OHL Priority Selection and — if all else fails — they could always use Connor Crisp in net.  (Alright… maybe not.)
His brothers may not have gotten the opportunity to spend their entire OHL careers with one team.  If he continues to be the valuable asset he is, Adam Pelech might just be an Otter for life.
Margann Laurissa is based out of Kingston, Ontario. She contributes profiles to MyNHLDraft.com on a regular basis.