Ville Pokka THW Close-Up:
Date of birth: 06/03/1994
Place of birth: Tornio, FIN
Ht:  6'0″ Wt: 198
Shoots: Right
Position: Defense
NHL Draft Eligibility: 2012 1st year eligible
THW Ranking (May): 32nd
***
*Click here for Notes Up Front for various topics covered below in the live updated NHL 2012 Entry Draft Guide – The Next Ones home page – your quintessential draft resource.
***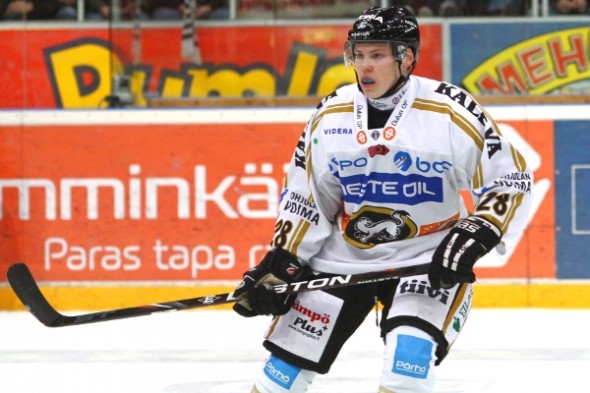 Sisu. From none other than Wikipedia, Sisu "is a Finnish term loosely translated into English as strength of will, determination, perseverance, and acting rationally in the face of adversity." If you take the literal translation, it is equivalent in English to "having guts".
While maybe not yet a master of sisu, the Finnish blueliner prospect definitely has some degree of sisu now; an excellent foundation upon which to build as he grows as a player and a person.
With a big blow to the blueline when Olli Määttä was injured in Finland's first game of the WJC U20s in Calgary, Pokka's role increased substantially. The young defenseman did not disappoint exhibiting his solid 2-way play which leans towards the offensive side. Pokka finished the championships tied for 6th in scoring amongst defenseman scoring with 4 points in 7 games.
He followed that up with more brilliant international play at the WJC U18s. At that tournament he finished tied for 3rd in scoring amongst defensemen with 6 points in 7 games.
Pokka is cool, calm and collected blueliner with all-around ability. His skating has come a long way over the past couple of season, but will continue to need work especially with respect to agility. He sees the ice really well and has a good feel for the game. Ville laso anticipates the game well. He has a nice wrist shot, but definitely needs work on his slapshot. His defensive game has already developed nicely and he should only build on that.
There were rumblings in Calgary there were concerns about his level of conditioning. Pokka helped put some of those concerns to bed with a good performance at the NHL Scouting Combine. He finished 6th in the hand-eye coordination test and 10th in push-ups x body weight. He'll have to continue to work on his conditioning, of course,  but the foundation and potential is definitely there.
I was able to chat with Ville during the World Juniors in Calgary. His English is admittedly a work in process, but he was very excited to be playing in North America, and specifically Canada, for this tournament. He described his game as taking care of his own end first and foremost, but that he was a two-way defender who enjoyed contributing more on the offensive side of the rink.
He didn't compare his game to any NHLer or Finnish player of old or who currently plays. He could not tell me anything about Ufa, Russia (site of 2013 World Juniors), but he laughed when I asked him and settled into our conversation allowing his bright personality to shine through. He only said: "I want to be there [Ufa] in 2013."
Pokka has some work to do to make it to the bigs, but his potential makes him a solid option come draft weekend in Pittsburgh. He'd love to add his sisu to a blueline in the big league.
Where will he end up in June: 
While I have him ranked 32nd overall in my current Top 120 rankings (May, 2012), I had him landing in Anaheim at 36th overall in my Memorial Cup Edition Mock Draft. He'll likely land anywhere from 28th to 45th overall.
Scout's Honour:
"Pokka exploded onto the draft scene after a highly successful WJC filling in for an injured Olli Maatta. He earned his minutes and became a vital cog in Team Finland's fourth place finish. Already playing in the SM-liiga, the highest senior competitive league in Finland his minutes were sparse but the experience he gained helped to round out his game as he finished strong with a successful World under-18 Championships, once again settling on a fourth place finish. Pokka is a steady two-way defenseman however his strengths lean more towards the offensive side of the game. Pokka is a sensational first passer, one of the best in the draft! He rarely settles on a first option and exhibits uncanny poise to deliver a perfect saucer pass up the middle or on the half boards as he sees his options. Pokka also shows an innate ability to read the offensive zone and knows when to pinch or when to fall back defensively. Equipped with modest  size, Pokka does not have a long reach and his pivots are a handicap in defensive situations. His lateral agility and start-up speed are also areas of his game that he needs to address. Nonetheless his game reading ability and offensive skill set makes him an enticing prospect as he should hone his game playing in the SM-liiga earning more responsibilities and ice time next season."
– David Burstyn, McKeen's Director of Scouting 
***
"Pokka is a pretty advanced young defenseman, as he's played beyond his age group the last two years, including getting a good amount of games in Finland's top men's league at 17 years of age. He also was a key member of Finland's blue line at the World Juniors, an unusual feat at his age for an eventual top-four team. Pokka's hockey sense is certainly impressive as it is at the least above-average but I could certainly argue that it is plus as well. He has a really cool demeanor with and without the puck on the ice. With the puck, his panic threshold is very impressive, which allows him to move the puck well as he won't turn it over, can consistently make long passes, and his decisions are quick. Pokka's defensive work is impressive for his age, as he reads his assignments well, closes his gaps efficiently, and makes all the right reads that allows him to shut down good players. Pokka still needs work in a few areas if he wants to be a truly effective two-way player, though. He will engage physically, but he's not overly threatening in that area, be it with his battle effort or his size/strength combo. He's also a fringe skater who can easily get turned around by faster players."
–  Corey Pronman, Hockey Prospectus
Statistics:
Bio/Interview(s)/Link(s):
International Tournaments: 
As noted above, Pokka finished the WJC U20s tied for 6th in scoring amongst defenseman scoring with 4 points in 7 games.
At the WJC U18s this spring, he finished tied for 3rd in scoring amongst defensemen with 6 points in 7 games.
ETA = 3-4 years
Risk-Reward Analysis: Risk = 1.5/5   Reward = 3.5/5
NHL Potential: Top 4 two-way blueliner
Strengths:*See "THW Close-Up" section above.
Hockey IQ
Confidence
Poise
Passing
Wrist shot
Vision
All around ability
Flaws/Aspects He Needs To Work On:
Continue to train to increase strength and improve conditioning to handle the rigors of the NHL.
Continue to develop his defensive zone acumen.
Speed and skating
Consistency
Slapshot
Fantasy Hockey Potential: Offensive = 7.5/10   Defensive = 7.5/10
NHL Player(s) Comparison:
A hybrid of Andrej Meszaros, Matt Carle and Dennis Wideman
Video(s):
http://www.youtube.com/watch?v=2INcMu72LZ8
Off The Iron (Interesting Notes):
Pokka was drafted in Drafted 2012, round 1 #19 overall by Avangard Omsk in the KHL Draft
"Played in Kiekko-Laser (Finland2) during the season 2011-2012: GP 9, G 1, A 7, TP 8, PIM 0, +/- 4. Due to team's bankruptcy all statistics were disqualified." (EliteProspects.com)
Worth Retweeting:
Ville Pokka said he was really considering the CHL Import draft last year, but chose to stay in Finland and it went well so he wants to stay

— Ryan Yessie (@RyanYessie) June 2, 2012
Canada's Dumba leads all #U18WMC playrs in scoring with 9P. Next dman is USA's Seth Jones (2013) & Finland's Ville Pokka w/ 5P #2012NHLDraft

— Brendan Ross 🇨🇦 (@RossyYoungblood) April 20, 2012
http://twitter.com/coreypronman/status/191962971625369600
***
THW's The Next Ones prospect profile template design architect: Chris Ralph
***
Christopher Ralph is THW's prospect and draft analyst as well as a managing editor.
*Follow ChrisRalphTHW on Twitter as he infiltrates, dissects & analyses all happenings of hockey prospects & the NHL entry draft.