Russians comprise some of the most talented, most dominant players in the NHL today. In the past decade alone, they have won Vezina Trophies, "Rocket" Richards, Hart Memorials, Art Ross Trophies, and Conn Smythes, and of course, the Stanley Cup. If Russia has not put forth the largest amount of superstars in the current NHL, then they have certainly contributed the most dynamic.
At least one Russian has had his name inscribed upon Lord Stanley's Cup in each NHL season since 2015-16. For the decade of the 2010s, the only instances where a Russian-born player was not on a Cup-winning team were the 2010-11 Boston Bruins, and the 2012-13 and 2014-15 Chicago Blackhawks. Otherwise, a Russian has been a factor in bringing home a championship to their city's faithful.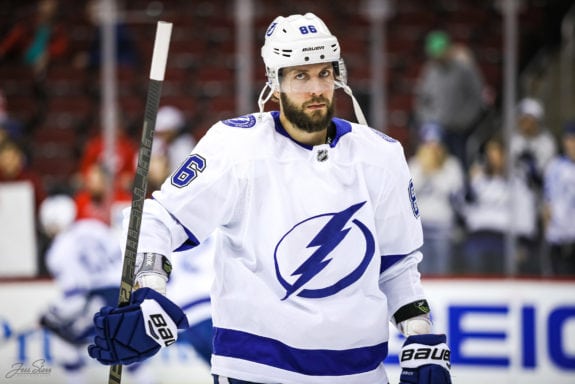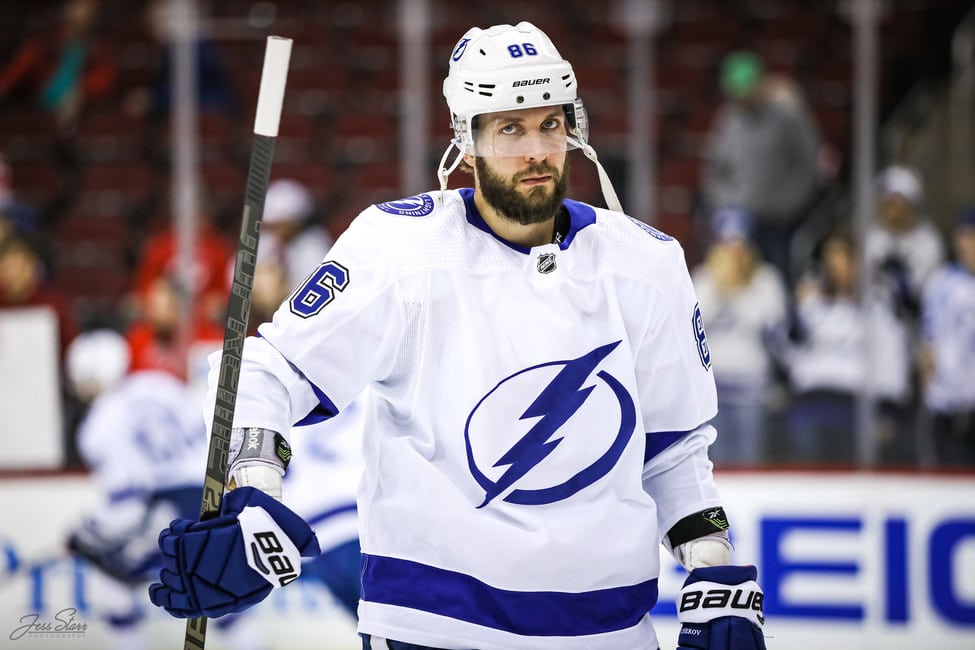 THW took a close look at our friends born (in most instances) behind the "Iron Curtain". We have determined who the Top-10 Russians are in the NHL today, and have explained why. See if your favorite Russian made our list.
10) Vladimir Tarasenko
One of the best goal scorers in the NHL today, Tarasenko has recorded at least 33 tallies for the St. Louis Blues across five straight seasons beginning in 2014-15. His highest output thus far came in 2015-16 when he scored 40 in 80 games. Tarasenko is the one St. Louis player with a legitimate chance of reaching 50 goals in a season, which has not been done by a Blue since 1993-94.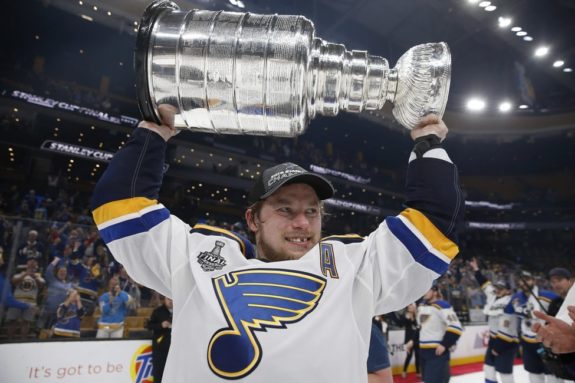 As St. Louis won the Stanley Cup in 2018-19, Tarasenko finished second on the team in playoff goals with 11 in 26 games. He passed the 200-goal plateau during the regular season by leading the Blues with 33 goals in 76 games.
Tarasenko was named to the NHL Second All-Star Team in 2015 and 2016 and has finished in the top-15 in voting for the Hart Memorial Trophy in three of his first seven seasons. Unfortunately, he has been maligned by a shoulder injury since the 2019-20 season and has seen very limited game action.
9) Kirill Kaprizov
It took until he was 23 years old, but Kirill Kaprizov is finally in the NHL and has quickly become one of the most exciting Russians in the game today. The minute he stepped foot onto the ice for the Minnesota Wild on Jan. 14, 2021, you knew he was going to be something special. Finishing his first NHL game with a goal and two assists and 21:52 of ice time, he announced to Alexander Ovechkin, Evgeni Malkin, and Nikita Kucherov that they should make room on the bus for a new Russian superstar.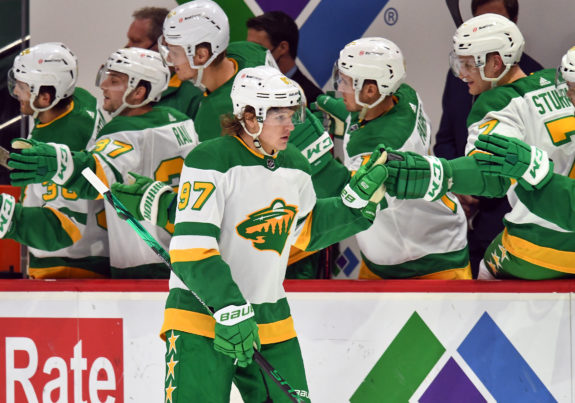 By the end of the 2020-21 season, Kaprizov had 27 goals and 51 points in 55 games and was more than deserving of the Calder Trophy he walked away with. The Wild rewarded that performance with a massive five-year contract worth $9 million in average annual value (AAV) that will potentially keep him in the Twin Cities through the 2025-26 season. Get used to his greatness folks, he is going to be showcasing it on a nightly basis for the foreseeable future.
8) Alexander Radulov
Alexander Radulov's game has matured through his three separate chapters in the NHL. Highly skilled but aggravatingly youthful during his time with the Nashville Predators, he has since blossomed into a go-to player for Dallas.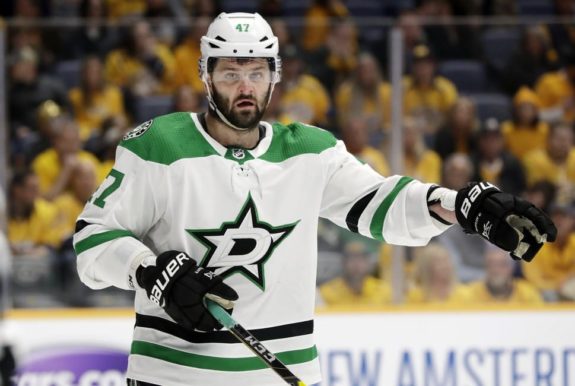 In his six full NHL seasons, Radulov has never scored less than 15 goals in a season. His highest goal totals of 27 and 29 in 2017-18 and 2018-19 respectively have happened since he signed a five-year, $31.25 million contract with Dallas on Jul. 3, 2017. Each of those seasons included back-to-back performances of 72 points.
Radulov's first eight seasons saw him record 346 points (140G, 206A) in 453 games. As he has matured, he has become one of the most consistent players – let alone Russians – in the game.
7) Evgeny Kuznetsov
Evgeny Kuznetsov is arguably the most exhilarating player to behold from our list, especially in person. His Capitals' teammate Nicklas Backstrom is known to have said about the Russian, "It looks like he's dancing out there."
Not only did Kuznetsov win the Stanley Cup with the Capitals in 2018, but he was also the team's leading scorer in the postseason with 32 points (12G, 20A) in 24 games. He set career highs in the 2017-18 season as well, both for goals (27) and points (83). He was arguably the most instrumental player from the season's beginning to when the Caps hoisted the Cup.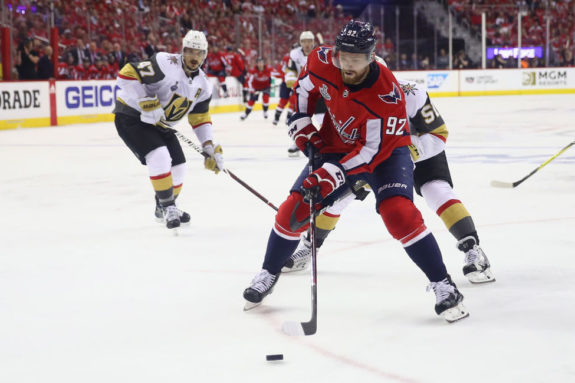 In his first (full) five NHL seasons, Kuznetsov hit the 20-goal plateau three times and just missed doing so for a fourth (19 goals in 2016-17). He signed an eight-year, $62.4 million contract on Jul. 2, 2017. The 2020-21 season saw him hit his 400th career point and push him over the 500-game plateau. It is possible that he could score another 400 more before his career is through.
6) Andrei Svechnikov
Drafted as the second selection in the 2018 NHL Draft, Andrei Svechnikov has quickly become one of the star players for a young Carolina Hurricanes squad. In his rookie 2018-19 season, he was one of just four "Jerks" to reach at least 20 goals on the season. Factoring in his 17 assists, Svechnikov finished sixth on the team in scoring. Such a solid first-year performance would see him finish sixth in voting for the Calder Trophy.
Come playoff time, Svechnikov became the first NHL player born in the 2000s to score a playoff goal. At just 19 years and 16 days old, he became the ninth-youngest player in NHL history to score two goals in a playoff game. Svechnikov also became the fourth teenager in NHL history to score two goals in his playoff debut, when he beat Braden Holtby twice in the 'Canes 4-2 loss to the Capitals.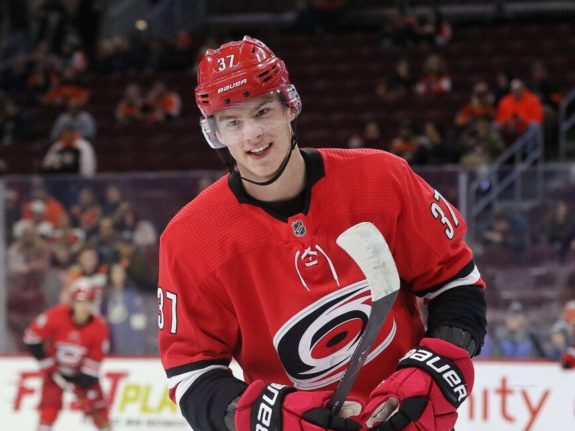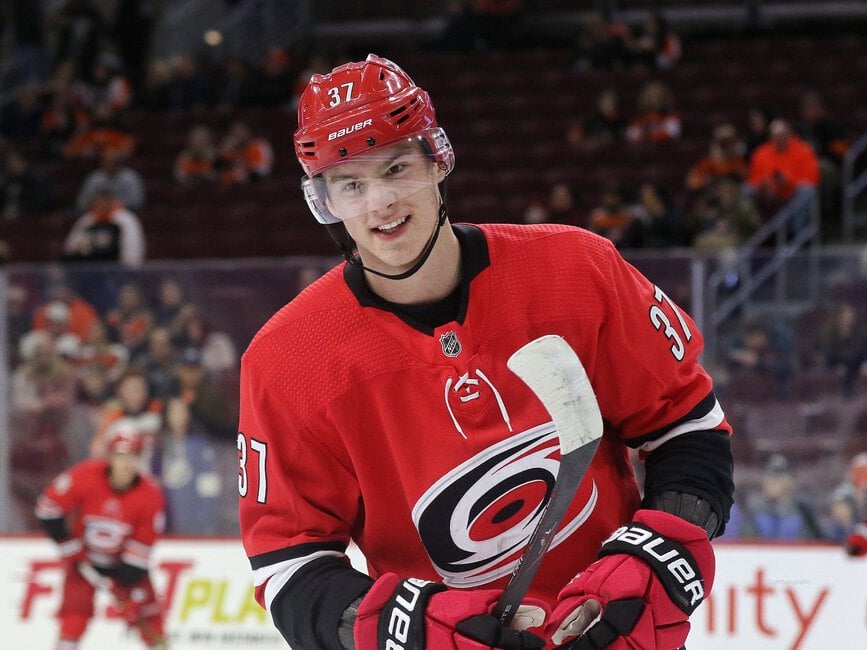 Across 68 games in his sophomore 2019-20 season, Svechnikov established new career highs in goals (24), assists (37), and points (61). Having signed a three-year, entry-level contract on July 1, 2018, Carolina has found a bonafide star player who already seems destined to become the face of the franchise. Suffice it to say that Svechnikov will eventually become a 30-goal scorer in the league, and could reach even higher.
5) Evgeni Malkin
In some ways, Evgeni Malkin does not get the credit that he deserves. Some debaters would place him at number-one on our list and are probably irritated that we did not. While we did not put Malkin at the top, he indeed came close, even if he is past his prime.
When it comes to sheer strength, there is no Russian player in the NHL that is more powerful. We would be hard-pressed to find a player of any nationality who outdoes him. At 6-foot-3 and 200 pounds, Malkin is the perfect blend of size and skill.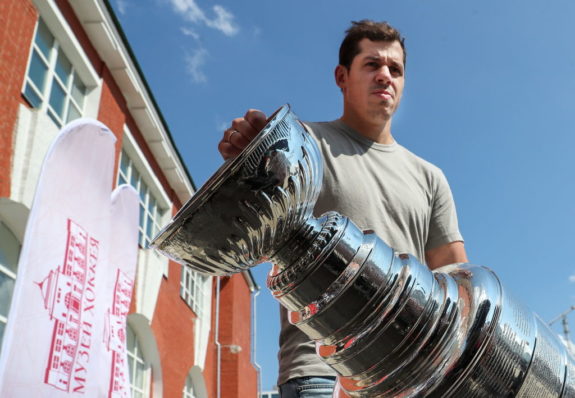 Malkin has surpassed 100 points in a season three times and led the league in scoring in 2008-09 and 2011-12. He has three Stanley Cup rings, a Hart Memorial Trophy, a Calder Trophy, a Conn Smythe, and a Ted Lindsay in addition to his two Art Ross wins.
In his first 15 NHL seasons – all spent with the Pittsburgh Penguins – Malkin scored 424 goals, 680 assists, and 1,104 points in only 940 games. A Hockey Hall of Fame career for sure, he has enough gas left in the tank to hit the 500-goal mark before all is said and done.
4) Artemi Panarin
"The Bread Man" joined the Chicago Blackhawks in 2015-16 after seven KHL seasons. As an NHL rookie, Panarin scored 30 goals and 77 points to win the Calder. Following back-to-back 30-goal seasons in "The Windy City", he was traded to the Columbus Blue Jackets on Jun. 23, 2017, along with Tyler Motte and a 2017 sixth-round draft pick in exchange for Brandon Saad, Anton Forsberg and a 2018 fifth-round selection.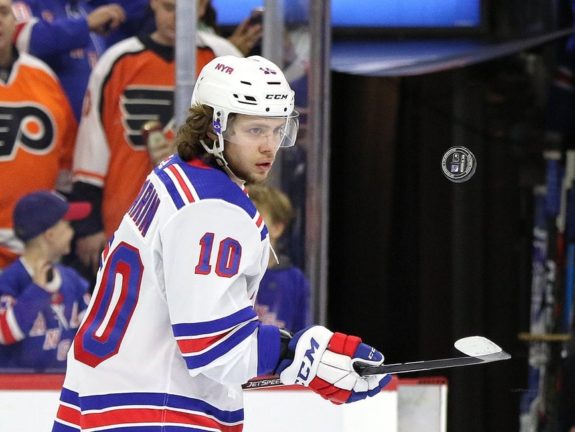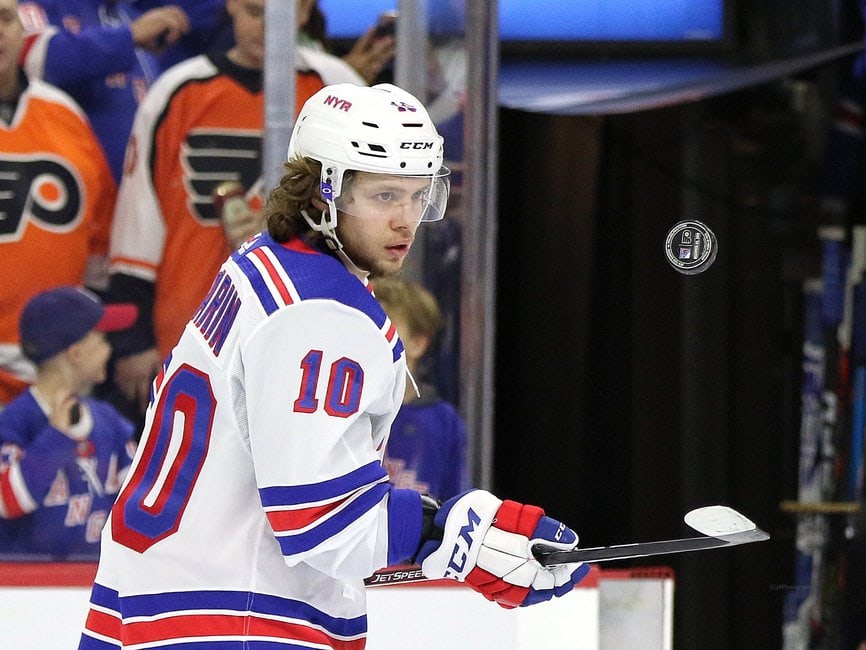 Panarin's penchant for scoring continued in Ohio. While his goal totals dropped slightly to 27 and 28 in 2017-18 and 2018-19 respectively, he surpassed his own career highs in points with 82 and 87.
Panarin moved to the "Big Apple" beginning with the 2019-20 season by signing a ginormous seven-year, $81.5 million contract with the New York Rangers. In his first season as a "Blueshirt", Panarin led his club in scoring with a whopping 32 goals, 63 assists and 95 points in only 69 games – a full 20 points more than the next highest teammate. With 473 points through 433 NHL games, he seems to be the most likely next Russian to eventually hit the magic 1,000-point plateau.
3) Andrei Vasilevskiy
Andrei Vasilevskiy made his NHL debut during the 2014-15 season. He was part of the Tampa Bay Lightning's run to the Stanley Cup Final, where they lost in six games to the Blackhawks. Vasilevskiy ended up acquiring the starting netminder duties for the team in 2016-17, and he has held those reigns ever since.
Vasilevskiy won the 2018-19 Vezina Trophy as the NHL's Best Goaltender. He lost only 10 games in regulation during that season, while earning a whopping 39 victories. Factoring in his six shutouts, no goaltender in the league gave a finer performance as he backstopped the Bolts to a President's Trophy-winning record by going 62-16-3-1.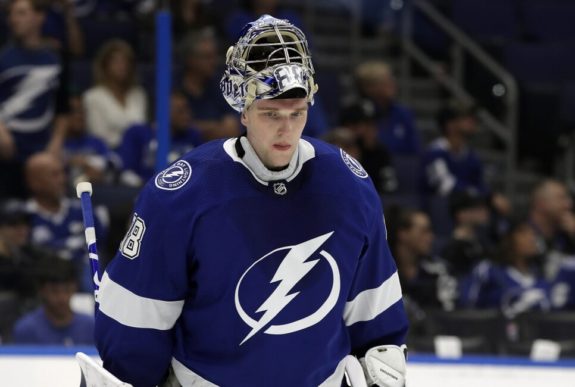 What is rather shocking is that Vasilevskiy only finished third in voting for the Vezina in 2017-18, despite winning an NHL leading (tied with Winnipeg's Connor Hellebuyck) – and current career-high – 44 games. With Vasilevskiy signing an eight-year contract extension on Jul. 29, 2019, Lightning fans gained assurance that they would have an elite goaltender for years to come.
It did not take long for Vasilevskiy to capitalize a short time later. He won an incredible 18 games in the 2019-20 postseason amidst the Covid-19 pandemic and secured the first Stanley Cup ring of his NHL career. This came after Vasilevskiy led the league in regular-season wins with 35 in just 52 games. Then, the following season, he backstopped the Lightning to yet another Stanley Cup, making him the first goaltender to win back-to-back Cups since Marc-Andre Fleury did it with the Penguins in 2016 and 2017. With two Cups now attached to his namesake combined with his stellar performances, he is automatically making a push towards the Hall of Fame.
2) Alex Ovechkin
Whenever Alex Ovechkin decides to retire, he could very well be considered the greatest goal scorer in hockey history when he does. By the time he was 33 years old, he had scored 658 goals. He has since eclipsed the 700-goal mark, which he did so in 2019-20. If there could ever be a player capable of reaching Wayne Gretzky's mark of 894 for tops overall, it would be Ovechkin.
Much of that stems from the consistency in which "the Great Eight" has scored prolifically. He has never scored less than 24 goals in a season. Eight times Ovechkin has reached 50 goals or higher. His career-best came in his third season (2007-08) when he scored 65 goals in 82 games.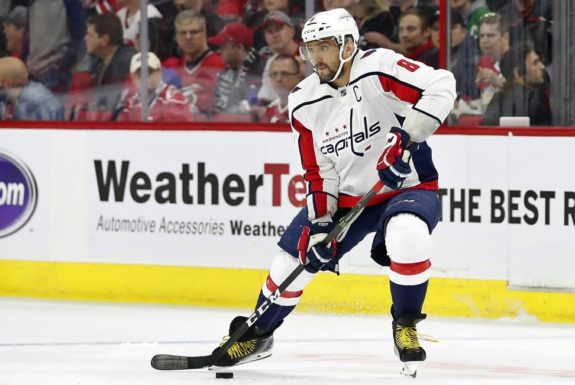 Ovechkin owns a Stanley Cup, a Conn Smythe, eight Maurice "Rocket" Richard Trophies, the Calder Trophy, three Hart Memorials, one Art Ross, and three Lester B. Pearson/Ted Lindsay Awards.
Many are hoping that he plays long enough to break Gretzky's record. His ability to generate goals shows no signs of diminishing.
1) Nikita Kucherov
Though his 2020-21 season was wiped out because of hip surgery, there is still no better Russian in the NHL today than the Tampa Bay Lightning's Nikita Kucherov. For six straight seasons his point totals increased for the Lightning. Kucherov reached the 100-point plateau both in 2017-18 and 2018-19.
With the exception of his rookie 2014-15 campaign, he has yet to score less than 29 goals in a season. Upon scoring 128 points (41G, 87A) during 2018-19, Kucherov earned the Art Ross Trophy, Hart Memorial Trophy and the Ted Lindsay Award. Those same 128 points surpassed Alexander Mogilny for most points in the NHL by a Russian-born player. Additionally, Kucherov's 87 assists tied Jaromir Jagr for the most assists in a single NHL season by a winger.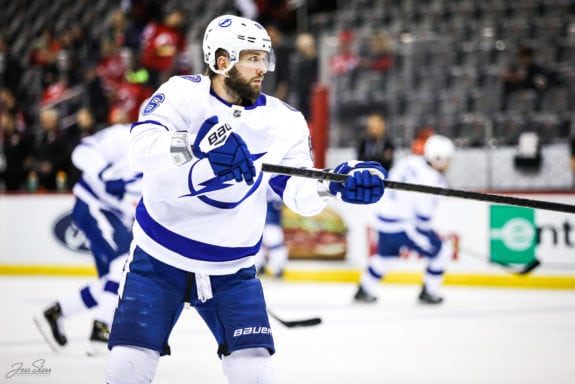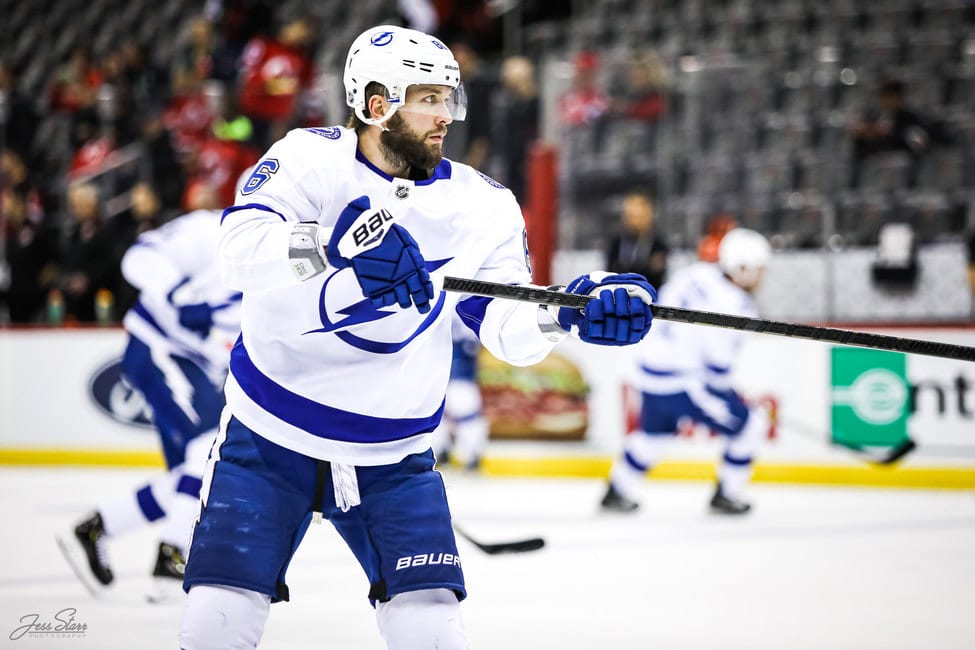 While the Lightning have an entire cast of marquee players, Kucherov is the one individual who is the biggest difference-maker for their hockey club. As the Bolts hoisted back-to-back Cups in 2019-20 and 2020-21, he led the league in playoff points with 34 (7-27-34) in 25 games and 32 (8-24-32) in 23 games respectively. Getting his name inscribed on the Stanley Cup twice only further solidifies him with the topmost spot on our list.
Before his career comes to a close, it is likely that Kucherov will write his name in a few more pages of the record books.
---
---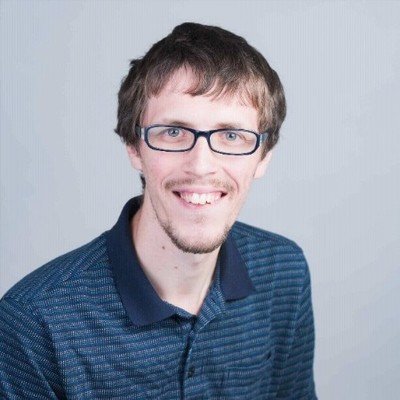 Matthew Zator is a THW freelance writer, media editor, and scout who lives and breathes Vancouver Canucks hockey, the NHL Draft, and prospects in general. He loves talking about young players and their potential. Matthew is a must-read for Canucks fans and fans of the NHL Draft and its prospects. For interview requests or content information, you can follow Matthew through his social media accounts which are listed under his photo at the conclusion of articles like this one about Tyler Motte.
Matthew also hosts The Hockey Writers Prospect Corner on YouTube and is the co-host of The Hockey Writers Podcast & Western Centric Podcast.