| | | | |
| --- | --- | --- | --- |
| Born: | July 31, 1986 | Draft: | 2004 Penguins #2 Overall |
| Hometown: | Magnitogorsk, Russia | Position: | Centre |
| Known For: | 3x Stanley Cup | Shoots: | Left |
| National Team: | Russia | | |
Evgeni Vladimirovich Malkin (Russian: Евге́ний Влади́мирович Ма́лкин, IPA: [jɪvˈɡʲenʲɪj ˈmaɫkʲɪn]; born 31 July 1986) is a Russian professional ice hockey centre and alternate captain for the Pittsburgh Penguins of the National Hockey League (NHL). Nicknamed "Geno", Malkin began his career with his hometown club Metallurg Magnitogorsk, playing for their junior and senior teams. He was then selected second overall in the 2004 NHL Draft by the Pittsburgh Penguins, though an international transfer dispute delayed the start of his NHL career until 2006.
After his first season with the Penguins, Malkin was awarded the Calder Memorial Trophy as the NHL's best rookie. In his second season, he helped lead Pittsburgh to the 2008 Stanley Cup Final and was a runner-up for the Hart Memorial Trophy, awarded to the NHL's most valuable player during the regular season. The following season saw Malkin win the Art Ross Trophy, awarded to the top-scorer in the NHL and again place second for the Hart Trophy. He and the Penguins again reached the Stanley Cup Final, winning the Stanley Cup championship this time around. Malkin was awarded the Conn Smythe Trophy as most valuable player of the playoffs. In 2012, Malkin was awarded the Hart Trophy and Ted Lindsay Award, awarded to the best player as voted on by the players, after winning the Art Ross Trophy for the second time; his 12-point lead was the largest margin of victory since 1999.
Internationally, Malkin has competed for Russia in two IIHF World U18 Championships and three IIHF World U20 Championships, capturing one gold, two silvers and one bronze medal, as a junior. In 2006, in addition to a silver medal, he was also named tournament MVP. As a senior, he has played in four IIHF World Championships, winning the gold medal and being named the tournament MVP for the 2012 event. In addition he has won the bronze medals in two other World Championships and has played for team Russia during three Winter Olympic Games, in Turin, Vancouver and Sochi. In 2020, he was named to the IIHF All-Time Russia Team.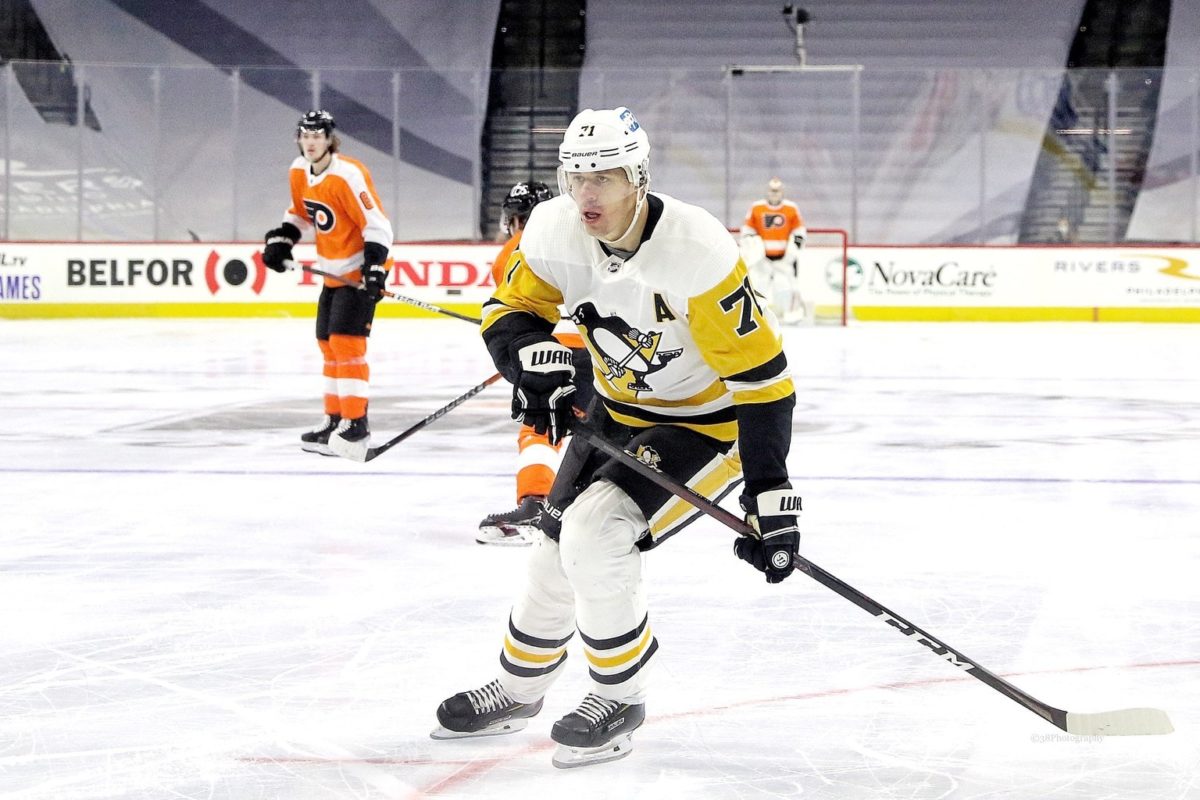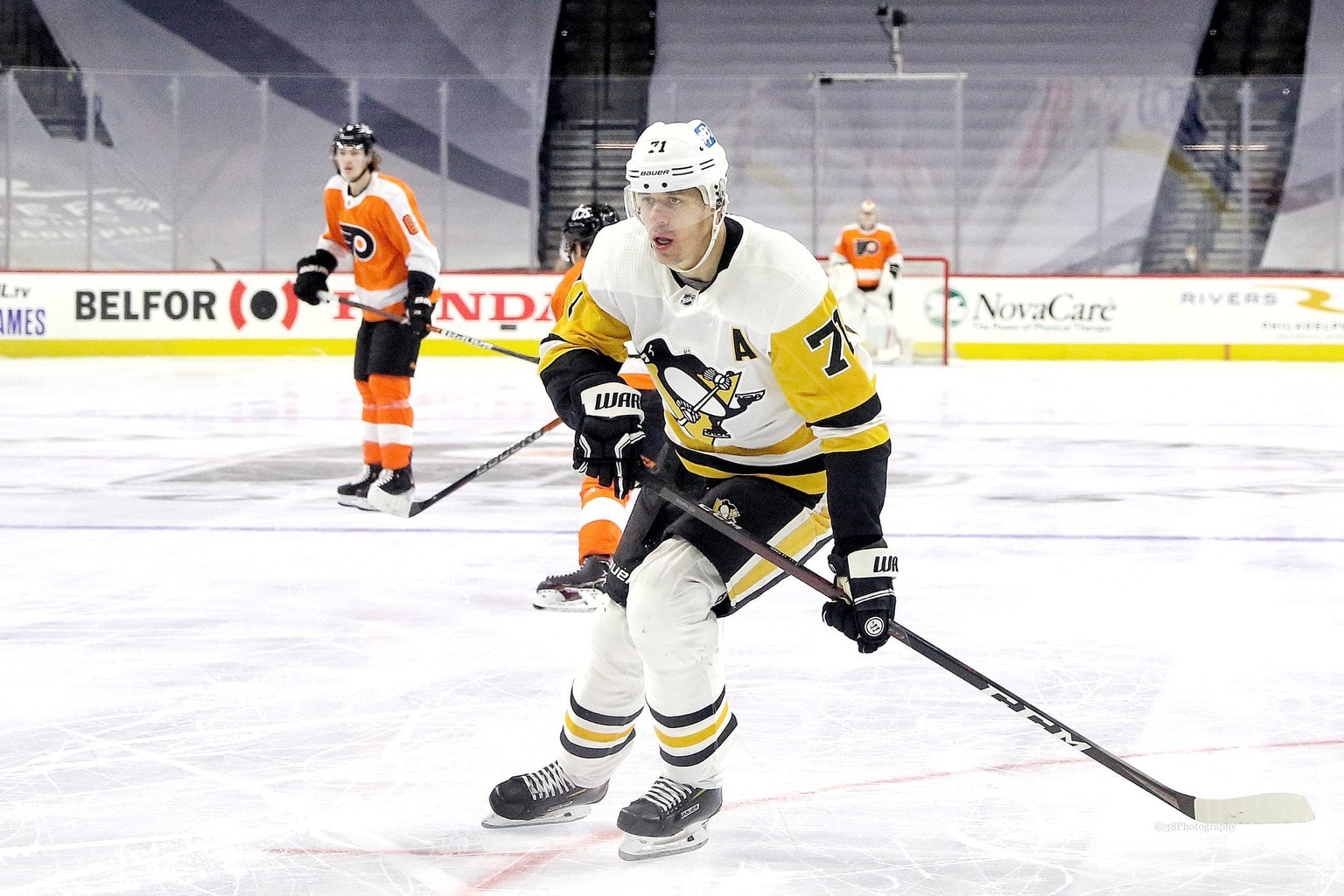 Evgeni Malkin Statistics
Deeper Dive
Achievements
3x World Championship Bronze Medal (2005, 2007, 2019)
6x NHL All-Star Game (2008, 2009, 2011 – did not play, 2012, 2016 – did not play, 2017)
3x Stanley Cup Champion (2009, 2016, 2017)
Russian Player of the Year (Valeri Kharlamov Trophy)
2x World Championship Silver Medal (2010, 2015)
2x World Championship Gold Medal (2012, 2014)
World Championship Scorer of the CWG (2014)
3x World Championship Top 3 Player on Team Russia (2006, 2012, 2014)
KHL All-Star Game (2013 – did not play)
3x NHL First All-Star Team (2008, 2009, 2012)
2x Art Ross Trophy (2009, 2012)
Hart Memorial Trophy (2012)
Ted Lindsay Award (2012)
Russian Player of the Year (Valeri Kharlamov Trophy) (PIT) (2012)
2x World Championship All-Star Team (2007, 2012)
World Championship Best Forward (2012)
World Championship Most Valuable Player (2012)
Conn Smythe Trophy (2009)
NHL All-Rookie Team (2007)
Calder Memorial Trophy (2007)
NHL YoungStars Roster (2007)
U20 WJC All-Star Team (2006)
U20 WJC Best Forward (2006)
U20 WJC Most Valuable Player (2006)
2x U20 WJC Silver Medal (2005, 2006)
U18 WJC All-Star Team (2004)
U18 WJC Best Forward (2004)
U18 WJC Gold Medal (2004)
U18 WJC Bronze Medal (2003)
Sources