The '12 Days of Christmas' is a classic holiday song first published in its current form in 1908. In a nod to the classic carol, join The Hockey Writers as we count down the 12 Days of Hockeymas. Each day, we will provide you with a piece of hockey history as we eagerly await the start of the 2020-21 NHL season.
The 12 Days of Hockeymas continues for the Pittsburgh Penguins with the 10 highest-scoring players in franchise history. These 10 players are not only the highest scorers in Penguins history, but they all reached or surpassed 500 points with the organization.
Syl Apps Jr. – 500 Points
Son of Hall of Famer, Syl Apps, Syl Apps Jr. was a star player in his own right in the NHL. He scored a total of 606 points in his career, and the 500 he scored with the Penguins were enough to overshadow his father's career total of 432. As a member of the "Century Line" Apps Jr. became one of the first superstars in Penguins history. One of the finest playmakers of the 1970s teams, he became the then-franchise leader in assists with 349.
Despite being traded out of Pittsburgh over 43 years ago, Apps Jr. and his 500 points with the team still keep him in the top-10 in franchise scoring. Odds are he will be staying put at this spot for a few years still, as the closest active Penguin behind his number is Jake Guentzel with 200 points.
Kris Letang – 537 Points and Counting
A point total that is still growing, defenseman Kris Letang has been setting the standard for future generations of Penguins blueliners. Through the first 14 seasons of his career, he has scored 127 goals and 410 assists for 537 points, all of which are the most by a defenseman in franchise history. Once the NHL comes back to the ice, Letang will continue to separate himself from Hall of Famer Paul Coffey as the top defensive point scorer in Pittsburgh.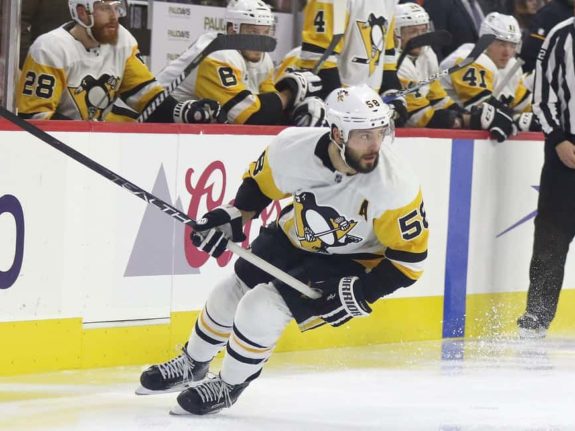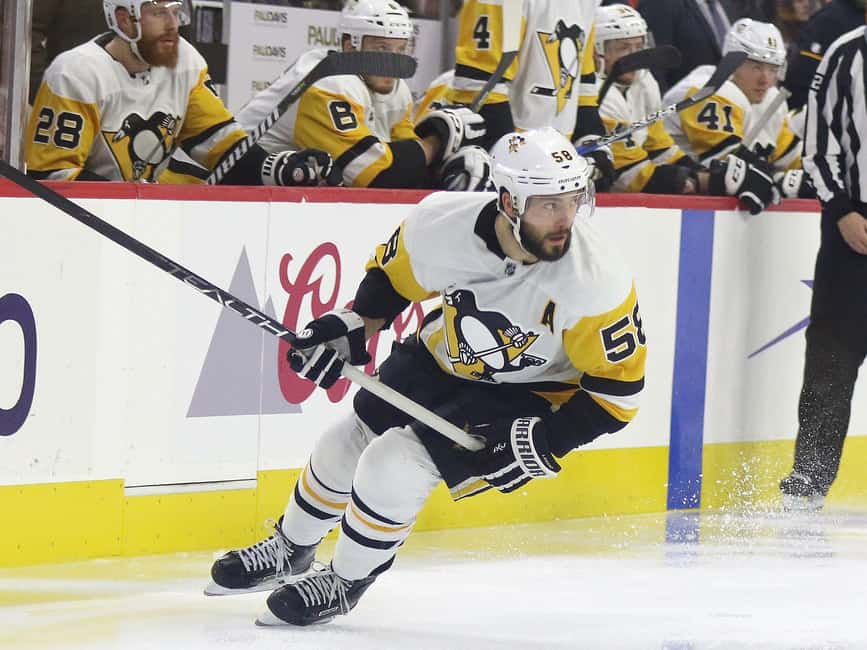 Letang has had to overcome a fair deal of adversity to sit where he does today on the Penguins' leaderboards. Over the years he has suffered multiple season-ending injuries, which included a stroke in 2014. Other injuries that had hampered his career include a couple of concussions and a neck injury that sidelined him for 41 games in the 2016-17 season and the entire playoffs.
The French-Canadian defender has played a full 82-game slate only once, yet he is still one of if not the best defenseman in Penguins history.
Kevin Stevens – 555 Points
One of the all-time best grinding forwards in hockey, Kevin Stevens not only reached the top-10 in points, but is the leader in penalty minutes in Penguins history. Stevens had the honor of playing on a line with Mario Lemieux during the Penguins' back-to-back Stanley Cup runs in 1991 and 1992, which may have played a hand in reaching such a high mark.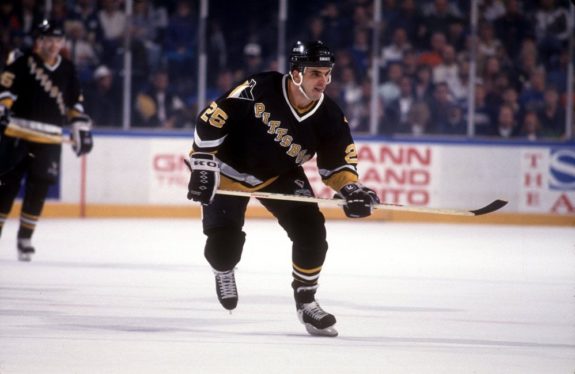 During the 1991-92 and 1992-93 seasons, Stevens put up his only two career 100-point seasons, scoring 123 and 111 points, respectively. During both seasons he ranked second on the team in points, behind only Lemieux who was the league leader.
The American-born forward played for a handful of other teams during the latter half of his career, but returned to the Penguins for his last 64 games. In those games, he scored an extra 28 points, pushing him to 555 with Pittsburgh. Without the extra 28, Stevens would already be ranked behind Letang on this list.
Jean Pronovost – 603 Points
The second member of the Century Line to reach over 500 points, Jean Pronovost, like Apps Jr., was one of the original stars in Pittsburgh. Pronovost, throughout the 1970s, was consistently one of the top point scorers on the team, and helped the Penguins reach the playoffs the first five times in franchise history. Thanks to his skillset and leadership, the team named him captain before his final season with them.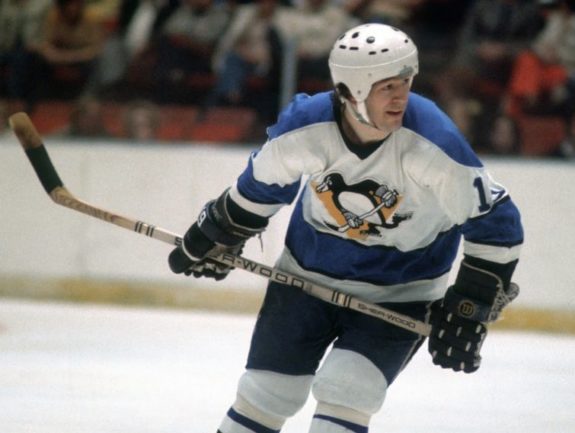 Scoring goals is what made Pronovost stand out, reaching at least 30 tallies six times, including five straight. During the 1975-76 season, he became the first ever Penguin to hit the 50-goal mark, netting 52 in 80 games. Upon his departure from the team, his 316 goals were a franchise record that stood for 11 seasons.
Ron Francis – 613 Points
One thing that Ron Francis and Apps Jr. have in common is they reached over 500 points with the Penguins in under 10 seasons. Both played parts of eight seasons in the uniform and left their mark on team history.
While he scored just shy of 1,800 points in his career, Francis prided himself as a great defensively minded forward. That is proven as he stands as the only Penguin to win the Frank J. Selke Trophy for the league's best defensive forward. His leadership and 200-foot play helped him be named captain of the Penguins when Lemieux was not with the team.
When Francis arrived in Pittsburgh during the 1990-91 season, he already surpassed the 800-point mark by scoring 821 with the Hartford Whalers. With Pittsburgh, he would have a pair of 100-point season. In 533 games with Pittsburgh, he put up outstanding numbers while never leading the team in points. His 164 goals, 449 assists, 613 points are just fractions of what he did throughout his career, but he was vital to the team's success in the 1990s.
Rick Kehoe – 636 Points
Possibly one of the most underrated Penguins of all time, Rick Kehoe was a star at the time, but largely forgotten about since the teams he played on weren't very good. Kehoe played with the Penguins during an era that saw the team's first bankruptcy and rarely saw a season with more wins than losses.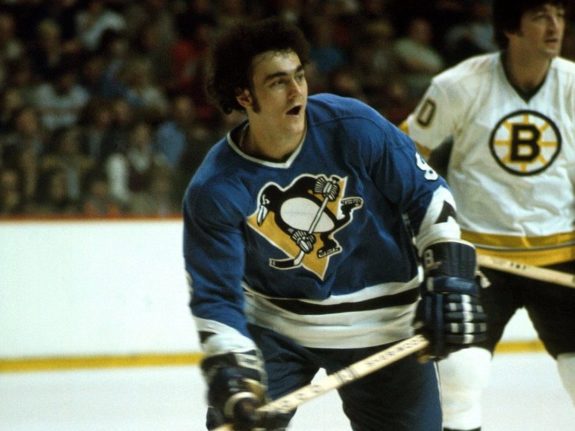 The Penguins may not have been good, but Kehoe was good — very good. In 11 seasons, he scored 312 goals and 324 assists for 636 points. He was helped along by back-to-back 80-plus-point seasons in 1980-81 and 1981-82, the first of which was the lone 50-goal season of his career.
While not as talked about today, Kehoe was the Penguins' all-time leader in points when he retired in 1984. That mark stood for a little over four seasons until a 23-year-old Lemieux passed Kehoe as the greatest point scorer in team history.
Evgeni Malkin – 1,076 Points and Counting
Don't worry about what the NHL 100 has to say, Evgeni Malkin is one of the best Russian-born players in league history. His 1,076 points (and counting) can speak for itself on where he stands among the greatest to ever play the game. A player of his caliber would be a No. 1 center on any other team in the league, but sitting behind and playing alongside Sidney Crosby for an entire career shows its benefits.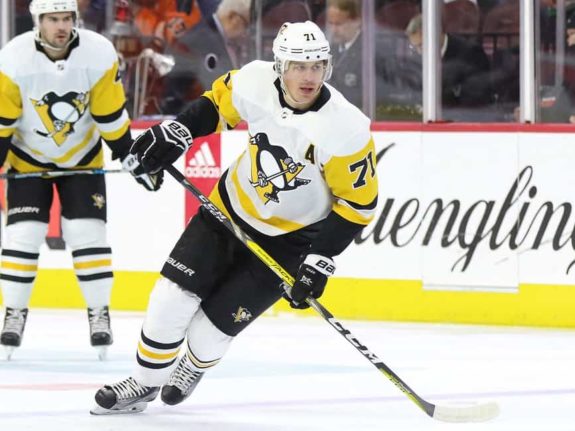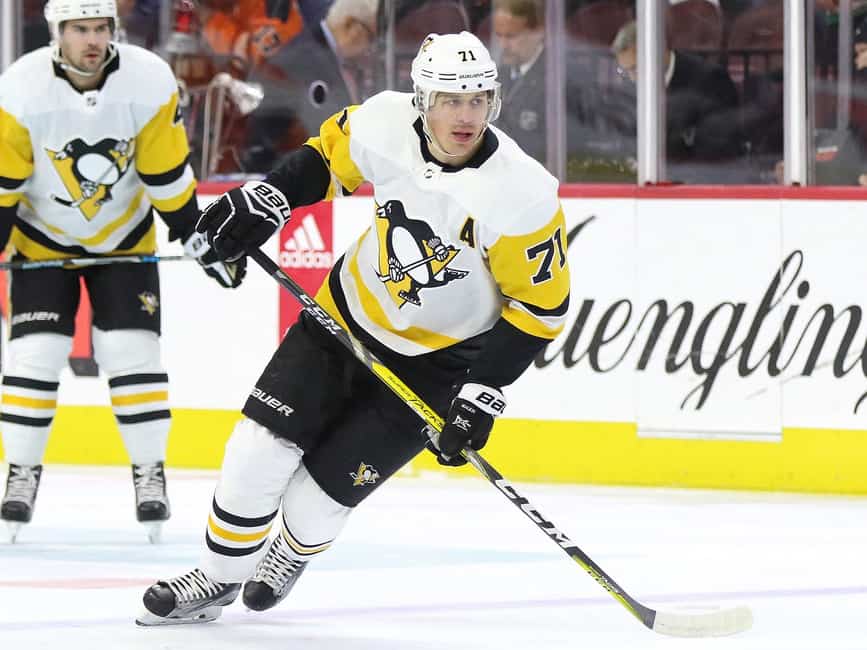 Malkin became the fourth player in Penguins history to win the Art Ross Trophy as the league leader in points with 113 in 2008-09. He would win the award again in 2011-12 with 109 points, and his only 50-goal season. Before either Art Ross Trophy, during his sophomore season, the Russian center had his first 100-point season with 106 in 2007-08.
Malkin's legacy in Pittsburgh will never be forgotten, but he is just a handful of points away from passing another all-time great.
Jaromir Jagr – 1,079 Points
Only three points ahead of Malkin, Jaromir Jagr was a pillar of the Penguins' offence the entirety of his 11 seasons in Pittsburgh. He began his storied career as the second-highest scoring player in NHL history by putting up his first 1,079 points with the Penguins. Through his 11 seasons with the team, only three times did he score less than 90 points. When teammates like Lemieux and Francis weren't around, Jagr would be picked as Penguins captain.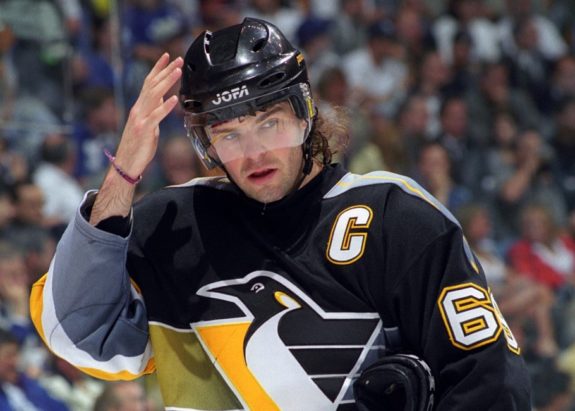 Jagr bolstered his numbers with Pittsburgh when he won four consecutive Art Ross Trophies from 1998 to 2001, scoring 446 points those seasons — three of those seasons he also lead the league in assists. During his 11-year tenure in Pittsburgh, Jagr helped contribute to never missing a postseason.
A notable part of Jagr's scoring prowess was performing in clutch situations. He holds the franchise record for game-winning goals with 78, and the team's single-season record of 12 in 1995-96.
Sidney Crosby – 1,263 Points and Counting
Had it not been for a multitude of injuries, captain Sidney Crosby would have far more than 1,263 points. While the number is still impressive, it's a stat that will be growing soon enough as Crosby is closing in on the golden years of his NHL career. It was early in his career, however, when he began to leave a huge mark on the league. In four of his first five seasons, Sid the Kid finished with over 100 points. After the 2006-07 season, at age 19, he became the only teenager to win the Art Ross Trophy.
Since its inception in 1998, Crosby is the only Penguin to win the Maurice "Rocket" Richard Trophy as the league top goal scorer. He won the trophy twice, the first time sharing it with Steven Stamkos in 2010 with 51 goals, and by himself in 2017 with 44. Even without the Rocket, Crosby joins only Lemieux as the sole Penguins to lead the league in goal scoring.
However, Crosby is more than a goal scorer, as he has counted 801 assists over his first 15 seasons in the league, growing into one of the best playmakers in the game.
Mario Lemieux – 1,723 Points
Much like Crosby, Lemieux's numbers could have reached new levels had it not been for a laundry list of injuries. As it stands, Lemieux's 1,723 points might be near impossible to reach for future Penguins. He not only broke the old team records, but he crushed them and went on to set the standard for all Penguins players who followed.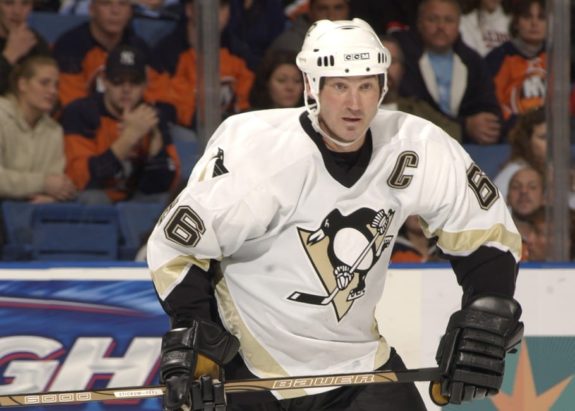 Standing as the Penguins' all-time leader in goals, assists, and points, it is a mystery if anyone will be able to surpass Lemieux's numbers in Pittsburgh. Despite never reaching 1,000 games played, he ranks behind only Wayne Gretzky as the all-time leader in points per game in the NHL at 1.88. Lemieux's point total stands eighth in league history, and is second among players who only played for one team.
The Penguins have a long history of great goal scorers and playmakers, but none have stood out as much as these 10 have. Setting themselves apart from the rest as the most productive players in franchise history.
Next on the Penguins' 12 Days of Hockeymas, the nine Penguins to reach the NHL's top 100 players.
---
---