Jake Gardiner was one of the most polarizing defensemen in recent Toronto Maple Leafs' history. On one hand, many Maple Leafs' fans saw his great talent and appreciated his offensive acumen. On the other hand, Gardiner made a number of obvious mistakes that drove Maple Leafs' fans crazy. 
Related: Should the Toronto Maple Leafs Trade Jake Gardiner?
When Gardiner's contract expired at the end of the 2018-19 season, the Maple Leafs allowed him to walk in free agency. Interestingly, he signed with the Carolina Hurricanes for the exact salary he had signed for in Toronto ($4,050,000).
Gardiner's Early Hockey Career
As a youngster, Gardiner was a standout player in Minnesota high school hockey on a successful Minnetonka High School team. Instead of playing junior hockey, Gardiner accepted a scholarship to play NCAA hockey at the University of Wisconsin. He played three seasons for the Badgers (2008-2011).
With the Badgers, Gardiner became known as an offensive defenseman who demonstrated high hockey IQ and an ability to move the puck up the ice. He was a strong skater and had stellar passing skills. He was especially adept at quarterbacking the power play.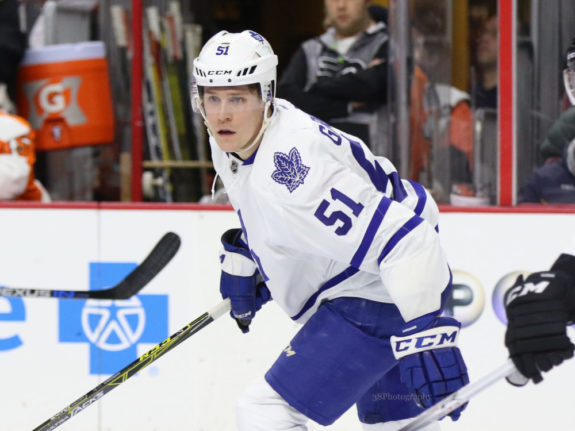 Gardiner was the only freshman defenseman to play in all 42 games of the Wisconsin season. In his first season, he collected 10 points and was named to the Western Collegiate Hockey Association (WCHA) All-Rookie Team. As a sophomore, he led Badgers' defensemen with 27 points and was named to the All-WCHA Second Team. In his junior season, he was the Badgers' top-scoring defenseman and was named to the All-WCHA First Team.
After his third season at Wisconsin, Gardiner was ready for the jump to the NHL.
Gardiner Came to the Maple Leafs in a Trade with the Ducks
Gardiner was drafted by the Anaheim Ducks in the first round of the 2008 NHL Entry Draft (17th overall). However, he never played a game with the California-based team. On February 9, 2011, he was traded to the Maple Leafs (with Joffrey Lupul and a round-four pick in the 2013 Draft, which turned out to be Fredrik Bergvik) for Francois Beauchemin. 
Beauchemin played in Toronto for two seasons (from 2009 until 2011). Interestingly, he came to the Maple Leafs in a trade with the Ducks in 2008 and was later traded back to them in 2011. As well, at the end of his career, Beauchemin signed as a free agent so he could end his career there in 2017-18. 
Related: Maple Leafs' Holl Getting the Jake Gardiner Treatment
---
Latest News & Highlights
---
In his time with the Maple Leafs, Beauchemin played as a top-four defenseman for the team and regularly as a part of the team's penalty-kill unit.
Gardiner's Time with the Maple Leafs
In total, Gardiner played eight seasons with the Maple Leafs. In Toronto, he showed the same offensive upside he had shown as a college hockey defenseman. Although many Maple Leafs' fans remember Gardiner toward the end of his career when he struggled, when he was healthy, he thrived as a two-way defenseman. 
After he finished his University of Wisconsin season in 2011, Gardiner jumped right to the Toronto Marlies and played 10 American Hockey League (AHL) games. The next season, the Maple Leafs moved him onto the roster of the big club where he played 75 games. Although he moved back and forth between the AHL and the NHL, by the time the 2013-14 season came around, Gardiner was a regular on the team's blue line.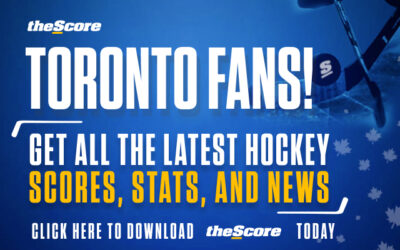 Over the next five seasons, Gardiner never played fewer than 79 games in a season. He became the team's top offensive defenseman and was used to quarterback the power play. His best season with the team was in  2017-18 when he put up his career-high in points (five goals and 47 assists, for 52 points).
However, that success was going to end. During the 2018-19 season, Gardiner began to struggle with back injuries. These injuries eroded his ice time and impacted his performance. At the end of the 2018-19 season, the Maple Leafs did not re-sign him. He signed as a free agent with the Carolina Hurricanes.
Gardiner's Back Injuries Persisted with the Hurricanes
When Gardiner first moved to the Hurricanes, he had an MRI that came back clear. In his first season in Carolina, Gardiner played 68 games, registering four goals and adding 20 assists (for 24 points). However, his back injuries re-emerged; and after trying to rehab his back without undergoing surgery, finally, there was no other option.
In early September 2021, the Hurricanes announced that Gardiner would undergo back and hip surgery and would be placed on long-term injured reserve. He had the surgery; and in June 2022, Gardiner was given medical clearance to play. It was noted that he was ready for the 2022-23 regular season.
Related: Showing Players "Tough Love" Is Sick and Hurts Hockey
However, that news was followed in September 2022 by an announcement that Gardiner would not attend the Hurricanes' training camp. He would start another season on long-term injured reserve.
That's where Gardiner's situation remains today. The fact is that Gardiner might never play hockey again. If he doesn't, he'll become a victim of debilitating back injuries that forced him out of a game he was good at until his injury.
Back Injuries and Hockey Players
Back injuries have shortened many hockey players' careers. Such injuries seriously impact the strength and flexibility of all hockey players, who rely on their back muscles to skate, twist, shoot, and engage in all manner of physical contact that's part of the sport. Often hockey players who suffer back issues never are able to recover from their injuries to regain their form.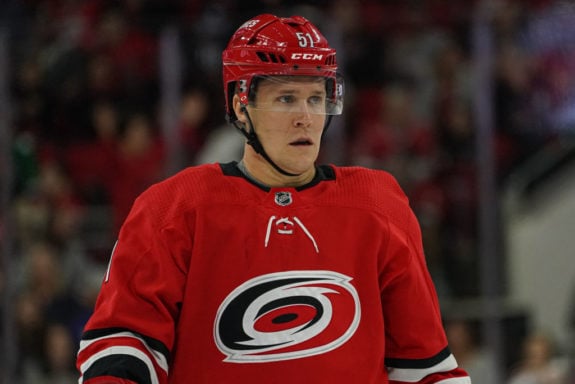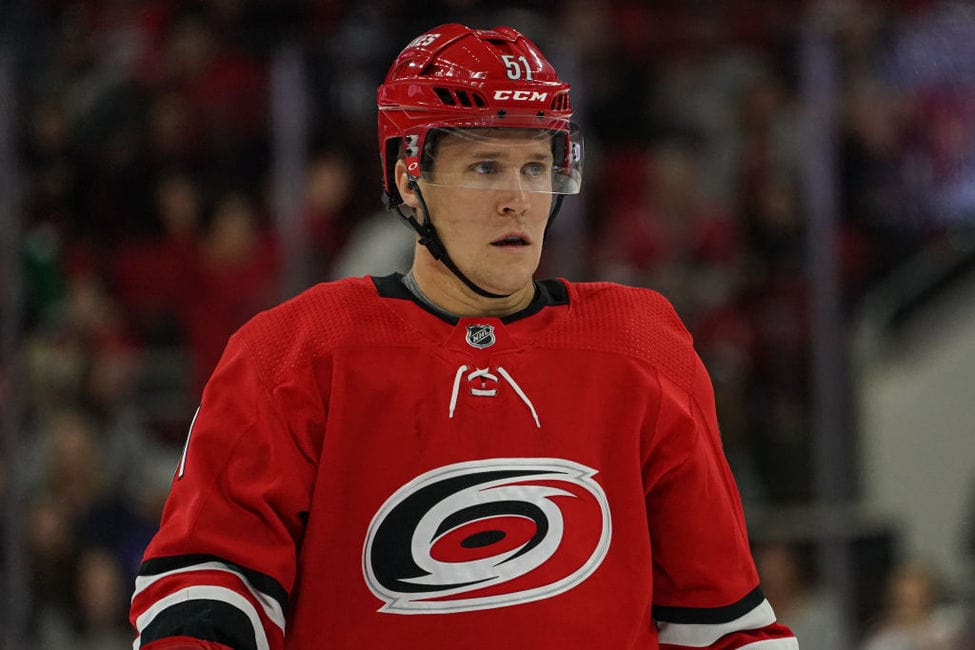 Sadly, that's probably Gardiner's story. His back issues became a chronic concern he could not overcome. 
Gardiner's specific injury was a herniated disc. The condition happens when the gel-like center of a disc bulges out of the disc space and into the spinal canal, where it compresses the nerves and causes pain. The injury is usually caused in one of two ways: first, by a sudden, traumatic event (a hard bump against the boards perhaps); or, second, by repetitive motions, such as twisting and bending. 
Gardiner's Tenue with the Maple Leafs
Overall, Gardiner had a successful tenure with the Maple Leafs. It's hard to say where this once-solid offensive defenseman stands in the memories of Maple Leafs' fans. Until his back injury, he was a solid performer. Like all defensemen playing a difficult position, he experienced success and failure, and he did it in front of thousands of cheering or booing fans.
Related: Fuhr Suspension Helped Pave Way for NHL Drug Policy
During his time with the team, he was often booed by Maple Leafs' fans for his on-ice errors. Whether these errors were exacerbated by his back injuries or not, no one knows. However, at the end of his Maple Leafs' career, he suffered a number of defensive lapses, and his play became inconsistent.
What will his lasting legacy be with the Maple Leafs? Will his contributions to the team be remembered positively or negatively? 
At his best, Gardiner was a strong offensive defenseman. He played eight seasons with the Maple Leafs and, as noted, was a polarizing player. Sadly, his legacy was probably marred forever by the high-profile mistakes he made that led to goals against at crucial moments.
He was the topic of the first post I ever wrote with The Hockey Writers now almost five years ago.