Troy Bourke THW Close-Up:
Date of birth: 03/30/1994
Place of birth: Onoway, AB, CAN
Ht:  5'10″ Wt: 180
Shoots: Left
Position: Forward
NHL Draft Eligibility: 2012 1st year eligible
THW Ranking (May): 56th
Other Rankings:
NHL Central Scouting: 123rd (NA skaters)
Hockey Prospects: #43 overall
***
*Click here for Notes Up Front for various topics covered below in the live updated NHL 2012 Entry Draft Guide – The Next Ones home page – your quintessential draft resource.
***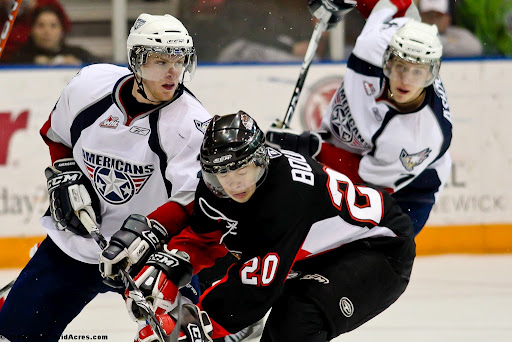 It's never a good idea to base an opinion on a prospect solely on statistics. This is definitely the case with Prince George Cougars forward, Troy Bourke.
First off, many sites report his dimensions as 5'10" and weighing somewhere between 150 to 160 lbs. Troy has concentrated his training on adding weight to his frame. While he's certainly not going to project as a behemoth forward, he currently tips the scales at about 180 lbs.
Secondly, if you take a glance at his stat line for the past two seasons, one might ponder if he's actually regressed as a player. You couldn't be more wrong if you jumped to that conclusion.
True, Bourke had 1 less goal (18 versus 17) while playing 3 more games. He also went from a plus-15 rating the prior year to minus-12 this past season. He did have 15 more assists than the previous campaign (38 versus 23). One has to take into account that the then 17 year old led his team in scoring by a fair margin, with 16 year old sensation Alex Forsberg coming in a distant second with 40 points compared to Troy's 56 point total. To his credit, Forsberg played 20 less games, but likely would have enhanced Bourke's stats if he would have played in more contests.
The Cougars had a rough season, and Bourke was looked upon as a leader on the squad even though he was just 17 years of age. Troy embraced this role. Nonetheless, he often found his teammates a couple of steps behind him as the play developed in the rink. One can only speculate what point totals he could have mustered given more talented teammates.
Bourke also got off to a slow start this past season in the Dub, notching just 6 points in his first 16 games. Beyond that though he only got stronger, producing 50 points in 55 games, including 12 points in his last 9 contests.
He proved in the World Junior Hockey Championships U18s this spring in the Czech Republic that he can augment the play of talented linemates. He often found himself on a line with phenoms Hunter Shinkaruk (2013 eligible) and Kerby Rychel (2014 eligible). Bourke finished tied for fourth in Team Canada scoring with 7 points in 7 games.
Numbers aside, Bourke is an intriguing prospect. The first traits that jump off the ice surface are a smooth skating ability and his offensive skillset. He is a quick, shifty and elusive winger who exhibits very good hockey sense. Zach Parise's name keeps cropping up when NHL player comparisons are made. Bourke likens his game to that of Buffalo Sabres' crafty forward Tyler Ennis.
To round out his offensive tools, he is a precision passer and has an excellent wrist shot with a quick release.
Despite still being somewhat on the smaller side stature wise, Bourke utilizes his aforementioned hockey sense and non-stop motor to be an effective player in all three zones, and in all situations – including on the powerplay and penalty killing. He is not intimidated by physicality and often intitates contact. He is a coach's dream.
Where will he end up in June: While I have him ranked 56th overall in my current Top 120 rankings (May, 2012), he may have a late surge in the final rankings. He's a draft day wild card who could land anywhere from the 2nd round all the way to the 4th round.
***
Scout's Honour:
"Bourke is a slightly undersized, offensive forward for the Cougars.  Possesses good hockey sense, a good shot, above-average skating ability and a solid amount of grit in his game.  Had a strong showing for Canada at the recent Under-18's, ultimately moving him a couple spots up in my rankings because of his increased versatility at the event.  Can play the powerplay and the penalty kill and has a good motor. Might not have the highest potential, but he's well suited to one day make an NHL roster.

NHL Style Comparable:  Zach Parise

Top End Potential: Top 9 Winger

Pick Prediction: 75-100th Overall"
– Cody Nickolet, WHL From Above
***
"Bourke was the leading scorer on his team with 52 points in 68 games which tells you about how little help he had generating firepower this season. This hurt him at times as scouts who were watching him said, "He would be a step ahead of his teammates trying to set them up, but they wouldn't catch up." Bourke is a pretty intelligent forward who excels as a playmaker. He's a very creative thinker who knows how to make time and space for himself, and when lanes open up, he hits his targets quickly and effectively with his combination of puck skills and offensive sense. Bourke plays the point on the power play due to his sense, but also has a very good shot that is accurate and flies off his stick. Bourke is a quick skater, who can certainly get to a good top speed, but is more elusive and agile. For a smaller forward, he could use that one more gear to really become a legit all-around offensive weapon. He's a tough little guy who will throw his body around, but his strength level is underwhelming and he doesn't tend to have much success against bigger players."
– Corey Pronman, Hockey Prospectus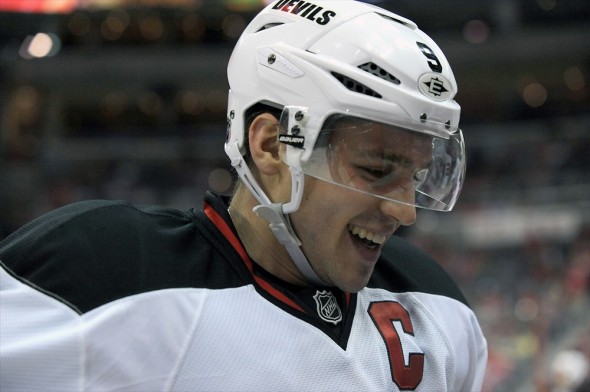 Statistics:
Bio/Interview(s)/Link(s):
1. How would you describe yourself as a player?

"Obviously an offensive player. I feel I have a bit of skill and I like to make plays and always make an impact when I'm on the ice."

2. Do you try and model your game after a player in the National Hockey League?

"I try and be like [Buffalo Sabres] Tyler Ennis. He's a really skilled forward that's a strong two-way forward. He's able to make a difference on offence and defence and that's what I try and go for."
International Tournaments:
Troy Bourke reflects on his experiences at the World U-18 Championships: http://t.co/huzYq7Ra

— PG Cougars (@PGCougars) April 25, 2012
ETA = 3 years
Risk-Reward Analysis:
Risk = 2/5   Reward = 4/5
NHL Potential:
Top six forward
Strengths:
*See "THW Close-Up" section above.
Smooth skater
Elusive and shifty
Puckhandling
Wrist shot
Backchecking
Awareness in all three zones
Hockey sense
Flaws/Aspects He Needs To Work On:
Continue to train to increase strength and add mass to frame to handle the rigors of the NHL.
Continue to develop his defensive zone acumen.
Fantasy Hockey Potential:
Offensive = 8/10   Defensive = 7.5/10
NHL Player(s) Comparison:
– Hybrid of Tyler Ennis and Zach Parise
Video(s):
Off The Iron (Interesting Notes):
To get some further insight I spoke with Prince George Cougars insider Alistair McInnis, Sports Editor at the Prince George Free Press. McInnis shared the following:
"Troy isn't the only one passionate about hockey in the Bourke family. Brad (brother) and Karla (sister) are both playing on varsity teams, Brad at Augustana in Camrose and Karla for the University of Alberta Pandas in Edmonton. Kevin was among Troy's coaches growing up.

The Bourke name also wasn't a stranger to the Prince George hockey scene before Troy joined the Cougars. Brad is a B.C. Hockey League alumnus who spent the majority of the 2009-10 season with the Prince George Spruce Kings. A defenceman, Brad recorded seven goals and 29 assists for 36 points in 50 games with the club."
***
"En route to Edmonton to start a five-game Alberta road swing, the Prince George Cougars spent an afternoon at the Onoway Arena (Troy's hometown) on Feb. 7, 2011. They held a practice, signed autographs for fans and had a potluck meal.

"I thought the community embraced us and had a huge meal for us. We had a lot of people there for practice. It was almost full to watch the practice," Cougars head coach Dean Clark said. "It was good for Troy (who had rock star status in Onoway) but also good for our team too just to see something a little bit different."

Troy noted that having a WHL practice in Onoway was a first for the community. He said his friends were excited to meet his teammates such as (current Tampa Bay Lightning) Brett Connolly, a member of Canada's silver-medal winning team at the 2011 World Junior Hockey Championship in Buffalo, N.Y."
Worth Retweeting:
http://twitter.com/coreypronman/status/192327456965926915
Cougars forward Troy Bourke is turning heads at the U-18 World Championships: http://t.co/OvAV0cQN

— PG Cougars (@PGCougars) April 20, 2012
***
THW's The Next Ones prospect profile template design architect: Chris Ralph
***
Christopher Ralph is THW's prospect and draft analyst as well as a managing editor.
*Follow ChrisRalphTHW on Twitter as he infiltrates, dissects & analyses all happenings of hockey prospects & the NHL entry draft.