Dane Fox THW Close-Up: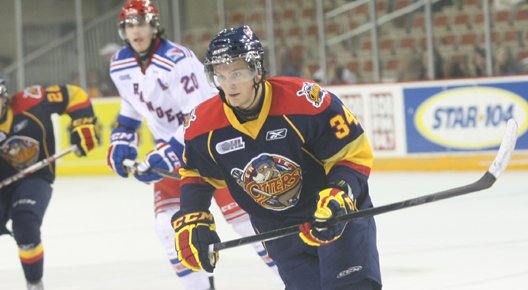 Date of Birth: October 13, 1993
Place of Birth: Thamesville, Ontario
Ht: 6-0 Wt: 185 lbs
Shoots: Left
Position: Center
NHL Draft Eligibility: 2012
Other than debating the role of the Kontinental Hockey League in luring away talented Russians, there may be no more hotly debated topic during the draft weekend than Erie Otters forward Dane Fox. Since he joined the OHL's London Knights three seasons ago, there's been tongues waggling about both the teen's impressive play and his alleged off-ice conduct. While there's not much in the way of verifiable reporting on Fox's less impressive qualities, the London Free Press reported on some of it recently:
"Last spring, the Knights sent Fox home for the final three games of the regular season as discipline for an undisclosed infraction. They brought him back for the playoffs and he scored a pivotal goal in a Game 4 win of the first-round series against the eventual OHL champion Owen Sound Attack."
What occurred to get Fox sent home hasn't been disclosed by the team or local media. He also missed the beginning of the pre-season with what was described by the team as a "personal issue." It was speculated that Fox's mid-season trade from the powerhouse London Knights to the lowly Erie Otters was related to these infractions, but once again, there's nothing verifiable about these claims. Right now, they're merely whispers.

Beyond these whispers, there's a lot to like about Dane Fox.
He's a fairly tenacious player, having played a key energy role with the Knights. He's shown the ability to contribute on both sides of the puck, but he may project better long-term as an agitator given his size (although if he adds a bit of muscle, he could maintain his offensive prowess). He's a good skater and has decent hands, and he showed fairly significant offensive progression this year with both London and Erie, playing a lot of minutes with some good line-mates. Given the lack of support he had in Erie, his offensive totals as an Otter are even more impressive than those in London. In this sense, the trade to Erie allowed him to showcase a bit of unlocked potential. Less sheltered than he was in London due to Erie's lack of depth, he'll be called upon to mature and carry the mail for the Otters next season. That said, his chippy style of play has led him to take some dumb penalties from time-to-time and if he's going to progress as a player, he'll need to reign in some of that wildness.
The biggest question mark for Fox are his intangibles. He's a good player who should get better with age and he possesses definite talent, impressing with a leading upper-body power mark at the draft combine. Central Scouting ranked him 46th among North American skaters, but I wouldn't be surprised if some of the intangible question-marks (the ill-defined "off-ice" issues and his penalty tendencies) cause him to fall a bit down several draft boards. This said, he will most likely be drafted. He may be a bit more of a gamble than some other players, but his experience in Erie following his trade suggests that he can rise to the occasion. He'll just need a bit of reigning-in to reach his potential.
Scout's Honour:
"Fox's biggest asset offensively is his intelligence.  He's able to read plays well, and his decision making is good, as he chooses the right times to make a move on a defender, pass to a teammate, or fire a shot on net.  Fox has a hard, and accurate wrist shot with a good release.  He has good vision and makes strong passes to his teammates. Despite his size, Fox is not afraid to battle along the boards, and does so effectively against larger opponents."
-Ben Kerr, Last Word on Sports
"A talented forward with good physical compliment to his game. Skates well with some nice speed and agility but could use work on his first few steps. Goes to the net and is dangerous in close proximity."
-Aaron Vickers, Future Considerations (2012 Entry Draft Guide available now)
Statistics:
Bio/Interview(s)/Link(s):
International Tournaments:
Fox has not yet represented Team Canada internationally.
ETA:
3-4 years
Risk-Reward Analysis:
Risk = 4/5 Reward = 3/5
NHL Potential:
A second or third line pivot who can kill penalties, pitch in on the power-play and be an all-around contributor
Strengths:
*See "THW Close-Up" section above.
Smart hockey instincts
Strong on face-offs
Good shot
Flaws/Aspects He Needs To Work On:
Adding some size
Consistency
Discipline (on-ice and off)
Fantasy Hockey Potential:
Forward – 7/10
NHL Player(s) Comparison:
His ceiling is likely an all-situations contributor such as a Jarret Stoll or Derek Stepan.
Off The Iron (Interesting Notes):
A 3th round selection, 51st overall, of the London Knights in the 2009 OHL Priority Draft.
Ranked 46th among North American skaters by NHL Central Scouting.
THW's The Next Ones prospect profile template design architect: Chris Ralph