Each year when draft time rolls around, hope springs anew for many teams. Especially for those teams sitting in a lottery position where they hold to the belief that the player they pick could be the piece that turns it all around.
There are times where one player single-handedly puts a new face on a franchise and makes them an instant contender, like 2005 and Pittsburgh drafting Sidney Crosby.
There are also years that despite the extensive scouting, it shows that the draft can still be a crapshoot, as the Atlanta Thrashers found in 1999 when they thought Patrick Stefan would usher in a new era in Atlanta hockey.
For the Edmonton Oilers, they are in a very unique position having the #1 overall pick for the third straight year, the first to have that opportunity since the Quebec Nordiques in 1989, 1990, 1991. The Oilers find themselves in a somewhat similar situation to those Nordiques going into the 1991 draft. Quebec had drafted two forwards in Mats Sundin and Owen Nolan with their first two #1 picks and were faced with phenom Eric Lindros being the clear cut favourite to go first overall in '91. With the philosophy of taking the best player available, the Nordiques decided they couldn't take the risk in passing on him and they made Lindros their number 1 pick.
Now in hindsight, some will say they would have been better taking Scott Niedermayer, who ended up going third to the Devils, not to mention avoiding the media circus that followed Lindros. However, when you consider that Lindros turned into Petr Forsberg, as well as Ron Hextall, Chris Simon, Mike Ricci, Kerry Huffman, Steve Duchesne, a 1st round selection (Jocelyn Thibault) in 1993, a 1st round selection (later traded to the Toronto Maple Leafs, later traded to the Washington Capitals—Nolan Baumgartner) in 1994, and $15,000,000 cash, it turned out pretty well for the franchise.
It is also considered the main reason why the Colorado Avalanche went on to win their Stanley Cup in 1996 and be an NHL powerhouse for years to follow.
Lindros from a production standpoint also proved worthy of that #1 pick, as for a number of years he was one of, if the best, players in the NHL and a dominant force.
The Oilers are also faced this year with the prospect of the #1 ranked player being a dynamic forward in Nail Yakupov. They of course, have Taylor Hall and Ryan Nugent-Hopkins as their previous first overall picks. There have been endless debates over what the Oilers should do with their pick. Take the best player available regardless of position, take the best defenceman available (Ryan Murray), trade down a few spots and get a young proven NHL defenceman as well as a lower lottery pick, and numerous other combinations and suggestions.
I believe that, while all viable options, the Oilers just can't afford to pass on Nail Yakupov. Having drawn comparisons to fellow countryman Pavel Bure, he is without a doubt the most dynamic offensive player available in the draft. He may not be considered the can't miss or once in a lifetime talent that Alex Ovechkin or Sidney Crosby were going into their draft, but he has the kind of offensive ability to bring fans out of their seats. If he can bring a "wow" factor to Edmonton like Bure did to Vancouver and come anywhere close to his numbers, then the pick will be well worth it.
There are, of course, no guarantees with draft picks and the progression of an 18 year old junior player is often hard to predict. That is especially true of Russian players coming into the NHL.  For every Alex Ovechkin or Ilya Kovalchuk, there is a Nikolai Zherdev or Nikita Filatov. All signs point to Yakupov not falling into the latter category. For starters, he has publicly stated his desire to play in the NHL, and Edmonton in particular.  He also is accustomed to North American hockey and living in Canada, having played his junior hockey with the Sarnia Sting.
History has shown, that more often then not, taking the best overall talent is the best move for a franchise picking #1, regardless of need.  That talent is quite often a forward.  The reason being is that generally defenceman take longer to develop and are more of a risk to be simply a depth player or outright bust as to being a top pairing stud.  Draft results will suggest that this is true of any position, but overall it shows that taking the forward is a safer pick, especially if that forward is the top ranked prospect to boot. In the last 30 years, 22 of the 30 top picks have been forwards, with only a couple of those 22 that could be considered a bust.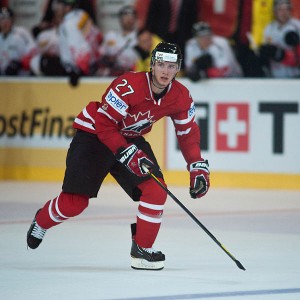 If the Oilers were drafting anywhere but first, and Ryan Murray was still on the board, they would be jumping for joy at having him in the blue and orange.  He is, by all accounts, a defenceman destined to have a long and productive NHL career and worthy of a top 3 pick.  However, this is the gift and the curse of drafting #1.
Teams picking mid to late in the first round hope to get a player that can help out their lineup in a year or two.  Picking in the lottery the plan is to draft a player that will be a mainstay and core player for years to come.  Picking #1, you want to hit a home run.  It is a position that hopefully won't come around again for a long time and you want a franchise superstar from it.
A defenceman may be what the Oilers need, and Murray would fill that need, but Yakupov has superstar written all over him.
The fact is, in the world of professional sports, the future is unpredictable. With injuries, contract situations, and the uncertain progression of young players, you can't afford to not take the best player available, who knows where you'll be in 5-10 years, or even 2-3 for that matter. There very well could be cap issues arise in a few years when all of the entry level contracts expire for Edmonton, but that is an issue for then, not now. Those issues will be there regardless of who the #1 pick is.
For a young team like the Oilers, deep in rebuild mode, the best approach is to collect assets. Young talented assets. Whether they all fit in seamlessly over the next number of years, or one has to be flipped for another piece, the more talented, dynamic assets you have, the better situation you put yourself in.  If Steve Tambellini hears a deal that blows the doors off and he can't pass up then by all means, and this year is one that he can certainly afford to listen, but it's hard to believe a deal that good will be there. Tambellini would certainly have to be blown away to trade the pick away.
One scenario had the Oilers trading down with the Toronto Maple Leafs and dealing the #1 pick for Jake Gardiner and the #5 pick. Gardiner is a 21 year old defenceman that can fly and has only scratched the surface of his talent.  He is proven to be productive at the NHL level, albeit one season, and was on the all-rookie team.  Combine that with the fact the Leafs can conceivably get the big centre they covet in Mikhail Grigorenko or Alex Galchenyuk at #5, it's hard to believe they would make that deal. There are many other similarly rumoured deals out there, but it's hard to believe that any of them are founded with fact.
Whichever direction the Oilers go on draft day, there will be a logical and sound argument for it, and only time will tell whether it was the right one.
The bottom line is….can they really afford to pass on Yakupov?