Nail Yakupov THW Close-Up:
*Originally published October, 2011; updated June 12, 2012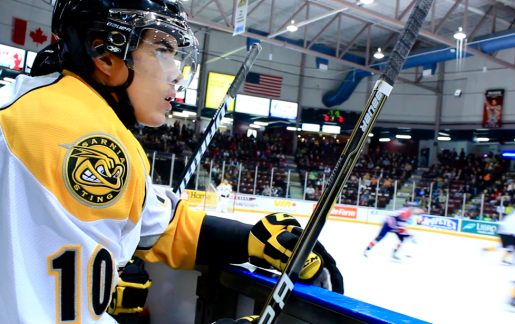 Date of birth: 10/06/1993
Place of birth: Nizhnekamsk, RUS
Ht:  5'10″ Wt: 190
Shoots: Left
Position: Right Wing
NHL Draft Eligibility: 2012 1st year eligible
THW Ranking (May): 1st 
Other Rankings:
Final CSS North American Rank: 1st
Future Considerations: 1st
ISS: 1st
Hockey Prospect: 1st
The Hockey Guys: 1st
Craig's List: 1st
***
Click Here for "Notes Up Front" and the "Legend" for various topics covered below in the "Live Updated" THW's NHL 2012 Entry Draft Guide – The Next Ones home page.
***
Nail Yakupov. Ryan Nugent-Hopkins. Taylor Hall.  John Tavares. Steven Stamkos.
Detailed hockey analytics are not required to decipher the connection between the above five hockey players.
No matter how hockey media and the experts tried to convince hockey fans, there was ultimately no doubt as to who would get drafted first overall in the past four drafts. Nail Yakupov looks to make it five years running that this trend continues.
With an impressive 49 goals and 52 assists (101 points) for the Sarnia Sting last season, the phenom was the runaway OHL and CHL rookie of the year – his first season in North America.  Is the superstar prospect lifting the foot off the pedal in this his draft eligible year? Not a chance! With a recent 12 point in 4 games outburst, Nail Yakupov skated to OHL player of the week honours.
Even without his highly touted and talented in his own right sidekick centreman Alex Galchenyuk (Russian-American), who is unfortunately sidelined indefinitely with recent announcement he has to undergo ACL surgery, Yakupov has excelled early in this OHL season. The fact that his play and production have not dipped with Galchenyuk's injury only cements his status as king of the hill amongst this season's draft crop.
Hockey legend Igor Larionov, who just happens to be Yakupov's agent, was amiable enough to provide me this quote in discussing Alex and Nail:
"Both Alex and Nail are what one would call raw talent. Both possess a great deal of rare skill sets. With their passion and love for the game, their work ethic on and off the ice, they will be the kind of players that bring the game of hockey to the next level."
The feisty, dynamic, explosive right-winger who possesses a heat-seeking one-timer (1:00 mark of video) is simply electrifying with the ability to cause a jaw-dropping reaction to all those watching his super array of skills. He is destined to become one of the true must-see players around the league. Fans in hockey cities everywhere will be circling the dates when Yakupov comes to town when he is inevitably donning NHL battle colours.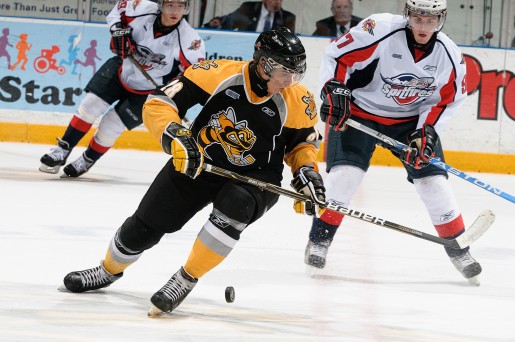 Who is Nail Yakupov and how did the Russian hockey prodigy get his start on the world's most beautiful game on ice? In an interview with Yahoo Sports Dmitri Chesnokov, Yakupov revealed the following.
"I started skating when I was 3 years old. My dad was a coach. I played for two teams when I was growing up: with those born in 1992 and 1993. I grew up playing in Nizhnekamsk and really loved it. Ever since my mom and dad put on Dynamo hockey skates on me all I have known was hockey. A rink was a 10 minute walk from our house, so I spent all my time there," said Yakupov.

"I also went to a lot of Neftekhimik [KHL team] games. That's my team. And even though I am playing in Canada now, I keep following my team, always check on the scores, read the news about them. I know a lot of the guys playing for Neftekhimik now, because I started playing with a lot of them, I also train with them in the offseason."
I also had the opportunity to discuss Nail with Assistant General Manager of the Sarnia Sting, Mark Glavin, who provided the following insight:
THW's Chris Ralph:
We know Nail is a dynamic and dangerous offensive force. What is he like off the ice in terms of preparation, work ethic and his relationships with coaches and teammates?
Mark Glavin:
"Nail along with Alex Galchenyuk are two of the hardest working players off the ice I have seen in my 12 years with the Sting.  He is constantly working on his game be it on the ice or in the gym constantly wanting to get better.  In the dressing room he is a true character.  Easily one of the more popular players among his teammates.  He has two distinct sides to him.  When it comes to hockey he is all business but outside of the game he is one of the more engaging personalities I have come across in my time in junior hockey."
THW's Chris Ralph:  
Although he adjusted well to the North American game, what challenges has he had in terms of style of play and what has he had to work on? Any noticeable improvements from last season to this season thus far?
Mark Glavin:
"I know that Coach Beaulieu is working very hard with Nail to work on the defensive aspect of his game and his play away from the puck.  However he also knows that sometimes with players who have the skill level that Nail has you also have to give them their space to create and not stifle their game offensively in anyway.  I think it shows that Nail has been good in all three zones when you look at the offensive totals but you also take note of the fact that he is +12 and third in the league in that category"
Brendan Ross (of The Hockey Writers and The Hockey Guys) sums up Nail's undeniable and enthusiastic passion for the game:
"The passion and drive that Yakupov displays on a nightly basis is his most admirable quality. On nights where Yakupov has to earn every point and play through frustration he still competes with every inch he has. When Yakupov's teammates score, he celebrates like he did the scoring. When Yakupov earns an assist, he celebrates like it was his first ever assist. And, when Yakupov does the scoring, he celebrates like he will never score again."
Looking for a cross-sport athlete comparison? Look no further than Tennessee Titan (pre-holdout form) lightning quick running back, Chris Johnson. Both are speedy, explosive, creative and game-breaking talents in their respective sports.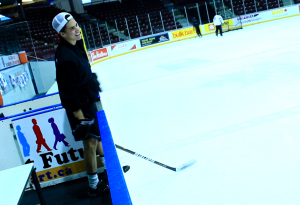 The 2010 draft was billed as "Taylor Versus Tyler". This year's draft has already started a Twitter trend – #FailForNail.
Some have proclaimed the Russian product hockey's best prospect since Sidney Crosby. That's a lofty statement as there have been some amazing talents drafted since 2005. With his undeniable superior talent however, Yakupov is undeniably worthy to be featured in the first installment of The Next Ones series. In fact, he may truly be The Next One.
Scout's Honour:
*Many thanks for these hockey insiders above and below who took the time to provide some brilliant insight.
"Yakupov is a gifted goal scoring forward, something that really doesn't seem to come around that often, so when one does he is a hot commodity. His explosive bursts of speed and understanding of scoring principles off the rush is very similar to that of what we saw from Taylor Hall a couple years ago, but also has some people thinking Pavel Bure. He is a dynamic and electrifying player that can bring fans to their feet and is a prime talent for marketing the sport in any locale or market. He is a player that should be able to step into the next level very quickly and continue to progress. Put all that together and you still only have a glimpse of what makes him such a desirable prospect and the number one ranked for us at ISS."
– International Scouting Services Head Scout Ross MacLean (Director of Coaching and National Teams at Bosnian Ice Hockey Federation)
"Last year Nail Yakupov was selected 2nd Overall in the CHL Import Draft. Expectations are high when you're picked at that spot, but you never really know what to expect. On the first day of training camp, he unleashed the biggest one timer I've ever seen out of a 16 year old. At that moment I knew Yakupov was something special. Nail is arguably the best prospect available in the 2012 NHL Entry Draft for several reasons. First and foremost is his skating. He maintains a low centre of gravity, great strength in his lower body and his quick footwork allows his first few steps to be very strong, giving him exceptional acceleration."
– HockeyProspect.com's Mark Edwards

"His first step and ability to control bouncing pucks, knock them down and make a play are the best of any of the guys in the draft, in my opinion. He really gets up to top speed very quickly and his hands are outstanding. Like Pavel Bure, Yakupov is dangerous every shift. He may not have been dominant on every shift like Bure was, but he created something every shift … you have to be aware where he is on the ice all the time."
– NHL Central Scouting's Chris Edwards
Bio/Interview(s)/Link(s):
International Tournaments:
From my WJC follow up article: World Juniors: Top 10 2012 NHL Draft Eligible Prospect Performances
Yakupov had a slightly perplexing tournament. He somehow transformed from a sniper to a playmaker. He was definitely snake-bitten on a multitude of opportunities throughout the World Juniors. He registered 9 assists in 7 games with surprisingly no goals. What was on fine display, however, was his explosiveness and creativity.
Draft Stock: Unchanged
Projected Round Drafted: 1st round (likely 1st or 2nd overall)
***
Yakupov was also part of Team Russia in the 2011 World Junior U18 championship notching 13 points (7G, 6A) in 7 games (tied for 3rd in tournament scoring). He scored a hat trick in the bronze-medal game in defeating Team Canada 6-4.
Russian Roulette Factor:
"The Russian Factor" could scare some NHL scouts away; however Yakupov has made it clear that he has no intentions of leaving the NHL for the KHL.
ETA = 1 yr
Risk-Reward Analysis:
Risk = 0.5/5   Reward = 5/5
NHL Potential:
Franchise Right-winger
Strengths:
*See "THW Close-Up" section above.
Outstanding vision
Speedster
Shifty and elusive skater
Sharpshooter
Tremendous stickhandler
Game breaker
Physical despite size
Flaws/Aspects He Needs To Work On:
Continue to train to increase strength and add mass to frame to handle the rigors of the NHL.
Continue to develop his neutral and defensive zone acumen.
Continue to utilize teammates to the best of his ability.
Fantasy Hockey Potential:
Offensive = 10/10   Defensive = 7.5/10
NHL Player(s) Comparison:
– Smaller Alex Ovechkin
– HOF comparison: Pavel Bure (with more of physicality element to his game)
Video(s):
Off The Iron (Interesting Notes):
Yakupov is an ethnic Tatar, representing the first potential hockey superstar from the predominantly Muslim Tatarstan, a federal subject of Russia which is located500 miles east of Moscow. (ESPN)
"The name "Nail" is of Arabic origin and means "reaching" or "achieving" or "gaining success." Quite fitting for Yakupov." (Yahoo Sports Dmitri Chesnokov)
Former Russian NHL star, Pavel Bure, a player Yakupov has been compared to, is his childhood idol – "I love the way he played. (He was) very explosive, a great skater, very creative and (he) loved to score goals." (NHL.com)
Worth Retweeting:
Nail Yakupov (by request since I'm only in the C's) Height- 71.25 inches Wing Span- 73.75 inches and Weight 185 lb

— Mark Edwards (@MarkEdwardsHP) June 12, 2012
And here's that @AOsadchenko interview with Nail Yakupov I was talking about yesterday; it's brilliant stuff: http://t.co/5rHC2970

— Jonathan Willis (@JonathanWillis) June 12, 2012
*Article originally published October, 2011; updated June 12, 2012 
THW's The Next Ones prospect profile template design architect: Chris Ralph