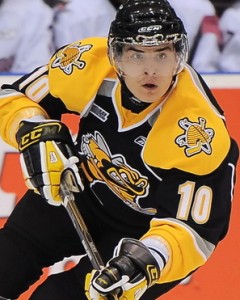 Nail Yakupov is arguably the most highly skilled player available in the 2012 NHL Draft. In the 2010-2011 season, he put up outstanding numbers, recording 101 points in 65 games, and scoring nearly 50 goals for the Sarnia Sting of the OHL. This was as a rookie. In comparison, current NHL superstar Steven Stamkos only tallied 92 points at the same age in the OHL. Scouts are already drooling over Yakupov's skill that will surely make him a top scorer in the NHL someday. Selected second overall by the Sting in the 2010 CHL Import Draft, Yakupov played along fellow rookie star Alex Galchenyuk this past season, and it will be interesting to watch the two dominate helpless defensemen throughout this 2011-2012 season now that they've played a season together. It's not exactly something opposing players are looking forward to watching.
Yakupov has been criticized for being a selfish player by some, but others love how he uses his teammates to score goals. "The Russian Factor" could scare some NHL scouts away, however Yakupov has made it clear that he has no intentions of leaving the NHL for the KHL. Nail Yakupov is certainly one of the premier players available in the 2012 Draft, and will very likely be selected in the first three picks, barring any serious issues arising. Size is not an issue for him, as he can use his tremendous skill level to get around larger opponents very easily, even though he is only 5'10 and 175 pounds.  This CHL Rookie of the Year has loads of potential, and will surely be an NHL star very soon. An extremely skilled winger, Yakupov is the hottest thing to come out of Russia since Alex Ovechkin, and is already drawing comparisons to the superstar.
Prior to coming to Sarnia, Yakupov played in the Russian junior league (MHL) for his hometown team, Reaktor Nizhnekamsk. Nail could have chosen to play for Reaktor's parent-team, Neftekhimik Nizhnekamsk, but Nail ultimately thought joining the Ontario Hockey League would be the quicker path to his dream of playing in the National Hockey League. Though it is still very early in the OHL season (most teams have only played around 4 games), Yakupov is expected to absolutely dominate the OHL this year with his linemate and fellow top-prospect Galchenyuk. His quick hands, dazzling puck skills and the ability to cruise around opponents allow him to create space for himself as well as his teammates. That's exactly  the kind of player every NHL coach would want on their team.
One of Yakupov's idols growing up was another speedy Russian by the name of Pavel Bure. Nail has said that Bure is someone who he tries to pattern his game after, but the speed and goal-scoring ability of Yakupov might just be even better than Bure's. When asked about whether he feels any pressure to perform this season, Yakupov said "No, there is no pressure. I love to play hockey, so I will just got out there, have fun and play my best."
The Sarnia Sting have a very talented lineup this season, and they have certainly loaded up for a big run at the OHL championship. Sting General Manager Jacques Beaulieu (father of Montreal Canadiens prospect Nathan) brought in some top-notch talent for this season, such as Taylor Carnevale, Phoenix Coyotes first-round pick Connor Murphy, Devils prospect Reid Boucher, and veteran OHL goaltender Brandon Maxwell. Adding those players to a lineup that already includes Yakupov, Galchenyuk, and Brett Ritchie, will definetly make Sarnia one of the most attractive major  junior teams in the country this season.
Nail was recently asked what his favourite NHL team is. Yakupov replied with the Vancouver Canucks. Sorry Nail, but unless the Canucks somehow get a top three pick in the 2012 draft, you probably aren't getting drafted there. It's expected that the teams most likely to select in the top three slots next year will be the Islanders, Blue Jackets, and Panthers. Just imagine Yakupov playing on a line with John Tavares or Rick Nash. They could be unstoppable. Now that is something to look forward to watching.