Exhibition games don't mean everything, but they certainly can mean something.
When the Dallas Stars defeated the St. Louis Blues by a commanding 4-0 score this past Saturday to conclude their preseason, not only did the team set a new team record for wins in a single preseason with 6, but they also provided fans with a bright glimmer of hope (however cautious) for the upcoming season.
Reeling from the loss of several big free agents in the offseason, including elite center Brad Richards, the Stars came into camp with many new faces, but no one quite knew if all the pieces would fit together to create a better whole than the team that narrowly missed the playoffs last year.
Taking into account the hit-or-miss nature of the NHL preseason, it's too early to say anything for sure; however, a 6-1 record and a series of strong individual performances is nothing to scoff at. Here now is a quick look at a variety of trends and notes of interest that I gathered from the past 7 games:
-It looks like the old chemistry between Mike Ribeiro and Micheal Ryder hasn't disappeared over the last five years. The two were productive linemates in Montreal in 2003-2004 and 2005-2006 and that looks like it could continue in Dallas, with Ribeiro recording 10 points in 4 games  and Ryder tallying 6 points in 4 games. Ribeiro and Brenden Morrow already have years of chemistry together, so add Ryder into the equation and you have a line that could surprise a lot of people this season.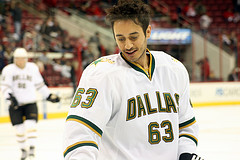 -Speaking of Mike Ribeiro, it appears that he has seriously dedicated himself to proving that he deserves to be the #1 center in Dallas again. His 10 points were tops among all skaters this preseason, and his +7 rating is indicative of responsible defensive zone play. If he can continue his strong play into the regular season Stars fans could soon find themselves saying "Brad who?"
-The rise of Tomas Vincour continues to get more and more interesting to watch. Starting last season as a relative unknown with the AHL's Texas Stars, the big teen was a regular in Dallas by the end of the season, finishing with 24 games played. His progress has only increased, and his 4 points and +5 in 6 preseason games has him within reach of one of the team's final forward spots. Not bad for a player drafted in the 5th round in 2009.
-Did anyone know that Jake Dowell could produce points? Dowell's career thus far has been as a shutdown specialist, with 23 points one AHL season as a pro career high, but he couldn't be kept from the scoresheet over the last 3 weeks, registering 6 points in 5 games. Dallas made  a big splash in free agency this summer with over half a dozen signings, and Dowell is showing signs of being the best bargain out of all of them. He'll likely start the season on the 4th line, but has shown that he deserves a chance playing increased minutes.
-It has to be tough to be Scott Glennie these days. The first top-10 draft choice by the Dallas Stars in nearly 15 years (8th overall in 2009) has yet to live up to the expectations of his high draft placement. Hampered by injuries over the past two junior seasons, Glennie's stock has fallen heavily, including missing out on the World Juniors for Team Canada the past two years . Fans were hoping to see a strong showing from Glennie, only to have him miss all preseason due to concussion-like symptoms. Although only 20, he is under a lot of pressure from fans and management to have a strong rookie campaign in the AHL.
-Glen Gulutzan may be a rookie coach at the NHL level, but that hasn't stopped him from getting players to buy into his system. When Gulutzan was hired he spoke of a defensively responsible team that constantly pressured opponents and could roll 4 lines, and that is exactly what the Stars have been showcasing thus far. The Stars outscored the opposition 29-14 in the 7 games, and looked at all times like a team without any glaring weaknesses. They aren't flashy, but a hardworking, tough-to-play-against attitude could be enough to get them back into the playoffs after a 3-year hiatus.