Scott Glennie was once a top prospect in the NHL. Drafted eighth overall by the Dallas Stars in 2009, he looked like a sure bet to become a star. However, things didn't pan out quite the way anyone had expected.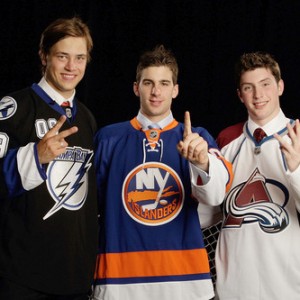 Playing his junior hockey within his home province of Manitoba, Glennie racked up 308 points in 252 games in four years with the Brandon Wheat Kings of the WHL. Drafted as a speedy winger with skill, Glennie had the size and potential to turn into a very reliable player at the NHL level.
Unfortunately, injuries toiled with Glennie's career. A groin injury here and concussion-like symptoms there eventually added up and the once bright star was never able to achieve what so many had expected.
Flash forward to today, and Glennie has played in five AHL seasons, with a grand total of one game in the NHL, back in 2011-12. He missed the entire 2015-16 campaign rehabilitating from shoulder surgery and is not currently listed on any professional roster for the 2017-18 season.
Related – 5 Biggest Draft Busts in NHL History: 2000-2010
Scott Glennie's Draft Hype
Way back in 2006, Glennie was a second-round pick, 29th overall, by the Brandon Wheat Kings in the WHL Bantam Draft. He made an immediate impression on the league and scouts during his rookie campaign in 2007-08, adding 26 goals and 58 points over 61 games. He also earned a spot on Canada's Western U17 team for the 2007 World U17 World Championships, where he scored four goals and 10 points in six games, totals that matched Matt Duchene and surpassed Taylor Hall.
The following year, 2008-09 would be Glennie's NHL Draft year. After an impressive rookie season, hope was high for his future, and he wouldn't disappoint. He continued to improve on his all-around game while raising his offensive totals to 28 goals and 70 points in 55 games. Unfortunately, a broken elbow shortened his year but wasn't serious enough to keep him out of the playoffs, where he added another 18 points in 12 games.
Heading into the 2009 NHL Draft, Glennie was projected to be a top-10 pick, making his selection at eighth look like a smart one for the Stars. He was forecasted to become a top-six winger with great speed and puck skills. While his defensive game wasn't perfect, he had above-average offensive abilities, with no true holes in his game.
Ingredients For a Draft Bust
After being drafted, Glennie was returned to the Wheat Kings. Suffering from a groin injury, the Winnipeg native was unable to make a true push for a roster spot in training camp. In fact, he would spend the following two years in the WHL, adding another 67 goals and 180 points over 136 games.
By 2011-12, Glennie moved on to the AHL Texas Stars as a 20-year-old. But before the season started, he was sidelined with concussion-like symptoms, setting his first year as a pro off to an unfortunate start. Two weeks later, he was back and slotted into the Stars' AHL lineup.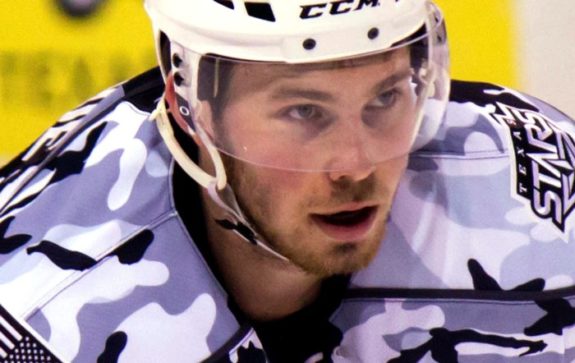 After playing a relatively strong rookie campaign in the AHL, with 37 points in 70 games, Glennie earned a late-season call-up to Dallas for his NHL debut, a testament to Stars management's appreciation of his work.
Unfortunately, the following season did not follow suit. After continuing to deal with various hand injuries, Glennie became a healthy scratch more often as a result of reported work ethic and conditioning issues. He would go on to play just 37 games for Texas in 2012-13, with 14 points, followed by 28 points over just 50 games in 2013-14.
It was becoming clear that Glennie's potential would not reach fruition, and despite earning a two-way contract in the offseason of 2014, the trend continued the following year. Playing in a more respectable 69 AHL contests, Glennie's career with the Stars came to an end in 2015, with Dallas opting out of a qualifying offer for the 24-year-old.
Without a contract in hand, Glennie sat out the entire 2015-16 season rehabilitating from offseason shoulder surgery. Not sure what his future held, he had more than enough time to reflect on the direction of his life.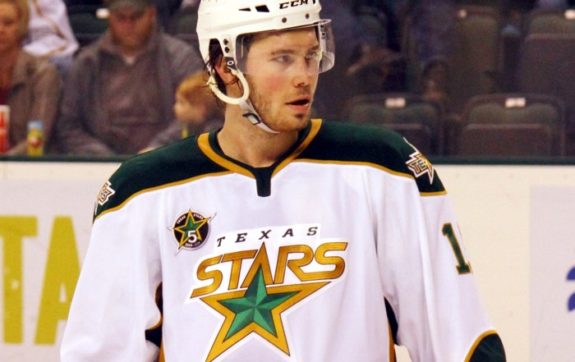 The understanding from both Glennie and those close to him was that he fell in love with the lifestyle of a high-profile athlete more than he did with the game itself. He stopped training and became lazy with the work that is required to keep pace with his career stats and to flourish into what his potential offered.
For the 2016-17 campaign, Glennie was fortunate to earn a professional tryout with his hometown Manitoba Moose of the AHL. He impressed management enough to stick around after a 25-game tryout, but after potting five points in his first three games, he added only 15 in his next 42 games.
Where is Scott Glennie Today?
Now eight years after being selected eighth overall, Glennie has five years of AHL hockey and a measly one NHL game on his resumé. For a kid who was once touted as one of the next great stars in the game, Glennie simply didn't pan out. A number of factors resulted in his short career, including numerous injuries and personal struggles, but the final product is no less disheartening.
As for today, Glennie not listed on any professional hockey roster for the 2017-18 season. It's quite unclear as to what his future holds and whether or not he will attempt another last-ditch effort to stay in the game, but let us all hope that wherever he is, he is content with his life and clear-headed as he continues his life journey. He made quite the impression at a very young age in his hockey career and made a solid living too. Now 26 years old, Glennie still has an exciting chapter to fill in his book of life.
Contributor for the Toronto Maple Leafs and Prospects. Scout with the Oakville Blades of the OJHL. For questions, concerns, or comments, contact me at devinslawson123@hotmail.com or on twitter @SlawsonTHW.