'Ducks Drill Down' is a regular, ~weekly column that recaps the latest goings-on with the Anaheim Ducks.
---
The Anaheim Ducks have had another eventful week. The good news is that they were able to win three of their four contests out east. Off the ice, however, came some sobering news with respect to affable veteran Patrick Eaves.
Eaves Diagnosed with Guillain–Barré Syndrome
It's been well-documented that the Ducks have had to deal with a slew of injuries in this young season. Early last week, that storyline took on an especially somber tone as Eaves was diagnosed with Guillain–Barré syndrome.
The condition is one where the immune system attacks the peripheral nervous system. Luckily for Eaves, he and doctors caught it early after Eaves visited with specialists when he felt physical weakness. He was admitted to the hospital but is now thankfully resting and recovering at home.
Daddy's home! Thank you to eveyone for their thoughts and prayers. I'm @ home resting and well. Thank you to my Nurses and Doctors @ Hoag 😀 pic.twitter.com/TRASJCGVMg

— RealPatrickEaves (@Patrick_Eaves) October 27, 2017
"I want to thank Dr. Robert Watkins Sr. and Dr. Danny Benmoshe for their early diagnosis of my condition, along with the proactive Ducks medical team," said the 33-year-old Eaves in a statement released Monday, Oct. 23. "Thanks to them and the incredible nurses at Hoag Hospital, I'm on the road to recovery. I've received (a) tremendous amount of support over the last few days, most importantly from my family, friends, and teammates."
"I'm determined to fully overcome this and return to the ice as soon as possible."
The condition does not have any specific cures but can typically be overcome through medical treatment if caught early enough, as it was for Eaves. Left undetected and/or untreated, Guillain–Barré can spread and possibly result in paralysis, so Eaves is quite lucky in that regard.
There is no real timetable for Eaves' return to the ice, but at this point, his health and well-being are the priorities.
Lindholm and Vatanen Return
While Eaves has been ruled out indefinitely, the Ducks welcomed back stalwart defensemen Hampus Lindholm and Sami Vatanen, each of whom had to recover from offseason shoulder surgery and had missed the start of the season.
Lindholm returned to the lineup for Tuesday's 6-2 win in Philadelphia. He registered an assist in that game before picking up his first goal of the year in Saturday's 4-1 win against a very good Tampa Bay Lightning team. It was a buzzer-beating goal at the end of the second period to give Anaheim a 3-1 lead—a critical tally to change the complexion of the game.
Vatanen made his return in that same game in Tampa. He did not suit up the following evening against the Hurricanes, but that seemed to be a decision to take it easy with him at this stage and not throw him into a back-to-back situation right out of the gate.
Of course, this is still the Ducks, so there is another injury to bring up. Captain Ryan Getzlaf, who has been in and out of the lineup so far this season, took a puck to the face mere seconds into Sunday's contest against the Hurricanes. He left momentarily, came back, and then left again in the second period and did not return.
The team said on Twitter that Getzlaf had an upper-body injury and was being evaluated. A puck to the face and a potential eye injury would qualify as an upper-body injury, but there is more yet to be revealed in terms of the A) the exact nature of the injury/whether it's even related to the puck he took off his face, and B) the severity of the injury.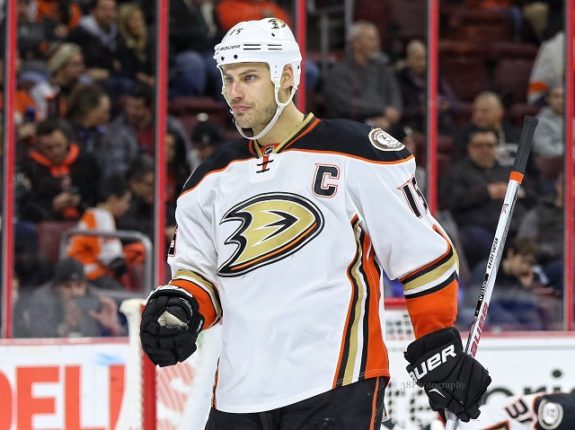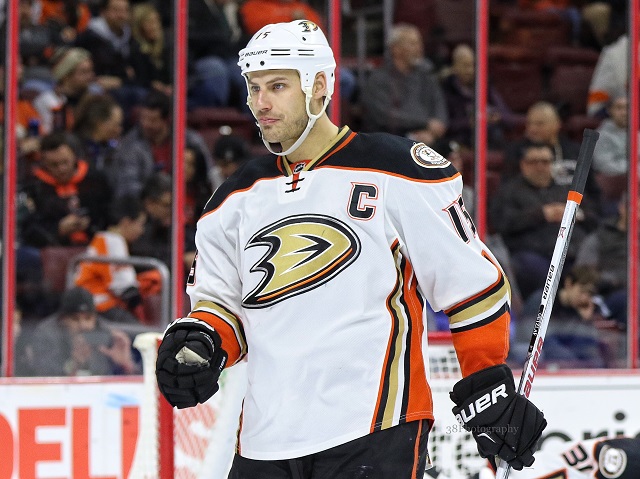 Ducks' Road Trip a Success
Sandwiched between the wins against the Flyers and Lightning was an ugly 8-3 loss against the Florida Panthers. The Ducks have certainly experienced their fair share of tumult over this first month, but Sunday in Raleigh, they made sure the road trip ended on a high note.
They capped off the east-coast swing with an exciting 4-3 shootout victory against the up-and-coming Hurricanes. After the Ducks jumped out to a 2-0 lead in the first, Carolina came storming back and took control of the game, eventually earning a 3-2 lead after two periods. Anaheim, though, after a rough second period, turned it on in the third and tied it with less than five minutes left on Jakob Silfverberg's long-awaited first goal of the season.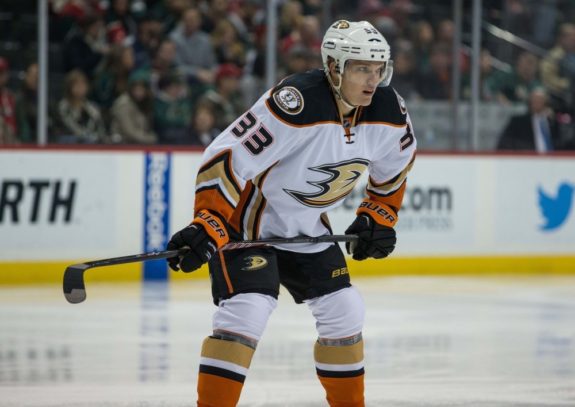 Ryan Miller, another player who returned from injury, played his first game with the Ducks and made it memorable. He kept the Ducks in it, particularly in the overtime session, where he had nine saves, including two on breakaways. He then turned away all three Carolina shooters in the glorified skills competition shootout to make Corey Perry's tally stand up for a 4-3 Anaheim victory. The veteran goaltender finished with 34 saves.
The Ducks have still had some struggles in terms of possession and failing to limit shots and scoring chances against, but on the bright side, they are getting offense from multiple sources.
Ondrej Kase, who looks primed to have a breakout season, picked up two goals in Philadelphia (one of which was on a penalty shot) and opened the scoring in Carolina. Brandon Montour, another player who is making this writer look good on his breakout predictions, is leveraging his skating ability to bring offense from the blue line, as he has four goals and three assists so far this season. Like Kase, he scored in the wins over the Flyers and Lightning.
Depth forward Chris Wagner has six points in 11 games. Fill-in Derek Grant scored against Carolina on Sunday and has three goals. Rickard Rakell has potted five goals, again leading the team in that category, while the ever-reliable Andrew Cogliano leads the team with nine points as he has successfully elevated his role.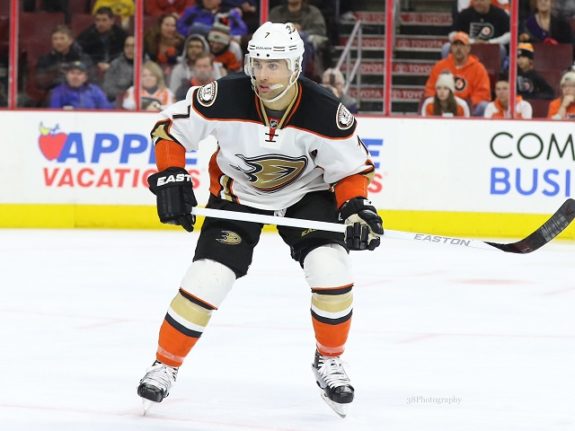 With Cam Fowler out long-term, joining Eaves and Ryan Kesler, and now with this Getzlaf malady, the Ducks are still a long way from full health. But they are getting enough contributions throughout the lineup to have attained a winning record (6-4-1) through 11 games.
Looking Ahead
The Ducks return home to face another Eastern Conference foe, the Toronto Maple Leafs, on Wednesday, Nov. 1. It's a chance for fans in Anaheim to see the scintillating Auston Matthews as well as other talented youngsters including William Nylander and Mitch Marner. They then host the defending Western Conference champion Nashville Predators on Friday in a rematch of last season's Conference Final before heading up to San Jose to take on the Sharks.
This is the start of a stretch where nine of Anaheim's next 11 games are at home. It's an opportunity for the Ducks to get some points in the bank even at sub-optimal health. After all, they've proven they can do it in worse conditions.