The Vegas Golden Knights are riding a hot streak that no National Hockey League expansion team has ever done. Their 8-1 start is starting to turn heads and raise eyebrows as to whether or not they can sustain this run. Nonetheless, this incredible start has hidden the issue regarding Vadim Shipachyov.
One of the first significant moves that the Vegas made was signing Shipachyov to a two-year contract. The signing caught some off-guard as many National Hockey League teams were bidding for his services. Nonetheless, Vegas could offer an immediate role with little to no competition. It became a no-brainer for Shipachyov to sign there.
The 30-year-old forward was highly sought after and for a good reason. After four seasons with SKA St. Petersburg of the Kontinental Hockey League, in which he saw an increase in goals and points; Shipachyov decided to come to the NHL. Following the footsteps of recent undrafted Russians in Artemi Panarin and Nikita Zaitsev, Shipachyov hoped to join the two players in finding their niche in this league since coming over from the KHL.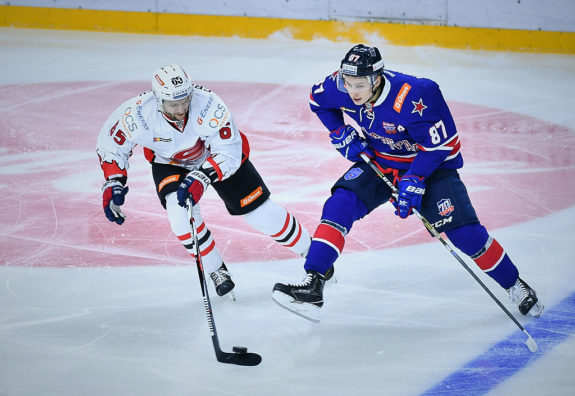 However, not every undrafted European signing can work out as smoothly as Panarin's and Zaitsev's. Vegas is quickly learning that, as their marquee free-agent signing is turning into a bust. Penciled in as their number-one center at the beginning of the preseason, Shipachyov has quickly fallen out of favor.
Shipachyov's Struggles out of the Gate
In his preseason debut, Shipachyov did little to cement himself as the team's number-one center. Instead, he lost his spot in the top-six after putting up one point in four games. His performance in the preseason became a forecast for how his tenure would go in Vegas.
After a dreadful start to his career, the Russian forward had another setback as he was sent down to the Chicago Wolves of the American Hockey League. With the roster issues, Vegas made tough decision to send him down because of his waiver exempt status. Nonetheless, after an awkward start to his season, Shipachyov made his debut while scoring his first NHL goal.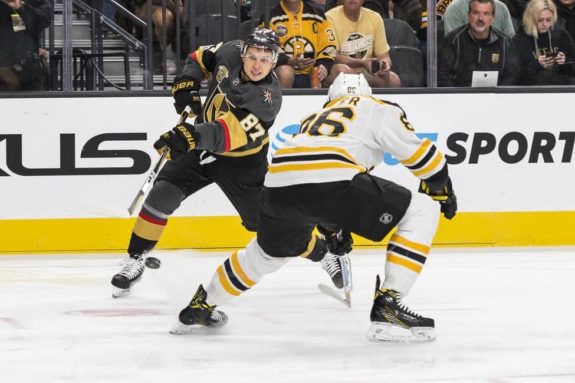 The Golden Knights are riding an incredible start, and it appeared as though the Shipachyov saga would become an afterthought. However, this would not last long as he would continue to struggle while averaging a little over 10 minutes of ice-time in three games.
Through those games, Schipachyov's lone goal remains the only bright spot of his stint in Vegas. Also, his lack of production while playing top-six minutes is another factor as to why Vegas seems keen on moving on. The top-line center position was there for him to take, but he fumbled this opportunity.
Pending Divorce of Golden Knights & Shipachyov
Now rumors regarding Shipachyov trying to seek a trade out of Vegas have begun to surface. As a result, Vegas' marquee free-agent signing appears to have gone sour. His lack of production while playing top-six minutes is another factor as to why Vegas seems keen on moving on.
The top-line center position was there for him to take, but by fumbling this opportunity and with little NHL production, the options don't appear to present themselves. Now with the team in the middle of a magical start to their season, Shipachyov is looking for a way out of Vegas.
One option will not be the AHL, as Shipachyov has been reluctant to play in Chicago. Due to this attitude, Vegas has suspended him, which adds more flames to the fire. If he wants to stay in the NHL, this approach will not help his trade value, and it appears as though a move back to Russia is in the cards.
Vadim Shipachyov has officially been suspended by @GoldenKnights for leaving the AHL's Chicago Wolves.

— Eric Engels (@EricEngels) October 29, 2017
For Vegas, they need to put an end to this saga. Their start has kept this issue in the background, but for the sake of the team, it's time to move on from Shipachyov.