For the fourth consecutive week, the Arizona Coyotes took the ice in search of a victory. And, for the fourth consecutive week, the Desert Dogs left empty-handed – they lost all three of their games in regulation last week and have now tied the NHL record set by the 1943-44 New York Rangers with 11 consecutive losses to start a season.
Another Rough Week
After suffering a disappointing 4-2 home loss to the Chicago Blackhawks on Oct. 21, the Coyotes packed up and hit the road for a week in New York, where they got things started on Tuesday night at the Barclays Center against the Islanders. Despite holding a 1-0 lead after 20 minutes, the Coyotes fell apart in the second and third periods as they lost track of John Tavares, who recorded three deflection goals to lead his team to a 5-3 victory.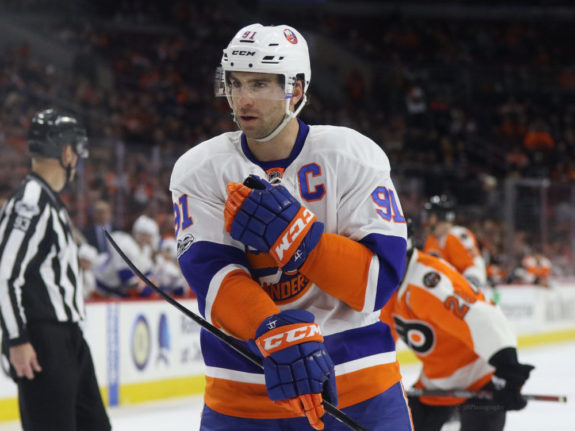 The Coyotes then headed to the World's Most Famous Arena – Madison Square Garden – for a Thursday night matchup against the New York Rangers. It was an emotional night at MSG, as the Rangers honored 'Yotes forward Derek Stepan, who played seven seasons with the team before being traded over the offseason. It was an even more emotional night for Coyotes fans, though, as their team made a handful of brutal mistakes en route to a 10th consecutive loss.
The Garden faithful showed a whole lot of love for @DerekStepan21 in his return to NYC. pic.twitter.com/BK767DEdSI

— NHL (@NHL) October 27, 2017
Rick Tocchet and company then crossed the Hudson River into the Garden State for a Saturday night matchup against rookie sensation Will Butcher and the New Jersey Devils. Despite holding a 3-2 lead after 40 minutes, the Coyotes were unable to finish strong as they allowed two third-period power play goals and dropped their 11th straight to start the season, 4-3.
Still Looking for a Win
Following Saturday's loss in New Jersey, the Coyotes will make the short trip down to Philadelphia for a Monday night matchup against the Flyers. Despite their overall struggles over the last handful of seasons, the Coyotes have actually defeated the Flyers in the last three matchups between the teams. Will they get win number one of the 2017-18 season in the City of Brotherly Love? Puck drop is scheduled for 7:00 P.M. local time (4:00 P.M. in Arizona) on Broad Street.
After Monday's contest, the Coyotes will head to the brand-new Little Caesars Arena in Detroit to take part in their first back-to-back of the season against the Red Wings. Arizona won 4-1 in their final visit to the historic Joe Louis Arena on Dec. 13 last season (a game that was also the second half of a back-to-back) and will be looking to win their first contest at 'LCA' on Tuesday night. Puck drop is scheduled for 7:30 P.M. local time (4:30 P.M. in Arizona) in Hockeytown.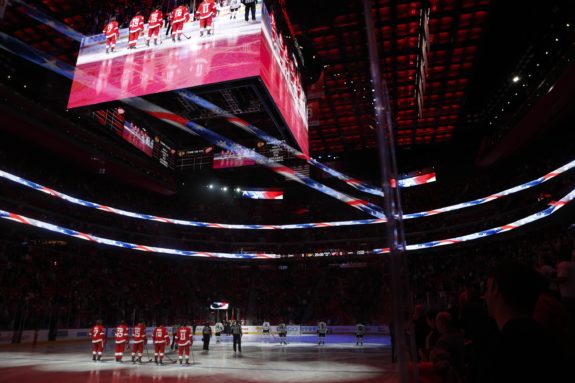 The Coyotes will return home to Arizona on Thursday and will begin a short, two-game homestand against the Buffalo Sabres at Gila River Arena. The two teams played a memorable one last season in Glendale – the Coyotes erased a 2-0 deficit in the third period and won 3-2 on Radim Vrbata's goal with 18.9 seconds remaining in regulation. If this year's matchup is anything like last year's game, we'll be in for a treat on Thursday night. Puck drop is scheduled for 7:00 P.M. in Glendale.
Arizona will finish out their week with another Saturday night home game, the fourth of the young season, against the Carolina Hurricanes. The 'Canes have been Arizona's kryptonite in recent years – the Coyotes are 0-3-3 in their last six home games against Carolina dating back to their last victory on Dec. 3, 2005. Puck drop is scheduled for 6:00 P.M. in the Valley of the Sun.
Goaltending Help on the Way?
When a team loses 11 straight games to start a season, it's clear that something isn't working.
The Coyotes admitted as much over the weekend, as they went out and acquired goaltender Scott Wedgewood from New Jersey on Saturday in exchange for a fifth-round pick in 2018. Wedgewood, a 2010 third-round selection, has long been stuck behind Cory Schneider and Keith Kinkaid on New Jersey's depth chart, and, as a result, has racked up more than 100 appearances in the AHL.
He's had a lot of success at that level, with a career 51-36-9 record along with a 2.35 GAA and a .908 SV%. Wedgewood has also played well in limited NHL action, as he's recorded a 1.25 GAA and a .957 SV% in four appearances with the Devils.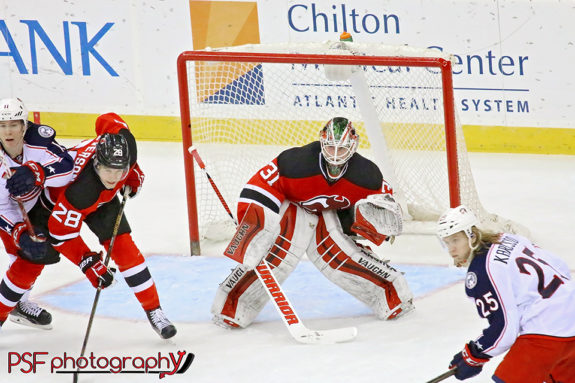 The acquisition of Wedgewood wasn't the only goaltending-related roster move that the Coyotes made last week, though. The team waived Louis Domingue on Sunday after the 25-year-old posted absolutely brutal statistics (4.33 GAA/.856 SV%) over seven appearances in October.
Arizona also optioned Adin Hill back to the Tucson Roadrunners over the weekend. Hill played well in his first career NHL start on Oct. 17 in Dallas, but struggled in his next two appearances and finds himself back in the AHL as a result.
The Hill transaction seemed to indicate that Antti Raanta was ready to return, but, later on Sunday, the club recalled goaltender Hunter Miska from Tucson. Miska is likely an insurance policy in case Raanta isn't yet ready to return to game action due to the lower-body injury he's been dealing with for most of the season.
Coyotes recall G Hunter Miska from Tucson, place G Antti Raanta on IR (retroactive) but he can come off any day; not ruled out for Monday.

— Craig Morgan (@CraigSMorgan) October 29, 2017
In any case, it appears as if the Coyotes have seen enough from Domingue – he's been awful this season, and it's unlikely that he'll be making any appearances with the team in the future unless more injuries strike the club.
Pacific Division Roundup
Through four weeks, the Los Angeles Kings are tops in both the league as well as in the Pacific Division. Here's how Arizona's other division rivals fared last week:
Anaheim Ducks (6-4-1, 13 points)
Last week: 3-1-0 (6-2 W at PHI, 8-3 L at FLA, 4-1 W at TB, 4-3 SOW at CAR)
Analysis: The Ducks suffered an embarrassing 8-3 loss to the Florida Panthers on Thursday, but they won their other three games of the week to earn six of a possible eight points on their week-long Eastern Conference road trip. They'll now return home and won't leave the state of California again until Nov. 27.
Player of the week: Ryan Getzlaf – Goal, 4 assists, +2
This week: Wed vs TOR, Fri vs NSH, Sat at SJ
Calgary Flames (6-6-0, 12 points)
Last week: 2-2-0 (3-2 SOW at NSH, 5-2 L at STL, 2-1 L vs DAL, 2-1 W vs WSH)
Analysis: The Flames continue to get outstanding goaltending from former Coyote Mike Smith, but they continue to hover around the .500 mark due to their inconsistent offense. The Flames scored just seven times last week, and are 29th in the league in scoring with 2.25 goals per game.
Player of the week: Mike Smith – 2-1-0 record, 80 saves on 85 shots (.941 SV%), 2 saves on 3 shootout attempts
This week: Thu vs PIT, Sun vs NJ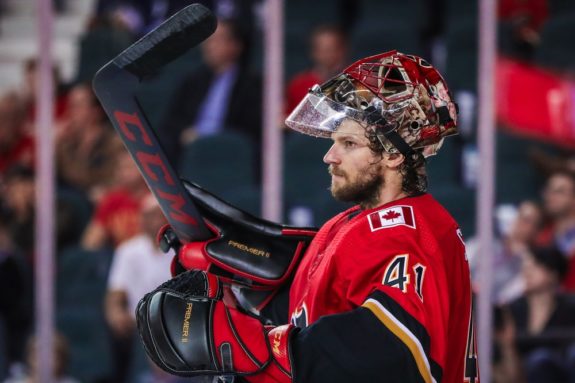 Edmonton Oilers (3-6-1, 7 points)
Last week: 1-1-1 (2-1 OTL at PIT, 5-4 W vs DAL, 5-2 L vs WSH)
Analysis: The Oilers picked up three of a possible six points last week, but, like their Alberta rivals, they continue to sputter offensively. They scored five goals against Dallas on Thursday, but they scored just three in their other two games combined. After finishing October with a 7-2-0 record last season, the Oilers find themselves at 3-6-1 this season. Will they turn things around in November?
Player of the week: Leon Draisaitl – 4 assists, +3
This week: Wed vs PIT, Fri vs NJ, Sun vs DET
Los Angeles Kings (9-1-1, 19 points)
Last week: 3-1-0 (3-2 L at TOR, 3-2 SOW at OTT, 4-0 W at MTL, 2-1 OTW at BOS)
Analysis: The Kings continue to be the hottest team in the league – they picked up three more victories last week to improve to 9-1-1, but none were more impressive than Saturday's win in Boston. With just 0.9 seconds remaining in overtime, Anze Kopitar and Tyler Toffoli perfectly executed a faceoff play. Kopitar decisively won the faceoff back to Toffoli, who beat both Tuukka Rask and the buzzer with a rocket of a one-timer to give Los Angeles the 2-1 victory.
Players of the week: Jonathan Quick & Darcy Kuemper – 3-1-0 combined record, 128 saves on 134 shots (.955 SV%), 1 shutout
This week: Mon at STL, Thu vs TOR, Sat vs NSH
We just can't get enough of this beauty of an OT goal by Tyler Toffoli. @EASportsNHL pic.twitter.com/yTKvBviUjA

— LA Kings (@LAKings) October 29, 2017
San Jose Sharks (5-5-0, 10 points)
Last week: 2-1-0 (4-1 W at NYR, 2-1 L at BOS, 3-2 W at BUF)
Analysis: The Sharks continue to keep things moving in the right direction – they've won four of their last six and are getting outstanding goaltending from Martin Jones and Aaron Dell, who allowed just five goals in three games last week.
Player of the week: Martin Jones & Aaron Dell – 2-1-0 combined record, 95 saves on 100 shots (.950 SV%)
This week: Mon vs TOR, Wed vs NSH, Sat vs ANA
Vancouver Canucks (6-3-1, 13 points)
Last week: 2-0-0 (1-0 W vs MIN, 6-2 W vs WSH)
Analysis: The Canucks continue to surprise – they've now won four straight and will go as far as goaltender Anders Nilsson takes them. He's fourth in the league in save percentage at .943 and is squarely in the early-season Vezina conversation.
Players of the week: Anders Nilsson – 2-0-0 record, 54 saves on 56 shots (.964 SV%), 1 shutout
This week: Mon vs DAL, Wed vs NJ, Sat vs PIT
Vegas Golden Knights (8-1-0, 16 points)
Last week: 2-0-0 (4-2 W vs CHI, 7-0 W vs COL)
Analysis: The Golden Knights continued their hot start last week, as they defeated the Chicago Blackhawks and Colorado Avalanche by a combined score of 11-2. Can they keep things going in the right direction this week when they go on the road for the first time since Oct. 7?
Players of the week: Oscar Dansk – 2-0-0 record, 61 saves on 63 shots (.968 SV%), 1 shutout
This week: Mon at NYI, Tue at NYR, Thu at BOS, Sat at OTT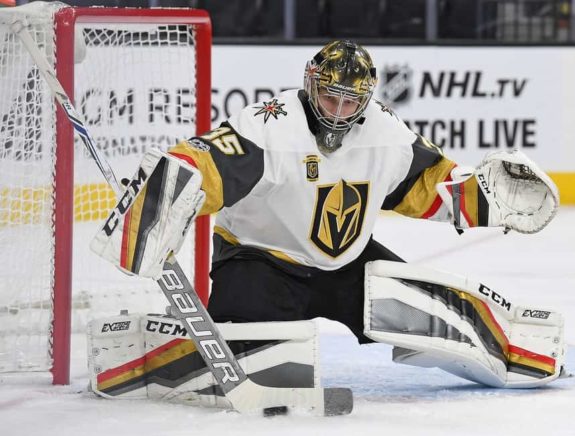 The Coyotes continue to be the only remaining team in the NHL that has yet to win a game. They've been close, but close doesn't get you anywhere in professional sports, except for the bottom of the standings, where the Coyotes currently sit by a wide margin. Can this team avoid setting the NHL record for most consecutive losses to start the season with a win in Philadelphia on Monday night?
A lifelong Phoenix resident, Louis has been following hockey since 2010, has covered the Arizona Coyotes since 2015, and has been playing hockey since 2020. So far, Louis has visited eight NHL cities, and one of his personal goals is to eventually make it to all 31 NHL arenas. For any questions or concerns, contact the writer via Twitter @LouisPannone.