Coming into the 2017-18 season, the Vancouver Canucks goaltending situation was somewhat up in the air. The Canucks extended Jacob Markstrom's stay in Vancouver and also brought Anders Nilsson into the fold all while saying adios to previous starter, Ryan Miller.
The two net-minders, Nilsson and Markstrom, are virtually identical ranging from their 6'6″ statures all the way to their experience levels earning them the shared nickname of the "twin towers". In the summer, I predicted in an earlier article that Jacob Markstrom would get the initial nod or coach Travis Green would elect to split starts.
After 10 games, it seems both of my predictions have come true in a way as Nilsson has had four starts while Markstrom has had six. It initially seemed like Markstrom would be the number one, but lately, the story has been all Nilsson.
Anders Nilsson says he's focused on stopping the next shot and nothing else. pic.twitter.com/QjOAIc8lBZ

— Vancouver #Canucks (@Canucks) October 27, 2017
Nilsson Earning the Nod
Looking at Nilsson's NHL history, the word "unreliable" or "inconsistent" might come to mind. He has now played for six organizations and had only one season with a winning record, not including this current 2017-18 campaign.
Granted, he's only 27, so the inconsistencies could be chalked up to inexperience or simply immaturity. After all, goalies are notoriously late bloomers in the game of hockey. Since joining the Canucks in the offseason, Nilsson has seemingly turned a new leaf and is definitely earning his stripes.
In just four starts, Nilsson has already claimed two shutouts that included one in his season debut against the Ottawa Senators. Following his stellar play in Ottawa, Nilsson was chased from the net in Boston after allowing four goals on 17 shots. However, he didn't let that get to him and much like his teammates, he bounced back even better.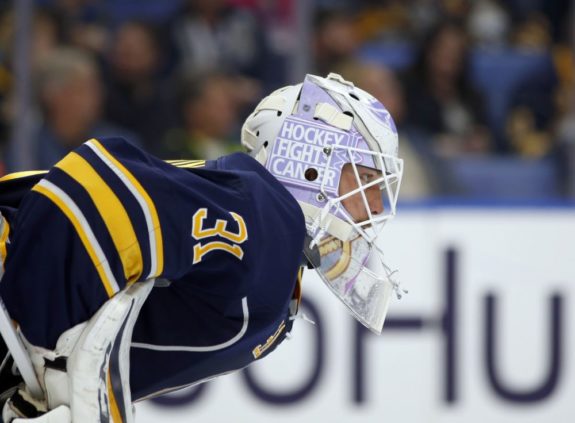 The big Swede currently holds a .949 SV% which is the best in the entire NHL. He also holds the second-best GAA with 1.89, just .01 higher than Jonathan Quick of the Los Angeles Kings. Speaking of Quick, he and Nilsson both are tied atop the shutout leaderboards with two apiece.
Related: Canucks Goalies Performing Well Early
Future in the Crease
With the young star Thatcher Demko playing in Utica for the Comets, the pressure is on for both Nilsson and Markstrom. Demko, much like Nilsson, is on fire lately with a 3-1-0 record with one shutout, a GAA of 1.26 and a .960 SV%.
Demko is expected to start creeping his way into a backup position within a couple of seasons and that means either Markstrom or Nilsson is likely to be leaving the Canucks. Nilsson is currently locked into a two-year contract and Markstrom is signed to a three-year deal so the pressure is on for both.
Markstrom hasn't looked terrible but a 3-2-1 record, a 2.48 GAA and a .908 SV% isn't exactly turning heads. He will need to bounce back strong when he gets his next start and maintain that level of play into his following starts in order to remain relevant on the Canucks. Simply put, he's being outplayed by Nilsson.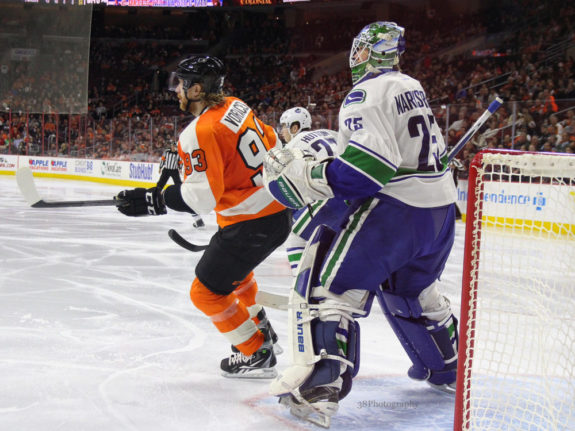 For this season, I don't believe either goalie will be moved unless the Canucks absolutely tank for the remainder of the year. Being able to bounce between goalies when needed is a huge asset, especially when it comes to long road trips.
Nilsson is likely to get the majority of starts for the time being. If I had to put a percentage on it, I'd say that Nilsson will carry 60% of starts to Markstrom's 40%. That discrepancy could either increase as the season rolls on or it could slim down to a non-existence.
With only 10 games played, it's hard to make a concrete prediction, but, from what I have seen, I say Nilsson will be the starter of this 2017-18 season with Markstrom filling in when needed. I also don't expect to see Demko in the NHL for at least another two seasons, unless of course a serious injury or trade occurs.