This season, The Hockey Writers will have a recurring "Three Takeaways" feature after every Columbus Blue Jackets matchup, meant to serve as postgame quick hits.
1) Overtime Winners
The Blue Jackets won their third overtime to remain undefeated this season in extra time through the first 10 games of the season.
As Blue Jackets head coach John Tortorella said it best after Friday's 2-1 win over the Winnipeg Jets, it is not how most coaches want to draw it up. However, he was happy to put the two points earned in the standings bank.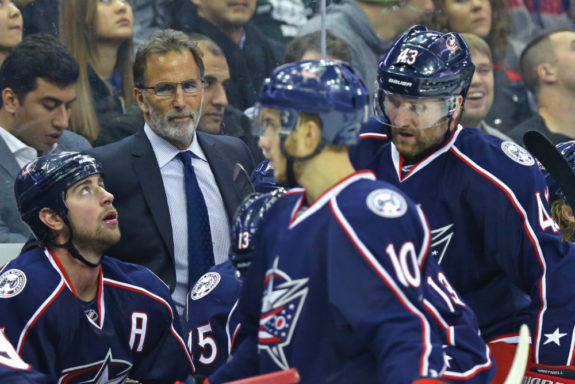 "I am thrilled we win this type of hockey game," Tortorella said after Friday's win. "We talked in between periods about how these are the games we won last year. It's not about how you play 40 or 50 minutes. It's about finding a way to win a game when it's there, when you're still involved in it."
The Blue Jackets players also talked about how so far, they have been able to outwork and out-muscle the other teams they have defeated in overtime, including the Minnesota Wild and Carolina Hurricanes. Josh Anderson, who scored the winning goal on Friday, echoed the same.
"I tried to outwork their team and put pucks on the net and that's what I did," Anderson said when asked about how he succeeded in scoring. "I want to make the best of my opportunity."
That is the key to overtime success—scoring on the chances that are often limited in a wide open 3-on-3 frame. So far in the young season, the Blue Jackets have done just that.
2) Penalty Kill Keeps Rolling at Home
The Blue Jackets' penalty kill has shut down the opposition on all 16 chances so far on home ice this season.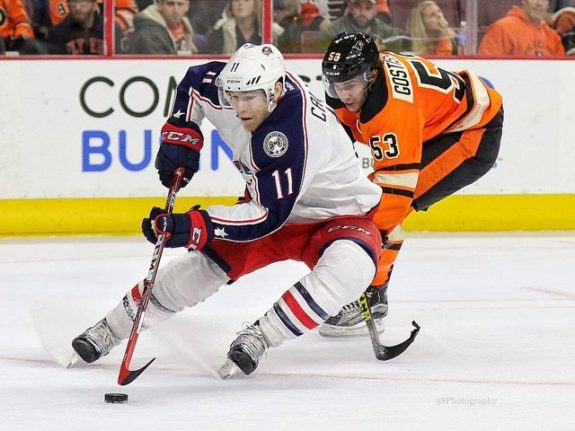 Blue Jackets forward Cam Atkinson and coach Tortorella both said that the penalty kill gave the team momentum and a positive to build off from when the team was in a rut Friday night.
"Our penalty kill has been huge for us," Atkinson said. "They give us a lot of momentum."
Tortorella provided insight on why the penalty kill has been so effective at shutting teams down.
"We've done a really good job on entries—not letting [teams] come in smoothly and breaking some plays up," Tortorella said. "[Assistant coach Brad] Shaw has done a great job with the whole group on when to be aggressive, when not to be, and when to work in cohesion. [Shaw] is trying to get them all simultaneously to make decisions on reads of being aggressive and all go, or just sitting tight at times when you can't."
#CBJ penalty kill should be the No. 1 star tonight.

— Aaron Portzline (@Aportzline) October 28, 2017
While teams never want to lose a skater to a penalty and want to limit those opportunities as much as possible, the penalty kill has been a huge factor for the Blue Jackets and will continue to be moving forward. As the Blue Jackets' skaters and coaches have said all season, special teams will make or break you.
Related – Blue Jackets Three Takeaways: Overtime & Second Periods
3) Josh Anderson Incoming
By now, everyone knows all about the drama that surrounded restricted free agent Anderson and how contract negotiations kept him out of the infamous Tortorella training camp.
Because of the holdout, Anderson was not immediately thrown into special-teams action, nor was he at the top of Tortorella's list of guys to put out on the ice in overtime.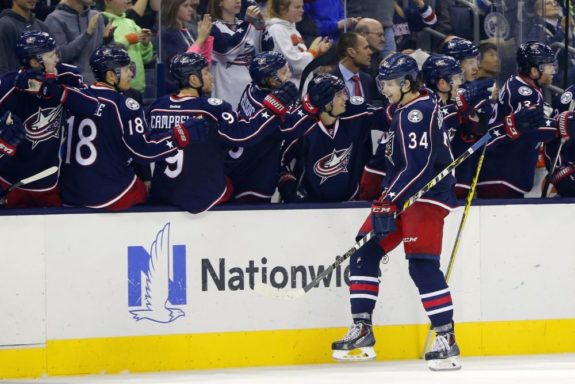 However, Tortorella admitted that Anderson is starting to earn his time, even though Anderson was a power-play specialist before he came into the NHL.
"He deserves to feel good about his game," Tortorella said. "But when young guys come into the league, when they were this, that or the other thing with another team, maybe in a lower league or junior or wherever they may be, they still expect [power-play time].
"Just wait your turn," Tortorella said. "Go about your business, try to improve your game and you're going to get your opportunities. We try to be fair. I think we've been fair with Josh. Little by little, he's getting more. He's getting his time."
Indeed, with his play so far this season, Anderson has proven he deserves the time, and that time is paying off for the Blue Jackets.
However, Tortorella also made his feelings well-known about Anderson missing training camp.
"I said during his hold-up, he can be a really good player in this league, a really good player, if he just keeps his head on straight and doesn't listen to his agent," Tortorella said.
Well, then.
After living in two NHL cities (Orange, CA and Raleigh, NC), Kristyn graduated from Ohio University's E.W. Scripps School of Journalism and worked in the Columbus Blue Jackets' Digital Media department. She currently resides in Columbus and has been an NHL-credentialed reporter since the 2013-14 season.