The Pittsburgh Penguins had a great goalie situation last season. Matt Murray and Marc-Andre Fleury split the year and led the team to a second consecutive Stanley Cup championship. Fleury moved on this offseason in the Expansion Draft, and the Penguins are now moving full steam ahead with Murray as the future.
Murray has proved with consistency and poise that he is an above-average NHL goalie, and it's likely that the team will have to rely on him to handle a large percentage of the regular season games as management still needs to find a capable backup as his counterpart.
Losing Goalie Depth
The Penguins faced a tough reality this off-season, as they had to move on from a fan favorite in Fleury. A lot of fans didn't want to let him go, but management made the right decision – Fleury went to Las Vegas and Antti Niemi signed on as the veteran backup. However, Niemi struggled badly – he allowed 16 goals in three starts and was placed on waivers, where he was claimed by the Florida Panthers.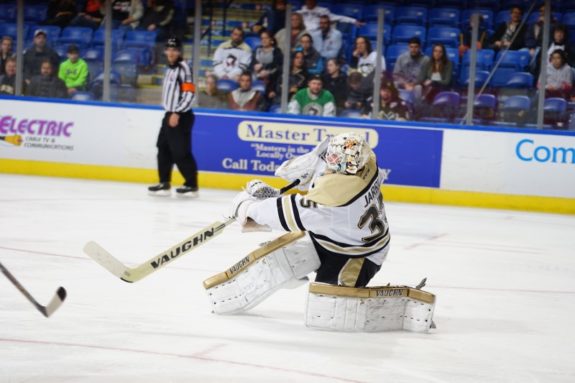 Murray is now backed up by two rookies with no NHL experience – Casey DeSmith and Tristan Jarry are taking over the duties and will be evaluated on a week-by-week basis. Jarry is a former second-round pick with only one game of NHL experience, and DeSmith is gearing up to make his NHL debut in his first start.
Penguins Defensive Situation
Murray has been a calming presence for a defense with different faces this season. He has been a solid force keeping the Penguins in close games, as the team has six wins in games decided by only one goal. Three of those wins were in overtime, and, in all of those contests, you can point to saves Murray made to keep the game even.
The injury bug is creeping slowly towards the Penguins, though. Justin Schultz just hit the IR, and, even though it's not a long-term injury, the Penguins will need to call on AHL defenders to fill the void. Murray will have to continue his pristine play to keep the team in games if more players go down.
Related: Penguins' Tumultuous Offseason
Murray Carrying the Load
Last season, Murray played in 49 games for the Penguins, but it's clear that he'll be playing in significantly more than that this year. In 2015-16, Fleury played 59 games before Murray took over in the playoffs and led the team to the cup. Fleury also had seven seasons in which he played in over 60 games for the Pens. In 2017-18, Murray will have to show that he can also handle a workload of 60-plus games if the Penguins are going to have any chance of a three-peat.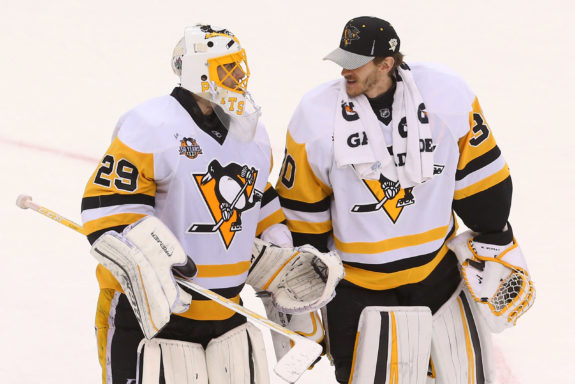 From his performance, there are no signs that show Murray can't handle the load of a full season without much rest. He is more than capable of leading a Stanley Cup caliber team – the only thing they will need to worry about is his health. Even with having a workhorse starter, Jim Rutherford has to find a reliable backup somewhere, just in case.
Who Will be Murray's Backup?
Casey DeSmith is getting the first crack at being that backup in Pittsburgh. DeSmith has no NHL experience and only played three games in the AHL this season. He did play well in that limited action, though, allowing only two goals while picking up one shutout. Between both AHL goalies, Jarry is the one that will take over permanent NHL duties.
Jarry is a highly-touted prospect and shows a ton of talent and potential. With a few years of AHL service now under his belt, he now has the opportunity to prove himself at the NHL level. He would be a cost-effective option for the team and can continue the recent luck the Penguins had with their goaltending prospects.
If DeSmith or Jarry don't end up being that solution this year, Rutherford might have to wait for a trade opportunity to fall in his lap. His track record with smart trades should give fans hope, but there is no saying who will be available as the season moves on, and a trade wouldn't happen until the trade deadline. Regardless, finding a counterpart to Murray's genius could push this team to a three-peat, and Jarry is that guy.