The choice between Pittsburgh's two starting goaltenders, Marc-Andre Fleury and Matt Murray, has been a contentious topic all season. As of last week, there was a new element introduced to the conflict. Enter Tristan Jarry, the 21-year-old goaltender recalled from Wilkes-Barre Scranton to serve as Fleury's backup while Murray is out week-to-week with an injury. Although
Although Jarry was sent back to the AHL during the Penguins' off week for more playing time, he will most likely be recalled to the NHL before the Penguins' next game on January 8th.
Jarry by the Stats
The #Pens have recalled goaltender Tristan Jarry from the @WBSPenguins. Derrick Pouliot is re-assigned to WBS. Info: https://t.co/wQ7n6Z8yX1 pic.twitter.com/bfdTKYQoTY

— Pittsburgh Penguins (@penguins) December 29, 2016
Jarry started his career in the Western Hockey League with the Edmonton Oil Kings. In the 2012-2013 WHL season, he was the top-ranked goaltender in the league with a 0.936 save percentage. Iin 2015, after four seasons with the Oil Kings, he was assigned to the Penguins' AHL affiliate in Wilkes-Barre Scranton. This season, he is currently tied for second in the AHL for wins with 13 victories and is ranked 12th in save percentage with 0.921.
Jarry has had a few tastes of playing with Pittsburgh. He was on the bench for the first two games of the Penguins' successful 2016 playoffs run, when both Fleury and Murray were injured, as backup to Jeff Zatkoff; he has the Stanley Cup ring to prove it.
Jarry also made quite an impression on the Penguins in his exhibition run. In his first preseason start, he recorded a 2-0 shutout against the Chicago Blackhawks, ending the preseason with a record of 3-0-0 and two shutouts. Coach Mike Sullivan told reporters that he was "really excited about [Jarry]'s potential," specifically complimenting his ability to handle the puck. Nick Bonino and Trevor Daley, who both played in front of Jarry during those preseason starts, were similarly complimentary in interviews.
https://www.youtube.com/watch?v=6RHLco8eVvo
Jarry is known for his puck handling ability, something he demonstrated with some aggressive poke checking against current Blackhawk forward Vinnie Hinostroza. This could be very useful for the Penguins, who have a defensive roster currently riddled with injuries; a goaltender with the ability to play the puck can sometimes feel like having an extra defender on the ice.
What Does Jarry's Call-up Mean?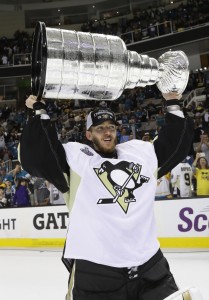 Jarry could be another factor in Pittsburgh's goaltender debate if he proves himself a reliable backup. Having a second choice could mean moving either Fleury or Murray would be less dangerous for the Penguins, especially given each of the two goaltenders' history with injuries and the fact that some movement at the end of this season might be inevitable
Unless Fleury waives the no-movement clause in his contract, the Penguins, only able to protect one goaltender from the expansion draft, might be forced to move Murray at the end of the season. If Jarry gets any time on the ice while Murray is injured, he could be a deciding factor. The Penguins would likely look more favorably upon trading away either of their current goaltenders if they knew they had a backup option they could rely on.
Is Jarry Another Murray?
Like Jarry played in the WHL, Murray spent several years in the OHL before being assigned to the Wilkes-Barre Scranton Penguins. And like Jarry, Murray was called up to the NHL because of an injury in Pittsburgh's original lineup. Both developed their goaltending skills for years in the minor leagues before finally joining the NHL lineup. Murray quickly went from backup to starter because he proved he had the skill. Will Jarry now get the same chance Murray had to prove his potential?
Jarry's rise to the top won't be as immediate as Murray's. This is the regular season, not playoffs, and games are a lot less urgent now for the Penguins. Nevertheless, this could be the start of a similar rise if he is able to step up to the NHL level.
If Jarry can prove himself to be a dependable backup, he could earn himself a spot on the team for next season, just as Murray earned his. Keep an eye out for his regular season debut when he is likely called back up to the NHL next week.
Julia Stumbaugh is a student at the College of William & Mary.