This season is a big one for Josh Anderson.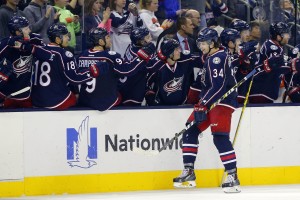 He came into the season knowing that he needed to have his best one yet. It's a contract year, coming off his ELC. Was he ready to show the Blue Jackets that he belongs in Columbus permanently? Could he parlay winning the Calder Cup into sustained NHL success?
At about the midway point of the season, he's been one of their most consistent players. Coming into Saturday night's game against the New York Rangers, Anderson has 8-6-14 points in 37 games along with 43 penalty minutes, the most on the team.
But it's not the lazy kind of penalties that Anderson is taking. If there's a scrum, Anderson is usually in the middle of it, trying to make things happen or stick up for a teammate. Even more encouraging is that he is a plus-8 for the season, so he is playing well at both ends of the ice. The line of Anderson, William Karlsson and Matt Calvert has been one of the team's best lines all season.
The Hockey Writers had the chance to catch up with Anderson before the Blue Jackets take on the Rangers at Nationwide Arena. We talked about everything from the streak ending to gaining a league-wide reputation. He also discussed his view on when to fight.
Moving On From The Streak
THW: How did you spend the off-day (Friday) after the streak ended?
"I think it (the off day) was good. I mean a couple of us were sore and maybe a little bit tired so for Torts to give us that day off was good to just rest the body. We just chilled on the couch, watched tv, really didn't get up to anything, then went out for dinner."
THW: What are the keys for the team to move on from the winning streak now that it's over?
"I think just coming in every day doing what we do best, come in treat it as business like we usually do. We just take it day-to-day. We take every team seriously in this league. It's really hard to win in this league, so we just come in and work every day to try to win games."
Reputation & Fighting
THW: You are quickly gaining a reputation around the league for the kind of player you are. Is that something you take pride in? What do you look for in your game?
"I want to be consistent in my game, that's the most important thing. This is a hard league to stay in. You just try to focus on that each night and try to get under people's skin, you know, just play my type of hockey."
THW: What are your thoughts on fighting in today's game? Is it a timing thing when it comes to determining when to fight or step in?
"Yeah, you really never know in a game. It's either when your top player gets hit and you don't like it, or in some situations when you're down a couple goals and your team needs a lift. Sometimes that happens there. There's different situations in a game where sometimes you need to do it (fight) just to get a little bit of jump and juice for your team."
We thank Josh for taking the time to talk to us.