Rarely does a third-string goaltender ever receive his or her dues. Their ice time is limited, if existent at all. Come game day they spend most of their time either "riding the pine" or supporting their team from the stands. When success is had by a hockey club, that third-string goalie gets to be part of the celebration but his or her contributions may easily get overlooked.
Case in point: Milan Hnilička. What Hnilička accomplished as a goaltender is often overshadowed by the fact that he was routinely in line behind "The Dominator" Dominik Hasek when it came to international play. He also had other All-Star goaltenders like Roman Cechmanek, Roman Turek, and Tomas Vokoun wedged in between himself and Hasek to further widen himself from the ice. It is never easy being the third wheel by any means.
But—this was really only limited to Hnilička's international experience, and certainly not all the time. Seemingly, though, it happened in tournaments where his fellow countrymen were in the limelight while he was in the backdrop. Perhaps that is why Hnilička often goes forgotten.
Were Hnilička given the reigns and the call to be "number one" he likely would have fared very well. When he announced his retirement in 2010 at the age of 37, there was a great deal that he accomplished despite being tertiary behind some of the bigger names in Czech goaltending history. We take a look back at what Hnilička did during his playing career, and ponder what might have been if things had worked out differently.
A Junior Career With Swift Current
At the age of 19 years old, Hnilička was in North America playing major junior hockey in the WHL. The year prior he had been playing for his hometown team of Kladno in the top hockey league of the former Czechoslovakia. But here he was playing for the Swift Current Broncos and he was their number-one goaltender.
No goaltender in the WHL played more games in the 1992-93 than Hnilička's 65 games (Prince Albert's Stan Matwijiw tied at 65 as well). His .896 save percentage placed him at sixth overall in the league as did his 3.36 goals-against average. Hnilička was an absolute wall for the Broncos that entire season. The team would take first place overall in the WHL with 49 victories and 100 points. Hnilička's time in net accounted for 46 of those 49 wins. To this day, those 46 wins are still tied for fourth-best in a season in WHL history. It is no wonder that Swift Current relied upon him so heavily.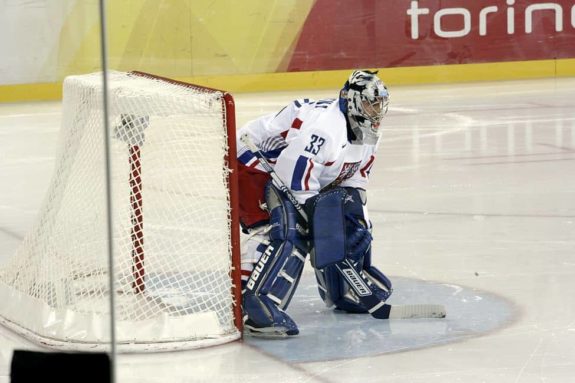 Come playoff time, Hnilička played in all 17 of the Broncos WHL postseason games. Having a bye in the opening round of the playoffs, Hnilička and the Broncos eliminated Medicine Hat in six games and Regina in only four. That vaulted them into a Finals series against Portland which went the full seven games of the series. At the end of it all, Hnilička and the Broncos had won the President's Cup championship.
Though they would lose in the 1993 Memorial Cup tournament, Hnilička still assembled a season for the ages. Nearly a quarter-century later he still ranks in the top five in Swift Current's history for games in a season by a goaltender, minutes in a season, saves in a season, and of course, victories in a season.
Olympic Gold at Nagano in '98
Following his time with Swift Current, Hnilička spent two seasons toiling in the minors in both the IHL and the ECHL. Eventually, he opted to return to his homeland in the Czech Republic. He rejoined Kladno, before joining Sparta Praha from 1997 through 1999.
During those two seasons with Sparta Praha, Hnilička earned the nomination to represent the Czech national team at the 1998 Nagano Olympics. With good reason, he was then selected. During the 1997-98 Czech League season, Hnilička was simply brilliant. In 48 games he posted a 2.12 goals-against in combination with a .961 save percentage. Those numbers were in close comparison with Vsetin's own Roman Cechmanek, who had a season of 2.03 and .96o himself in 41 games.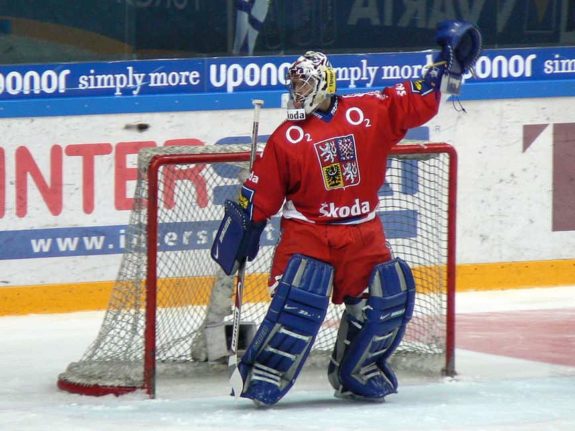 Not surprisingly, both goaltenders were selected to join Dominik Hasek in Nagano. Fortunately or unfortunately for Hnilička and Cechmanek, Hasek's play at the Nagano Games was otherworldly. In one of the finest displays of goaltending ever witnessed, Hasek posted a 0.97 goals-against to go with a .961 save percentage in six tournament games. Behind Hasek's brilliance and the likes of Jaromir Jagr, Roman Hamrlik, Milan Hejduk, Robert Lang, and Robert Reichel, the Czech Republic deserved every ounce of that gold medal they won.
Not having the opportunity to get a rotation on the ice, Hnilička was still just as much a member of that squad as those aforementioned players. His contributions and his initial performance that led to him being selected to the roster are worth just as much as anyone else's who helped comprise that team. Point being, each of the players assembled for that team had to prove himself. They deserved to be there more than any other hockey players in their country.
Becoming a Calder Cup Champion in Hartford
Hnilička had originally been drafted by the New York Islanders in the 1991 draft. However, he would make his NHL debut with the New York Rangers nearly a decade later. He signed with the Blueshirts as a free agent in the summer of 1999. One would think that the Rangers taking a chance on Hnilička was due partially to the Czechs winning at Nagano and NHL teams desperately trying to get their hands on that collection of players as if they were the Beatles. Hnilička was one of multiple players on that team to make his NHL debut shortly after Nagano. Others included Cechmanek, David Moravec, Jiri Dopita and Pavel Patera.
Do studia iDNES.cz dnes přijde Milan Hnilička. Startujeme jako obvykle v 15:00 #idnesjehokej http://t.co/aSvUsGTV9B pic.twitter.com/QMLLA6ubvY

— Sport / iDNES.cz (@iDNEScz_Sport) May 6, 2015
Hnilička suited up for all of two games for New York once the season got underway later that fall. The bulk of his time was spent with the Rangers' AHL minor league affiliate, the Hartford Wolfpack. His time in Manhattan may have been fleeting, but Hnilička certainly brought success to Hartford.
His .928 save percentage was the second-highest in the AHL that season. His 2.15 goals-against was the best in the league. Playing on a team with players like Jason Dawe, P.J. Stock, Manny Malhotra, and other players who had significant NHL careers, Hnilička and the Wolfpack won the Calder Cup trophy that year.
It is important to note that Hnilička did not have a good playoff performance even though Hartford won it all. He appeared in just three postseason contests and posted a rough .854 save percentage. The bulk of the playoff work went to his goaltending partner, Jean-Francois Labbe. That being said, Hnilička's remarkable play during the regular season truly strengthened the team. Hartford would finish first in the AHL regular season for 1999-00 with 107 points. Hnilička accounted for 22 of the Wolfpack's 49 wins.
With the Atlanta Thrashers and World's Top Goalie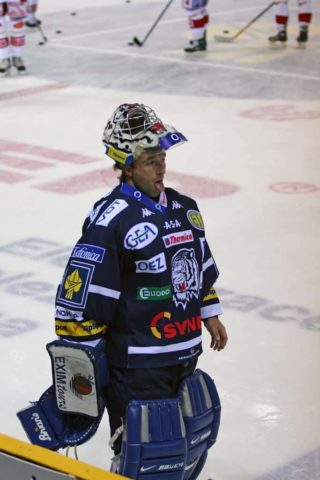 The season after the Calder Cup championship, Hnilička signed as a free agent with the former Atlanta Thrashers. The year prior, the Thrashers played their first NHL season to an abysmal record of 14-57-7-4. With no Thrashers goalie posting more than five wins in the club's first season, they badly needed help in net. It would have certainly been worth it at the time to fully consider and try Hnilička.
Now, no one will say that Hnilička was a savior for the Thrashers or anything of the sort. However, he did bring numerous positives. During the 2000-01 season, he became the first Thrashers goalie to post double digits in wins (12). He was the only goalie of the team's four that season to record a shutout (two). His 3.35 goals-against average was also the best on the team. Hnilička remained the only Thrashers goalie to have double digits in wins until Pasi Nurminen came along in 2002-03.
Also during the 2000-01 season, Hnilička assembled one of his finest international performances. This time he was the starting goaltender and one whose shoulders the country's hopes rode on. Hnilička was awesome throughout the tournament. Not only would he backstop the Czech Republic to the gold medal, but he was hands-down the top goaltender at the competition. Allowing just 13 goals on 269 shots, Hnilička had a 1.44 goals-against and a .952 save percentage. He would be named Best Goaltender for the tournament and was named the goalie for the Media All-Star Team.
Hnilička's Bronze at Torino Games
Hnilička would receive one final nod to the Olympics when the 2006 Torino Winter Games came along. Once again it would be as a backup to Hasek. That would not last for long. In the first game of the preliminary round against Germany, Hasek was injured and would not play for the rest of the playoffs. Tomas Vokoun would take over the starting goaltending duties for the Czechs, but it was not quite the monopoly that Hasek had had over the position.
Vokoun, at least early on, had some poor showings. After the Hasek injury, Vokoun lost two straight—one each to Switzerland and Finland. Though he rebounded with a victory over host nation Italy, he still seemed rocky.
An opportunity was opened for Hnilička. He would see action in three games in goal for the Czech Republic, who were on their way to a bronze medal despite the poor start. Hnilička finished the Olympic tournament with a 2.82 goals-against and .878 save percentage. His finest performance came in the quarterfinals of the tournament in which he turned aside 20 of 21 shots in a 3-1 victory over Slovakia.
Unfortunately, Hnilička would give up five goals to Sweden in the semis in a 7-3 loss. This moved the Czech Republic to the bronze medal game against Russia. Even though Vokoun would get the nod for the bronze medal victory, Hnilička's name was certainly much more at the forefront of the success as compared with Nagano. After all, he stole his country a win in the quarterfinals.
A Last Hurrah in Russia
His final NHL season would be with the Los Angeles Kings during the 2003-04 season. The Kings received Hnilička in a trade with Atlanta for future considerations. Unfortunately, he would miss the bulk of the season after suffering a finger injury against the Phoenix Coyotes. Hnilička would end up playing just two games for L.A.
That same May he returned to the Czech Republic and signed with Liberec Bili Tygri HC. Hnilička remained with Liberec from 2004 to 2007 and was consistently one of the top goaltenders in the Czech league. During his three seasons with the "White Tigers", he never posted a save percentage below .928.
Některé momenty a služby se nezapomínají. Milan #HNILIČKA je libereckou LEGENDOU a klub mu za vše děkuje. #33forever pic.twitter.com/L1FAidzcSL

— Bílí Tygři Liberec (@bilitygrilbc) February 20, 2016
Partway through the 2007-08 season, Hnilička left Liberec and joined Salavat Yulaev Ufa of the Russian Super League, the precursor to the KHL. Playing mostly third fiddle to Alexander Yeryomenko and Vadim Tarasov, he still got into nine regular season games plus one in the postseason. Ufa ended up winning that year's Russian Championship, and Hnilička added yet another trophy to his resume.
When All Is Said and Done About Hnilička
Hnilička's final season of play was 2009-10 after three games with Slavia Praha. Seemingly, the only coveted trophy that was not bestowed upon Milan Hnilička was a Stanley Cup. Everything else was his at one point or another. In total, Hnilička has won an Olympic gold, an Olympic bronze, three World Championship golds, one silver, three bronzes, a Calder Cup, a Russian Championship, and a President's Cup. He represented the Czech Republic in international games 97 times.
Hnilička has a larger trophy case than many Hockey Hall-of-Famers. Not to mention more than a long list of NHL All-Stars, of which he never was one. This is why it is important to pay credence to him. Hnilička's career means something in terms of hockey history and annals.
Who knows, maybe he'll add another Olympic medal in PyeongChang. Having served as a general manager for numerous Czech national teams, including the men's national and the U20 team since 2012, there is a good likelihood. If anything, Hnilička must have a Midas touch of some sort that could come in handy for the Czechs this February.
General Manager of the Buffalo Beauts (NWHL). Hockey history writer "The Hockey Writers". Credentialed media for the NHL Combine and 2018 IIHF World Junior Championships in Buffalo, NY, USA. Born and raised in Buffalo, NY. Lifelong hockey fan for over 40 years. Proponent of the women's game.