Let's start by being perfectly honest. The Czech Republic has never been the favourite or dominating country when it comes to international men's hockey. Sure, they've had their glimpses of greatness (or something close to that) but it's never come close to what we see on a continuous basis from the likes of Canada, the United States and Sweden (with some credit to Finland as well).
Yet with the Czech drawing the short straw for their first game of the 2016 World Cup of Hockey – having to take on Canada on their home ice – nobody expected the rout that took place. Time after time, the Canadians pelted the puck on the Czech net.
While Neuvirth managed to stop 44 of the 50 shots he faced, Canada still walked away with a decisive victory shutting out Czech Republic 6-0 in their first game of the tournament. Again, I can say with relative positivity that no one expected the Czechs to beat the Canadians, but not many of us could've predicted such a lopsided victory in a best-on-best tournament.
Not The Best Czechs
There's no questioning that the Czech team isn't the best they've ever sent to an international tournament. After all, as the other countries (and the young North Americans) have shown their developmental improvement, the Czechs seem to be stuck at a standstill of sorts.
Let's not forget that this is a country that took home gold at the 1998 Nagano Olympics. Heck, they won bronze in Turin, Italy. At the World Championships, Czech Republic has medaled 12 times (six gold, one silver and five bronze). Even at World Cup tournaments, they finished third in 2004.
So why are they struggling at the 2016 World Cup?
The easiest answer is to look at their roster. Their starting goalie for the tournament (as well as he did) was Neuvirth. Neuvirth has played a total of 200 regular season games at the NHL level. While his numbers are adequate for a backup goaltender, his 84-71-21 record is a sign that maybe he's not meant to start at a best-on-best tournament.
Team Canada outshot Team Czech Republic 50-27, the 2nd-most shots on goal by one team in one game in World Cup of Hockey history. #WCH2016

— NHL Public Relations (@PR_NHL) September 18, 2016
"I'm not happy with six goals against, but I battled hard," said Neuvirth. And he did. But sometimes that isn't enough especially against a strong team like Canada.
That being said, they aren't exactly icing a lineup with major firepower either. Aside from the likes of Ondrej Palat, David Pastrnak, Jakub Voracek and Tomas Plekanec, there aren't many that've spent their careers on the NHL's offensive lists.
Looking Back on the Biggest Czechs
In comparison, there was a time when the Czechs were feared. Not as the top dog at international tournaments, but the sleeper teams that people didn't give enough credit to.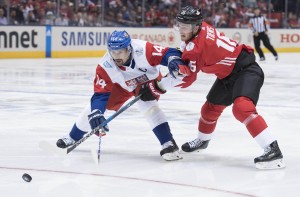 Look back on 1998. They weren't the frontrunners for Nagano. Heck, they were maybe a bubble team for the bronze medal. But they had arguably some of the bigger names in hockey and those were the players that carried the team.
Up front, they had Milan Hejduk, Jaromir Jagr, Robert Lang, Robert Reichel, Martin Rucinsky and Martin Straka. Guarding the blue line it was names like Roman Hamrlik and Jaroslav Spacek with the dominating and always emphatic Dominik Hasek manning the net.
That was back in 1998. Even in 2010 – when they won their most recent international gold at the World Championships – they had a relatively unknown team. The key, however, was that they had some role players who were able to contribute.
It was Jagr again in 2010 with Roman Cervenka, Jiri Novotny and Voracek. Michal Rozsival and Karel Rachunek held the line with Tomas Vokoun running the show in net.
Czeched at the Door
Now, don't get me wrong. I do believe the Czechs have what it takes to compete. After all, some of their players represent major offensive threats for their NHL (or KHL) teams. But they're playing a system that leaves them vulnerable to good cycling and opportunistic offence by their opponents.
While they certainly weren't happy with how their tournament opened, there is one thing that hasn't changed over the years. They're a group of professionals and there's something about playing for your country that can make your game change over night.
While it'll be an upward battle, don't count them out just yet. After all, they aren't the same old Czech team.
---
The Hockey Writers coverage of the World Cup of Hockey 2016 is being brought to you by PrimeSport, the official Fan Travel & Hospitality Package Partner of the World Cup of Hockey 2016.