As a reader, these are some of my absolute favorite articles to read. My hope is to bring you that same excitement and enjoyment as you read this.
It's finally happening…we hope. The NHL has tentatively scheduled the World Cup of Hockey for February 2025. By this point, it will have been eight years since we've had true global best-on-best hockey, so this news is very exciting. Some of the greatest moments and memories in hockey history have come from the best players in the world suiting up for their respective countries, and this is an opportunity to create many more new ones.
As the site's coverage starts to pick up, we will be looking at my projection for Team Canada's roster. I would love to hear your thoughts in the comments section. What does your Team Canada look like?
The Team
| | | | | | |
| --- | --- | --- | --- | --- | --- |
| Left Wing | Center | Right Wing | Left Defense | Right Defense | Goalies |
| Zach Hyman | Connor McDavid | Mitch Marner | Devon Toews | Cale Makar | Tristan Jarry |
| Jonathan Huberdeau | Nathan MacKinnon | Brayden Point | Vince Dunn | Shea Theadore | Adin Hill |
| Brad Marchand | Sidney Crosby | Steven Stamkos | Morgan Rielly | Dougie Hamilton | Logan Thompson |
| Sam Bennett | Chandler Stephenson | Connor Bedard | Josh Morrissey | Alex Pietrangelo |   |
|   | Robert Thomas | Travis Konecny |   |   |   |
Quickly Covering the Core
Canada is not overstocked in shiny left wingers. Hyman, coming off a career year playing a lot with Connor McDavid, is the perfect fit for a first line with both McDavid and Mitch Marner, who he played multiple years on the same line as in Toronto. Hyman's speed, forechecking, defensive acumen, and overall relentlessness will create plenty of space for these two playmakers. For anyone asking about Marner on this line, he's a tremendous playmaker with excellent speed (that he doesn't usually have to show) and is a perfect fit for McDavid's skillset. Frankly, it would be fun to see McDavid force Marner to skate like (Marner) can.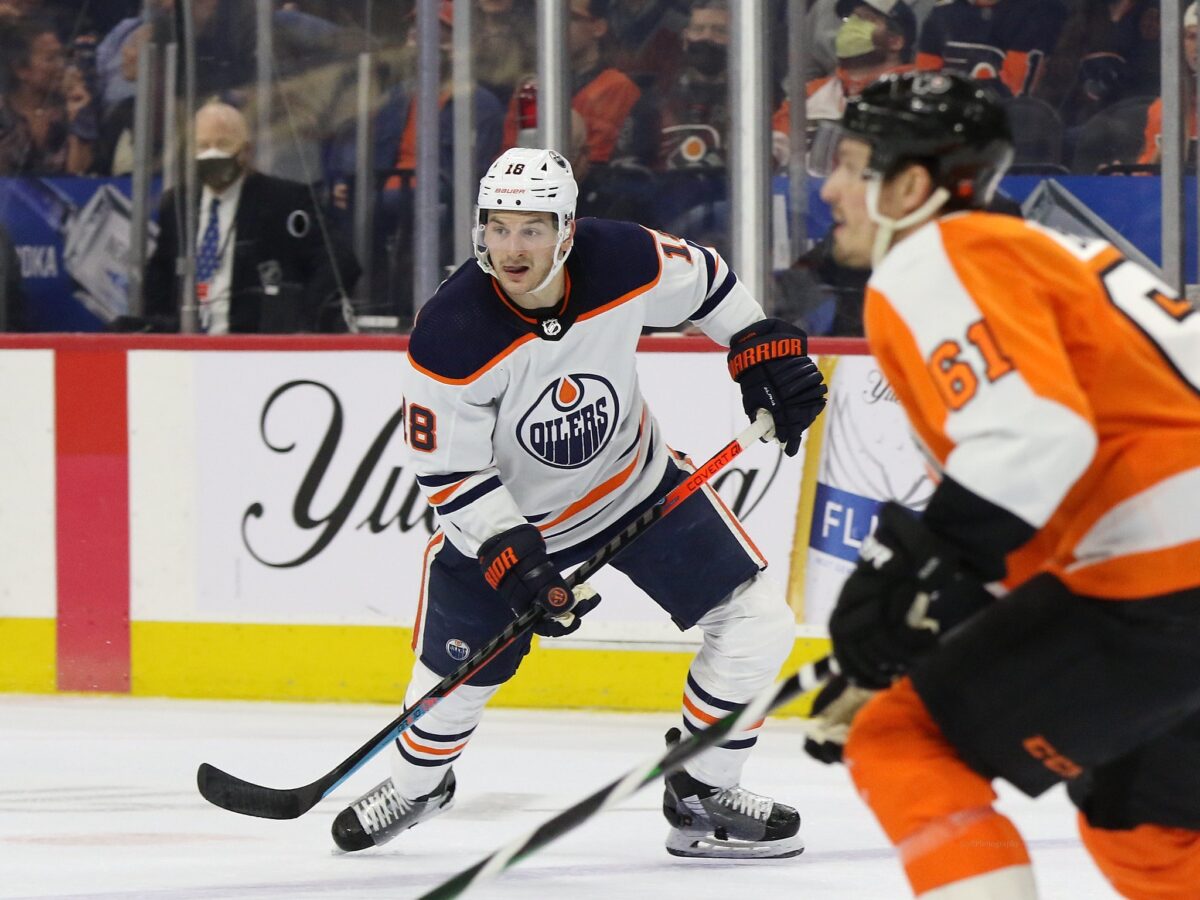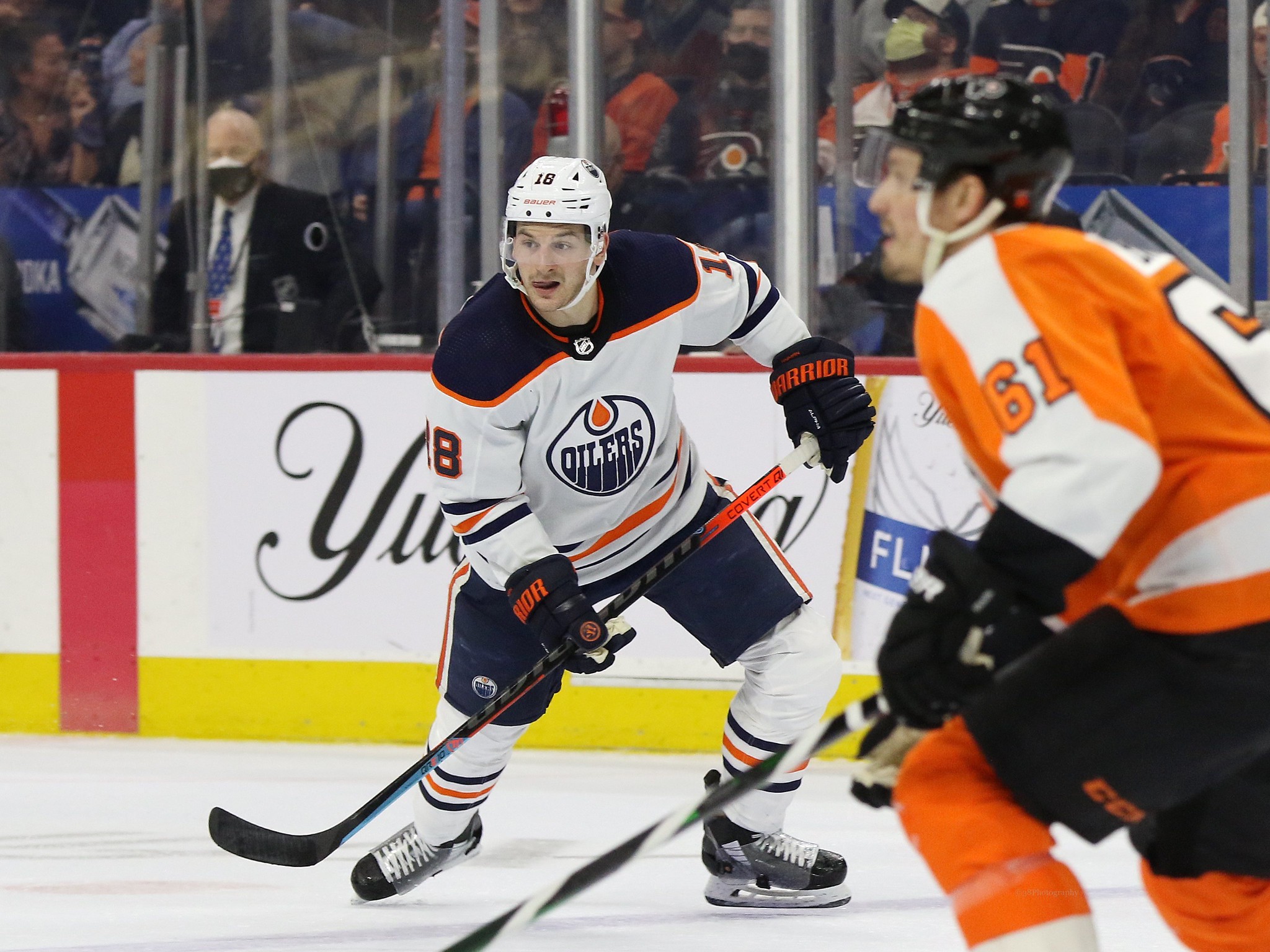 Yes, he had a horrendous year last year, but it's also a perfect example of why I say that coaching and systems are so important to the success of a player. That's why Jonathan Huberdeau, himself a sublime creator of puck wizardry, is both on this team and on a scoring line with Nathan MacKinnon and Brayden Point. The speed on this line would be ridiculous. MacKinnon can score or create at will, and Huberdeau's passing, combined with Point's finishing ability, make this a terrifying second unit for Team Canada.
While not at all the same player, Steven Stamkos replaces Patrice Bergeron on the third line. I still foresee Sidney Crosby being at least a point-per-game player at this point, still able to skate well and, with hockey IQ second to none, able to play a shutdown role. The same goes for Marchand, a very underrated player who should see the Hockey Hall of Fame in his future one day. These are three veterans who know their roles and when to sacrifice scoring for the betterment of the team.
Surprise, Surprise
On the fourth line, Chandler Stephenson is the name that, for many, will likely stand out as a surprise. Stephenson is a two-time Stanley Cup winner, first as a rookie driving Washington's fourth line with his speed and physicality in 2018, and last season centering the second line with (notable by his absence) Mark Stone.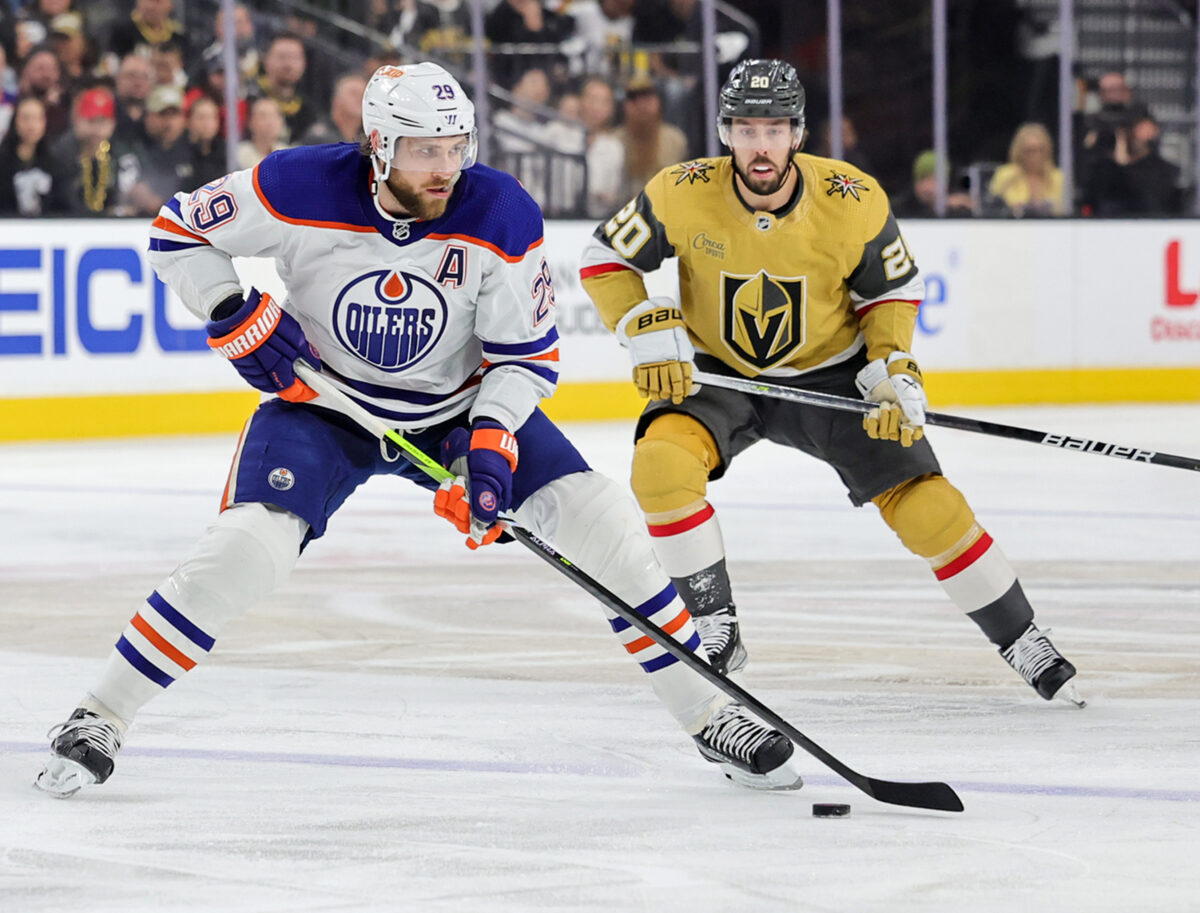 With 64 and 65 points in his past two regular seasons, Stephenson is a legitimate first-line player from a production standpoint.
He's never had more than 26 minutes in penalties, so he's someone you can trust to stay on the ice in key moments.
After scoring only 16 goals in the 2022-23 regular season, he scored 10 goals (and added 10 assists for 20 points) in 22 playoff games. If you saw Vegas's run to the Cup last spring, you know Stephenson scored a lot of timely, if not clutch, goals.
Even if you think that Stone carried him (Stone did not), Stephenson will have the chance to play with top players on his line. For this exercise, we have him with Sam Bennett (potentially another surprise choice), a fast player who can score key goals, lay big hits, and do whatever the situation calls for, along with generational prospect Connor Bedard.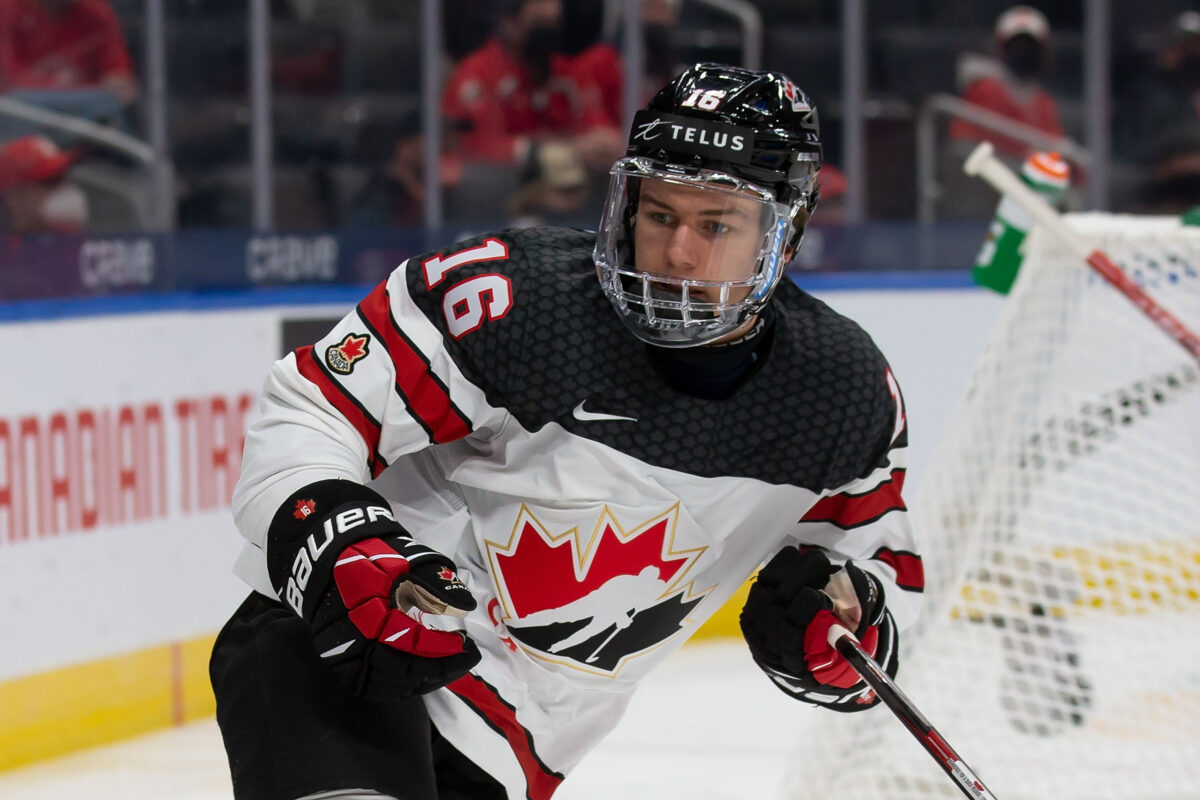 Seventeen months is a long time, and it takes us well into Bedard's second regular season. By then, he'll have a feel for the speed of the NHL, what it's like to be checked by the opposing team's best players every game, and how to drive a line with limitations. Bedard will be ready for a top-12 role, and I can absolutely see him overtaking Brayden Point on the second line (I'd keep Stamkos on the third line and bump Point down, as his style of play is a better fit for a fourth-line role in that situation). If you don't feel that someone as young as Bedard can make any impact against the world's best, check out the North America vs. Team Sweden game from the last World Cup in 2016. Speed and energy can take you a long way.
Defense Dunn Right
Team Canada's defense is stacked, with lots of players who could be slotted in here. Most of these choices should be obvious, so let's instead head to the budding hockey metropolis of…Seattle?!
When the Kraken had completed their expansion draft, there were a lot of smart hockey people asking, "What was that?" and questioning many of their picks. One of those was to draft defenseman Vince Dunn from St. Louis instead of star winger Vladimir Tarasenko. Tarasenko seemed to agree with the pundits as he had a huge year following that draft, with 34 goals and 82 points in 75 games. As Kraken general manager Ron Francis has shown us on many occasions, though, there is a method to the madness.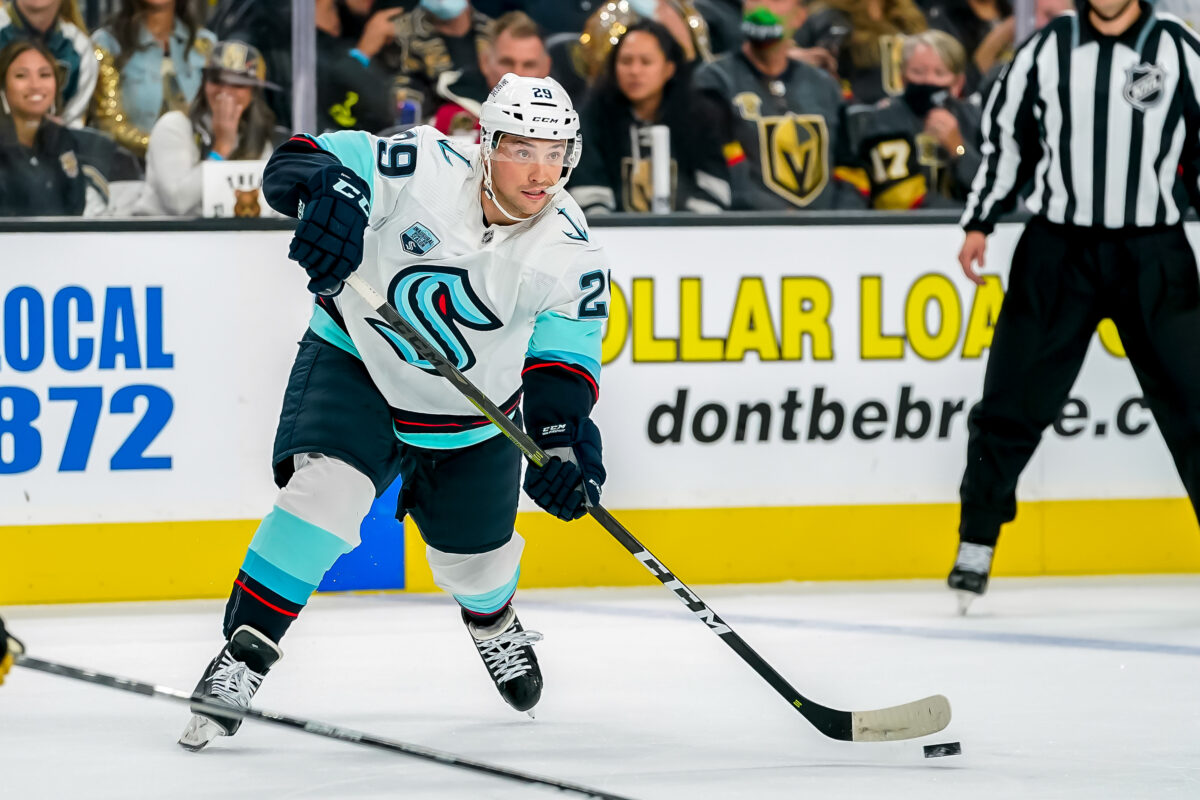 Dunn is now a legitimate number-one defenseman, and his rise is a huge reason that Seattle went from also-ran to a legitimate playoff team. Dunn has a very accurate snapshot and knows when to jump into a play to put an opposing team's D-men off-balance. He's fantastic at using screens to his advantage and getting pucks through, like a true power-play quarterback. There's a smoothness, a calmness to his game that the best players have, one that will allow him to handle the pace that best-on-best brings. That calm also speaks to why his defensive metrics are strong, especially for someone who plays a lot of minutes against the best players in the world each night. Dunn on a pairing with the incredible (and incredibly underrated) Shea Theodore is a monstrous, untouchable second pairing that coaches would delight in sending over the boards.
The Crease Conundrum
This is not the era where Canada could rely on Patrick Roy, Roberto Luongo, Martin Brodeur, or even Marc-Andre Fleury (no, he would not make this team). There is no perfect answer to who should be in goal for Team Canada, and who knows what's going to happen between now and February 2025. So, who did we choose?
Tristan Jarry is likely the most purely talented goalie currently available to wear the red maple leaf. He's slightly undersized at 6-foot-2, ultra-athletic, injury-prone, loads of heart, and has a strong desire to win. He's imperfect. His game is unproven in the clutch at the highest level — though playing very hurt in Game 7 of the first round of the 2022 NHL playoffs sure showed his heart. For this one, you simply cross your fingers, hope he's healthy and at the top of his game, and go from there.
For the next two goalies, I did what any good NHL general manager would do – choose winners. Specifically, the poster boy for the Goalies Are Voodoo Club, Adin Hill. As of this writing, Hill has played more career AHL games than he has NHL games. Hill will be 28 at the time of the World Cup, still 6-foot-6 (you can't teach size), and as goalies peak later, he should be at his best. Even if you're of the mind that Hill is a system goalie who was sheltered by his team, there are two things to keep in mind. First, Hill won the Stanley Cup behind a strong system, so he is a proven winner behind a strong team. Second, we have very, very few other options here, and Hill's win is far more recent than someone like Jordan Binnington.
Every Team Canada should have a top "young" goalie in the third slot, learning from the best and preparing for the future. In this case, it's Logan Thompson. Having already had exposure to a Stanley Cup winner last spring, the 6-foot-4 Thompson, who's only a year younger than Hill, is the closest thing to a top young goalie I'm comfortable putting on this team. He is a fighter, as he was a non-prospect only five years ago playing for my former school, Brock University.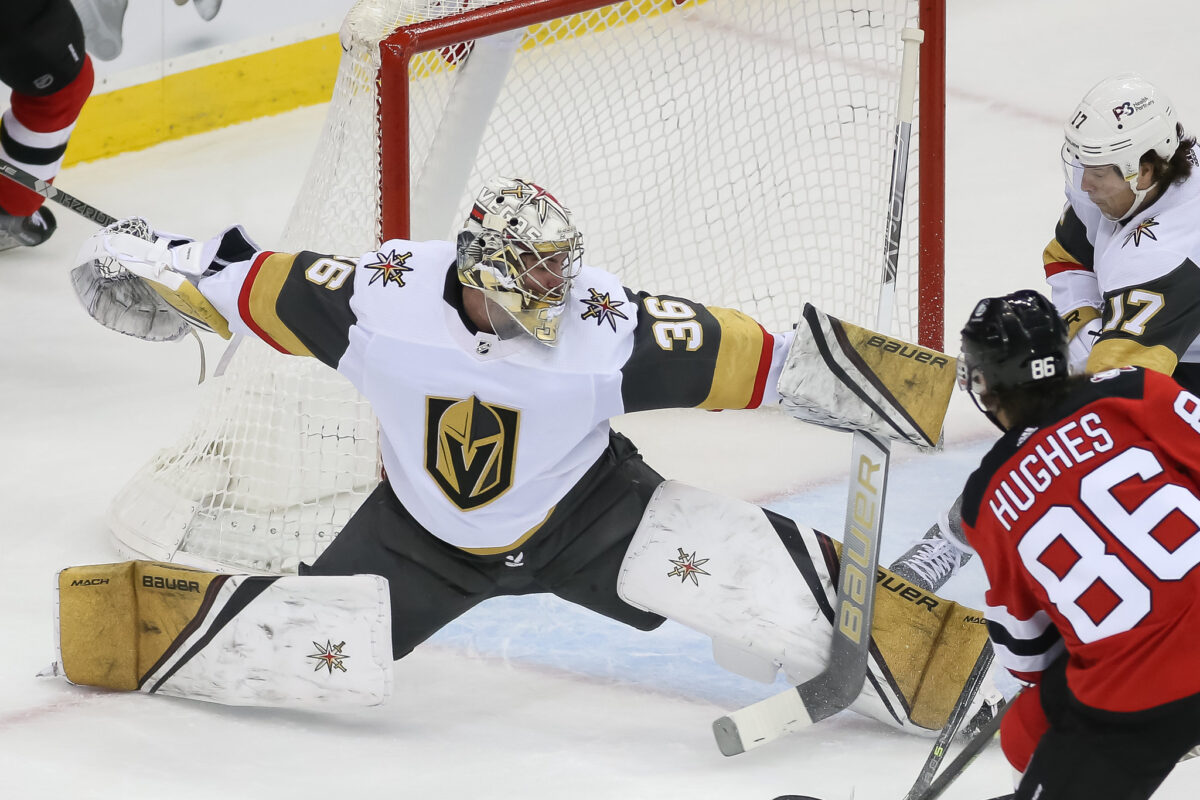 Having played four seasons in the WHL, Thompson unsurprisingly dominated Canadian University hockey, which took him to the ECHL and AHL merry-go-round for a couple of seasons before showing up on the radar as a potential top goalie in Vegas. Thompson is a grinder, and with a silver medal from the 2022 World Hockey Championships, he is someone who has experience wearing the Canadian crest. Of the three goalies here, while he's third on the depth chart today, Thompson is the one I would most expect to be starting important games in this World Cup for Canada.
Notable By Their Absence
Mark Stone
While many will point to the start of the playoffs and say that Vegas beat the salary cap system (to some extent, they did, because Stone played), at no point in these playoffs was Mark Stone 100 percent. He's had two major back surgeries in nine months' time and gutted through these playoffs, only moving his feet when he absolutely needed to. When projecting for 2025, I'm wondering if he sacrificed the back end of his career for the Stanley Cup. My hope is that he did not, but we've seen it happen before.
Related: Projecting Team USA's 2024 World Cup of Hockey Roster
---
Latest News & Highlights
---
John Tavares
The captain of either the most beloved or most hated team in the NHL, depending on where you live, Tavares will be 34 when the World Cup starts. While his offensive instincts and overall hockey IQ are still sublime, and he produces accordingly, his limited leg drive and footspeed do not allow him to do everything he needs and knows to do from the defensive end, which costs his team scoring chances and goals. I'll take Stephenson's speed, physicality, ability to execute defensively, and less overall offense, be it in the NHL or on a global stage.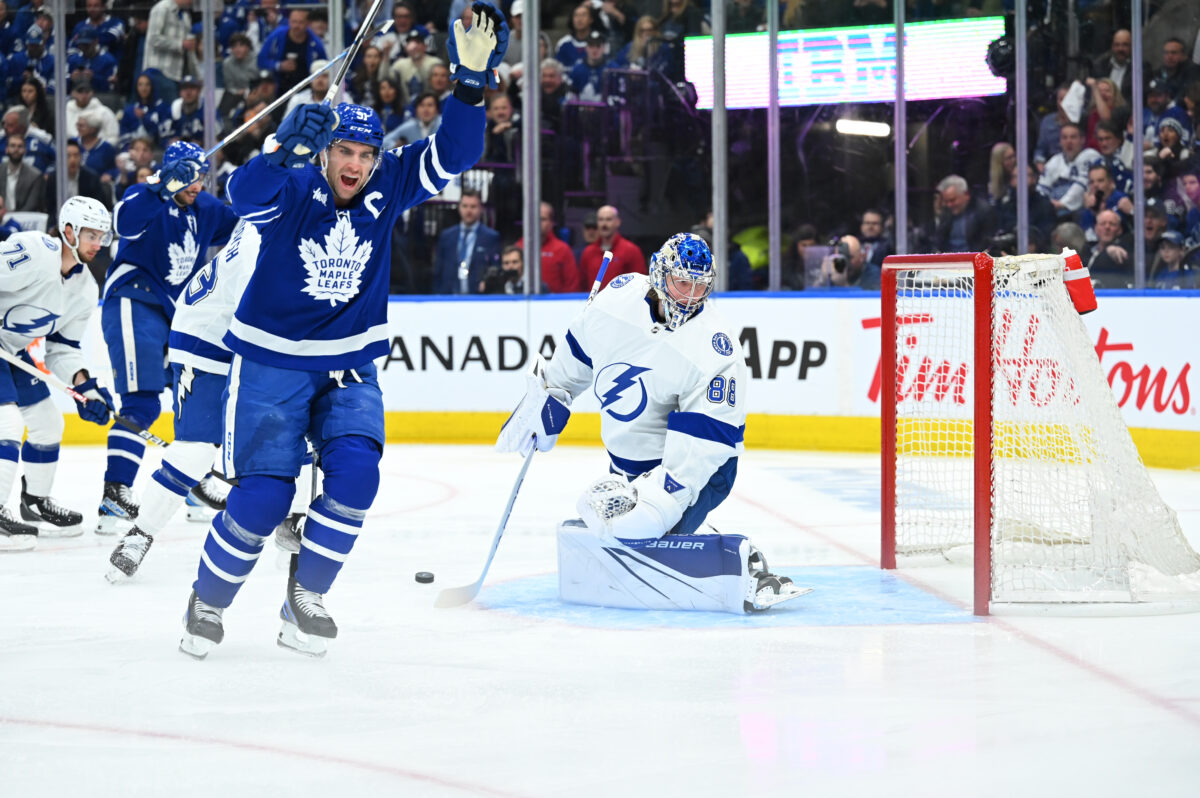 Ryan Nugent-Hopkins
It's kind of difficult to keep someone who had 104 points last season off this team. Nugent-Hopkins is a power-play magician who can play both center and left Wing and is solid defensively. However, is he any different than Tavares? If you flipped their teams, does Tavares not score over 100 points (and more goals) in Edmonton, and Nugent-Hopkins puts up 70-80 points playing with either Marner or William Nylander in Toronto? To me, they're essentially the same player (dynamic offensively) with the same holes (not fast enough to handle defensive responsibilities against faster, similarly dynamic players), and that keeps Nugent-Hopkins off this team.
Owen Power
The first overall pick of the 2021 NHL Draft, Power is a smooth-skating puck mover who may end up being underrated his entire career because he is as low-event as it gets for a high-end defenseman. This is not a case of underrating him, and he may overtake one of these defensemen come February 2025. Right now, I can't make a case to put him in front of any of them.
We could keep this list going for a while, as the running joke is that you could create two Team Canadas for these tournaments, and both would have the potential to win. For now, tell me what you think in the comments section. Could this team win the World Cup of Hockey less than a year and a half from now? Are there one or more players you think should be on the team? Do I hate your favorite team and keep their players off on purpose? (Yes, yes, I do.) What would your Team Canada look like?
---
---