There's no doubting the successful, illustrious career Jaromir Jagr has had in what is now 24 NHL seasons. Even to just be playing at his age of 45 is a superb feat in itself. But there comes a point where his prosperous career must come to an end, and that point is at the conclusion of the 2017-18 season.
Some may argue Jagr's retirement is well past due. Others may say if there are teams willing to bring him on board, then, of course, he should keep playing. Well, it was a mere two days before the start of the 2017-18 season when the Calgary Flames decided to take the chance on Jagr, signing him to a one-year contract. If it weren't for the Flames' dire need for help on the right side, there's a good chance he would still be a free agent now.
Ready For Retirement
Given that 30 out of 31 teams decided not to sign Jagr, even for as little as $1 million, it should be a telling sign it's time to call it a career. Other than breaking the record for games played all-time in the NHL, he's accomplished virtually everything there is to accomplish in an NHL career. From Stanley Cups, to various awards, to reaching point-plateaus, you name it, he's likely done it.
Only two years removed from a 66-point season, there's no doubt the talent is still there. But at 45-years-old, the strength, speed, and conditioning are not. At some point, the lack of strength, speed, and conditioning is going to overshadow the soft hands and incredible hockey-vision he still possesses. Given the 20-point drop in scoring last season compared to 2015-2016, and that he's already on injured reserve this season, it seems the old-age takeover has begun.
In limited action so far this season, Jagr has struggled noticeably with speed and conditioning. Even though he was signed prior to the beginning of the season, he was forced to sit out the first three games of the season because he was unable to participate in practice without becoming fatigued. "If I'm not going to be ready, I think it's not very smart to put me out there," said Jagr in a CBC News article. He finished the 2016-17 season with a respectable 46 points, but it would be highly ambitious to expect more than 40 points this season.
Related: Flames Sign Jaromir Jagr to Contract
What The Flames Hope to Get
When Flames GM Brad Treliving made the decision to sign Jagr, he didn't do so with the expectations of him posting a 50-plus point campaign. Instead, he was hoping to take one of the best players to ever play the game and squeeze every last drop of production and experience out of him on a salary cap-friendly deal. It was only last year he earned $5.5 million with the Florida Panthers, so the big drop in salary to $1 million should speak to the expectations the Flames have of him.
Jags' first point as a Flame 🙌 #CGYvsVAN pic.twitter.com/zEGu5K6BJe

— Calgary Flames (@NHLFlames) October 15, 2017
When healthy and in shape, he's likely to be playing on the top line with Sean Monahan and Johnny Gaudreau, so there's no doubt he will get on the scoresheet, but not at the rate some may be expecting. Instead, look for his knowledge and experience to begin rubbing off on the rest of the team as the season progresses. No matter which Flames player it is, young or old, Gaudreau or Mark Giordano, there will always be something to learn from listening to and watching the player with the second-most points in NHL history, and with 1716 games played and counting.
"Obviously he's a legend, so you're going to watch him a little more than a normal player," said Sam Bennett in a Calgary Herald article. "It's definitely cool being on a line with him and him giving me pointers. It means a ton coming from a guy like that. He's been around forever and has more experience than ever, so I'll definitely be picking his brain a lot."
Related: Jagr Adds Depth & Flexibility to the Flames
Long List Of Accomplishments
The list of what Jagr has achieved in his storied NHL career is almost endless. The biggest and most significant feat is surpassing legends like Mark Messier, Gordie Howe, Marcel Dionne, Steve Yzerman, and Mario Lemieux to reach solo second place on the all-time NHL points list. This effort was propelled by five 100-plus point seasons, including the 1995-96 season with the Pittsburgh Penguins where he tallied a monumental 149 points (62 goals, 87 assists).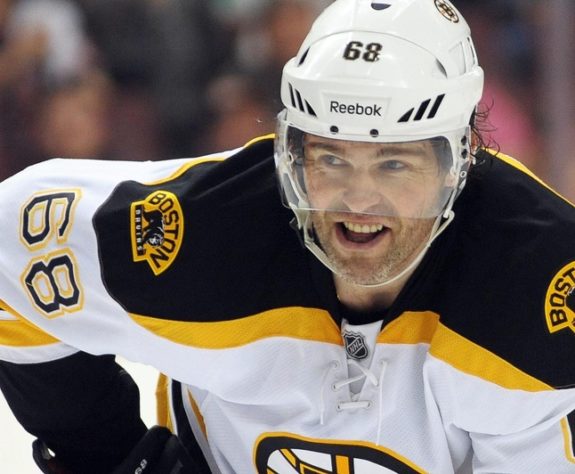 The hardware he's accumulated over his career includes two Stanley Cup rings, five Art Ross trophies, a Hart Memorial trophy, three Lester B. Pearson awards, and a Bill Masterton Memorial trophy.  He was also selected to play in the NHL All-Star Game 13 times.
If you were to have a glance through the record books, Jagr would appear quite frequently. A few of the more significant records he holds are: most career game-winning goals (135), most single-season points by a right wing (149), most consecutive 70-point seasons (15), oldest player to score 60 points in a season, and only player to compete in the Stanley Cup Finals as both a teenager and when being over 40 years old.
The only notable record within reach Jagr may still be striving for is all-time games played. Barring any long-term injury, he's set to break that record in a Flames uniform this season. Regardless of the outcome of this year for, he needs to put an end to what has been a remarkable, and monumental NHL career.