The Columbus Blue Jackets are off to their best start in franchise history after defeating the Winnipeg Jets 2-1 Friday night. The win gives them 14 points, one more than their previous best start of 13 points in 2007-08.
Initially, you'd think all aspects of the team are going well given the hot start. Upon review, that is not the case. There is a mixed bag of results in terms of performance.
It's time to hand out some grades! Who made the cut? Who is struggling? For this exercise, grades are as follows:
A: Exceeding expectations. Players with an "A" are a major reason the team has 14 points in 10 games.
B: Above average. Players with a "B" contribute at a level slightly above expectations.
C: Average. Players with a "C" have been average at best.
Needs Improvement: Players here have failed to meet expectations after 10 games.
Incomplete: Players who are injured or limited playing time.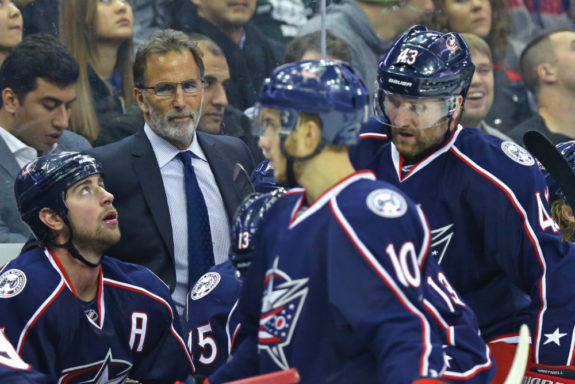 Blue Jackets 10-Game Grades
Josh Anderson (A)
The Blue Jackets needed this spark plug back in the lineup and he hasn't disappointed. His value was on display late in Friday's game. From his tenacious forecheck to scoring the winning goal in overtime, Anderson showed why the Blue Jackets protected him in the expansion draft. His combination of size, speed and skill is hard to find. Imagine if he was in camp.
Cam Atkinson (B)
Atkinson has always been a streaky scorer. He does have four goals including the game-tying goal on Friday to help force overtime. But there were times he didn't produce much. He's now back with familiar linemates in Jenner and Dubinsky. That gave him a spark. He's still on pace for over 30 goals in his contract year. He gets a "B" because he's just starting and has a lot more to give.
Oliver Bjorkstrand (C)
Bjorkstrand has been more noticeable of late but started the season off slowly again. If the Blue Jackets want to keep this hot start going, the Maestro has to consistently score. He's been average to this point. The team isn't going to win 2-1 every night. Bjorkstrand is a scorer. They need him as the season wears on.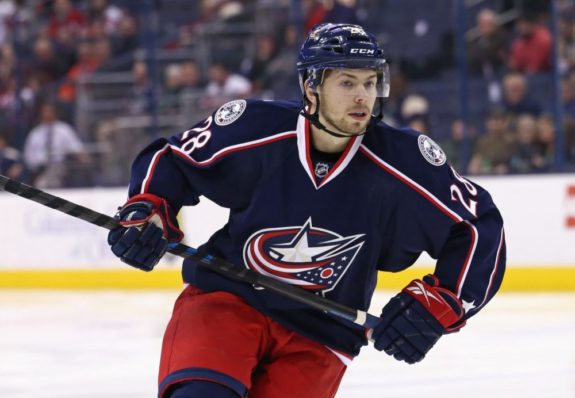 Matt Calvert (B+)
Calvert's been great to this point. The only thing preventing him from an "A" is overall scoring. Coach John Tortorella recently said that Calvert deserves the ice time but needs to improve his offense. He's noticeable in all other aspects of his game, especially on the penalty kill.
Zac Dalpe (Needs Improvement)
Dalpe has a limited sample size to this point. However, he needs to show the team he deserves more ice time especially during Sedlak's absence. Dalpe played just five shifts and 3:32 on Friday. He must find a way to stay on the ice longer to give the team the ability to roll four lines.
Brandon Dubinsky (Needs Improvement)
I wonder how much the wrist is limiting Dubinsky. That said, he's off to a slow start. Perhaps reuniting him with Jenner and Atkinson will get him going. But if the Blue Jackets want to find consistency later in the season, Dubinsky must step up.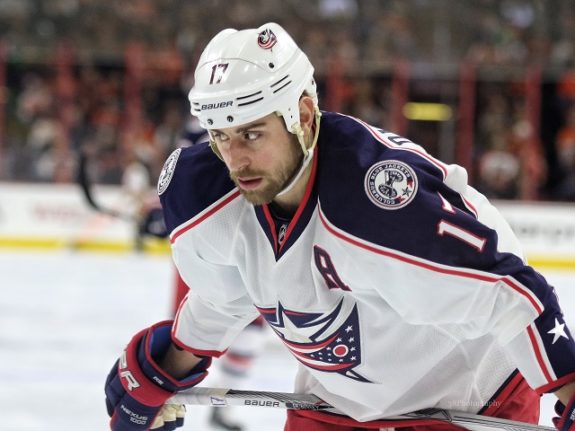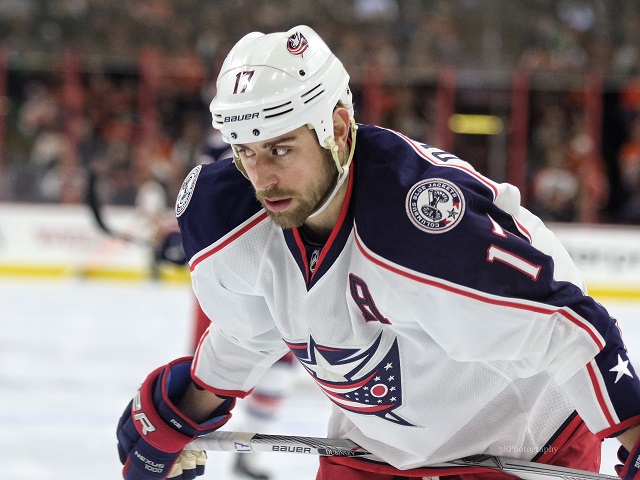 Pierre-Luc Dubois (C+)
Dubois has been fine but now finds himself having to wait his turn. He's playing on the fourth line and occasionally on the power play. But he's behind the top-nine and has to find a way to earn more ice time.
Nick Foligno (A)
Foligno is just a solid, all-around good player. His transition to center has helped the Blue Jackets balance the other lines while the team tries to look for a top-six center eventually. He's tied for second on the team in scoring while playing a position not as familiar to him. He's exceeded my expectations as a center. Impressive.
Markus Hannikainen (Needs Improvement)
Hannikainen got a one-way contract from the team in the hopes that he'd find a permanent lineup spot. As is, he's the 13th forward. He made a killer turnover in Carolina that helped the Hurricanes force overtime against the Blue Jackets. Once he gets another chance, he must show he belongs in the lineup. Otherwise, we won't see him much.
Boone Jenner (Incomplete)
It's too early to grade Jenner given that he's just back from a back injury. You could see his early impact. But we just need to see more before making any determinations.
Sonny Milano (A)
Milano leads the Blue Jackets in goals. Who saw that coming? He finds himself on the fourth line and second power-play unit. But you can't deny the impact he could have on offense. He scored both goals in Carolina to help the Blue Jackets escape with a win. He's exceeded even my greatest expectations to this point and will get better.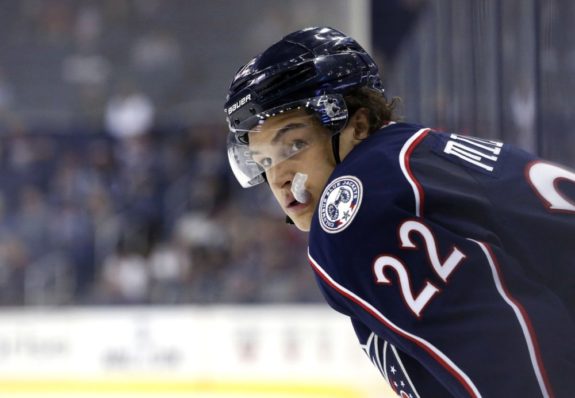 Artemi Panarin (A)
Panarin is as advertised. He leads the Blue Jackets in scoring and is a threat every time he touches the puck. His passing is out of this world amazing at times. Wait until his linemates find chemistry with him. The sky is the limit with Panarin.
Lukas Sedlak (Incomplete)
Sedlak is on injured reserve and it's hard to judge him on the limited action he's had. The team misses him though as they try to find a replacement in his absence. How long does Dalpe stay at center? Will we see Dubois get a chance?
Alexander Wennberg (C-)
When your coach comes out and says that he can't trust you now against an opponent's top unit, that says something. Wennberg has points, but must improve in the other aspects of his game. He now finds himself as the "third line" center. That's not good enough. Wennberg needs to find new levels in his game.
Gabriel Carlsson (B)
Carlsson isn't flashy but he doesn't have to be. He's just solid. For a young player to make the team in the top-six is impressive. He's injured now but expect him to rejoin the top-six when he's ready.
Scott Harrington (C)
Harrington is the team's eighth defenseman when Carlsson is back. He got in a game recently and was fine. He's doing what we expected of him to start the season. If injury strikes, he'll jump in and play.
Jack Johnson (B+)
Johnson just goes out there and does his job well. He was recently given the "A" on his jersey as a sign of the kind of leader he is. Young players look up to him and the way he handles his business. I do still think he has more to give hence the very slight downgrade. That turnover that led to Brandon Tanev's goal Friday night is what I mean. We want to see some better decision-making from him at key times.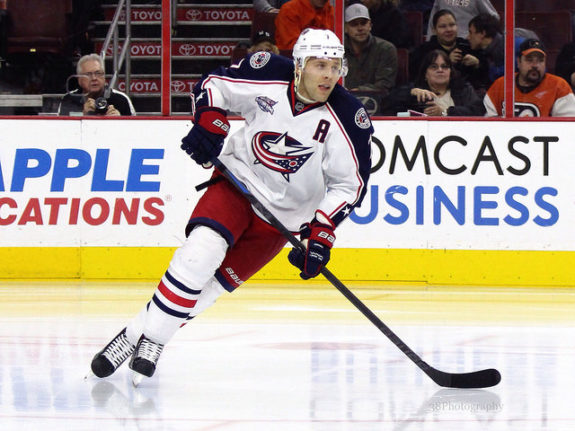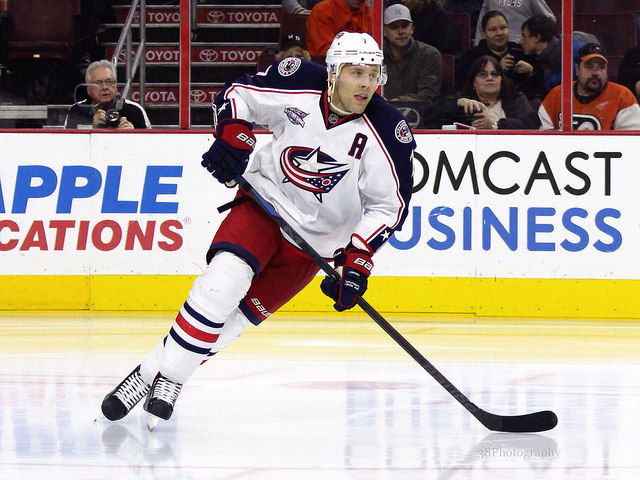 Seth Jones (B)
Jones is so good at what he does. But he has a lot more to give. That goal he scored against Buffalo shows the kind of offense he brings. However there were some games where he struggled on defense. We want to see a little more consistency from Jones especially as the games get more meaningful.
Ryan Murray (B)
Murray has settled into the role of fifth defenseman and occasionally plays higher in lineup especially at the end of games when the Blue Jackets try to protect a lead. He's played well. This is a big season for him as it is a contract year. He's responded well to this point to Tortorella. We want to see him try to fight for a top-four spot and more responsibility.
Markus Nutivaara (Incomplete)
Nutivaara is back from injury so it's a little too soon to judge anything. He's been fine in a limited sample.
David Savard (B)
The pairing of Savard and Johnson have helped shape the current core of the Blue Jackets defense. Savard gives you around 20 minutes a night of solid, dependable play. Like Johnson, we'd like to see a little better decision-making in certain aspects. We'd also like to see him jump up in the play more as he has some offensive upside.
Zach Werenski (B+)
The only slight knock on Werenski is his play at the defensive end. He's an all-world talent on offense and getting better at the other end. But we still occasionally see Murray at the end of games protecting leads. We want to see Werenski make strides defensively. We'd also like to see the power play perform at better than 11%.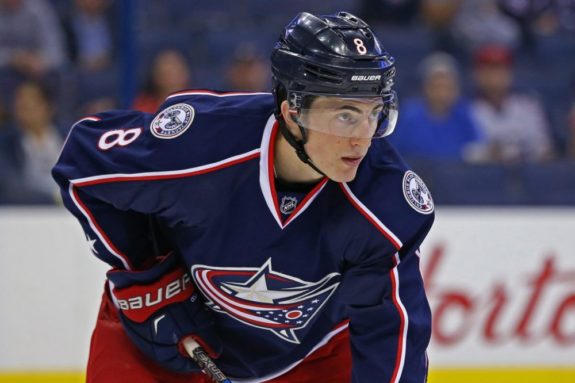 Sergei Bobrovsky (A)
Bobrovsky has six wins. Of those wins, he allowed one goal or less in five of them. He's up to his old tricks again and is in the conversation for the Vezina. He's your early season MVP.
Joonas Korpisalo (Incomplete)
He's played just two games as of this writing. We need to see more of him before making judgment. He's going to get his chances. He just needs to make the best of them.
Now it's your turn. What grades would you give everyone and why? Feel free to leave your comments below.