It's July 5, 2018. The nightmare was real. You woke up to see that yesterday's news was not fake.
John Tavares has signed his next contract in the NHL, and it was not with the New York Islanders.
What happens next? What can the franchise possibly do? Losing their heart and soul, captain—and with due respect to Pat LaFontaine, Pierre Turgeon, and Ziggy Palffy, the best player in the post-dynasty era—hurts. It hurts a lot.
Let's be honest; it's a scenario that most Islanders fans don't allow themselves to play out even in their darkest of nightmares. It's certainly not a scenario that anyone within the organization is commenting on publicly. Chris Botta of SNY Islanders Point Blank wrote last week about views on the situation from outside the organization. Perhaps the only thing more alarming than the thought of Tavares leaving as a free agent is the thought that it's probably not outside of the realm of possibilities that the front office staff has absolutely no plan if that happens.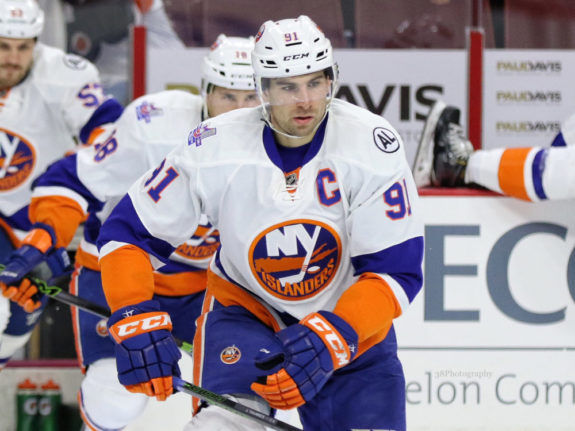 In the absence of a publicly stated plan, I've chosen to outline five key steps that the organization could take in this disaster scenario that would give the Islanders a chance to avoid a full-blown rebuild and set the franchise back 10-plus years.
For the purposes of this discussion, let's assume the following timeline: The Islanders participate in the 2018 NHL Entry Draft still believing they have a shot to sign JT. Then Tavares leaves in early July. This is important because the moves we'll discuss below happen in the order they do with this timeline as the assumption. 
Step One: Nail the 2018 NHL Entry Draft
Already being hyped up as potentially the best Entry Draft class since the famous 2003 class, it is imperative that the Islanders select high-quality players with their own first-rounder and the one acquired from Calgary in the Hamonic trade. It would also not surprise me one bit if Garth Snow and company—remember they are still in charge believing they'll sign JT—got creative again on draft day and found a way to package picks back into the first round for a third time.
While Matthew Barzal, Josh Ho-Sang, and Anthony Beauvillier look like they have what it takes to make it in the NHL, some of the other prospects in the pipeline are still trying to prove they will too. Adding high-end talent via the draft is the goal for every organization, but it is never more imperative to do so than after (or in this case just before) a star player leaves.
Step Two: Do NOT Overreact Upon Losing Tavares by Overpaying Free Agents
This is an ill-founded solution and it is significantly more expensive to buy wins in free agency than to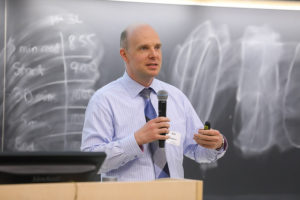 develop them through the draft. If you haven't already read Rob Vollman's "Stat Shot", it's a must-read for hockey fans (check it out here on Rob's website, Hockey Abstract). If the opportunity arises to take a one or two-year flyer on a James Neal or Rick Nash, then that would be a fantastic risk/reward (if the team surprises and Ho-Sang/Barzal/Beau grow into star players, Neal/Nash are great additions; if the team struggles, Neal/Nash can be flipped for more assets).
I wouldn't hold my breath for this type of scenario to present itself, so it is imperative to avoid the temptation of overpaying a mediocre player if the Islanders are to have any chance at successfully short-circuiting another rebuilding phase to create a perennial contender.
Step Three: Trade Jordan Eberle and Anders Lee
The first step to fixing any problem is admitting that you have one.  If you don't have a true star player in the National Hockey League, you have a very – VERY – big problem.  Jordan Eberle and Anders Lee are very nice players. Being expected to pot 50-plus points or score 30-plus goals on a yearly basis is an extremely high bar in today's game, but neither of these players is in the upper echelon of NHL stars. They are also at an age where it would not be expected for either of them to take a significantly material step forward to become one.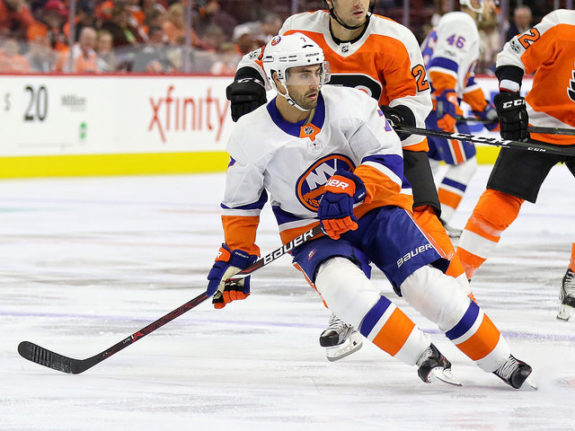 There's a reason why good players who are in the last year of their contracts get traded to contenders year in and year out—it's a calculated risk taken by teams trying to win the Cup, and it's a smart way to bank quality future assets for teams that are not yet contenders. Eberle and Lee fit this bill to a T, and the Islanders sans-Tavares are definitively in the "not yet contenders" category.
Eberle and especially Lee (given his very palatable cap hit) both seem to fit the profile of impact top-six players who could add real juice to contending teams ahead of the playoffs. Pending UFA deals in the past few years suggest the expected return would probably be in the neighborhood of a first-rounder plus B-level prospect each, but for the sake of conservatism, the fact that the Islanders would be best suited to acquire more draft picks versus prospects, and how many teams are tight to the salary cap, let's go with the Islanders acquiring the following:
For Anders Lee:
First-round pick 2019
Conditional third in 2020 (could become second if acquiring team wins Cup or re-signs Lee)
For Jordan Eberle:
Second-round pick 2019
Conditional second in 2020 (becomes first if acquiring team wins Cup or re-signs Eberle)
That scenario gives the Islanders the following:
2019 – Two firsts, one second, and one conditional second from Calgary
2020 – One first, two seconds, two thirds (possibly two firsts and three seconds if both conditions hit)
This is important for two reasons:
They could have a very, very high pick in the 2019 draft with a shot at No. 1 overall.
These accumulated assets will help in future steps outlined below.
Step Four: Take Stock of What's Left After the 2018-2019 Season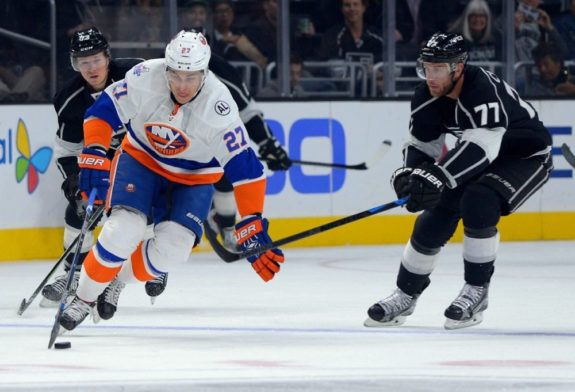 The 2018-19 season, especially with the preseason departures of Eberle and Lee, will be challenging to say the least. It's likely that most predictions would have the Islanders well outside of the playoff hunt after losing their 2017-18 top line, with many expecting a bottom-dwelling season followed by a top draft pick in the 2019 Entry Draft.
In addition to Eberle and Lee, we'd also expect to see "The Vets with Challenging Contracts" – Cal Clutterbuck, Andrew Ladd, Johnny Boychuk—and potentially players like Thomas Greiss (contract ends in 2020) and possibly Brock Nelson (RFA this year, depends on deal agreed to)—to be considered as additional trade chips to cash in. Since it's tough to predict a market being there for any of those players, it's very likely that the Islanders head into the 2019-2020 offseason with the below:
Forwards (7): Barzal, Beauvillier, Clutterbuck, Casey Cizikas, Ho-Sang, Ladd, Nelson
Defensemen (5): Boychuk, Nick Leddy, Scott Mayfield, Adam Pelech, Ryan Pulock
Goalies (1): Greiss (expiring UFA)
Key Prospects: Sebastian Aho, Kiefer Bellows, Michael Dal Colle, Ilya Sorokin, Linus Soderstrom, Devon Toews, Mitchell Vande Sompel, potentially two from the 2018 Entry Draft
Obviously, there's a lot of work to be done here—at least six forwards need to be added, probably two defensemen, and a goalie—just to field a team for their Belmont Stadium debut season (hey, had to give you something optimistic in here). Depending on who winds up replacing the outbound players—hopefully not overpaid mediocre players acquired via free agency in 2018—there are roster spots in play here for the prospects listed, plus those added in the 2018 Entry Draft, and even 2019 Entry Draft (which could be a top-five pick).
The team would undoubtedly be young, and potentially/likely lacking a true Auston Matthews-type star for the time being, but it's possible they could start to put together a talented group in the mold of today's Maple Leafs.
Step Five: Acquire a Star
Nothing that I've suggested so far takes a major leap to arrive at. If Tavares leaves the Islanders, disaster ensues—there is no way around that. But they have some extra assets heading into a very exciting 2018 draft, and enough talent around the roster elsewhere to add to a growing arsenal of picks and prospects if they need to.
The last piece of the puzzle that would remain (and obviously the most difficult to both predict and for the team to acquire) is a star. Even if they somehow won the 2019 draft lottery and grabbed the top 18-year-old available, I still think there's enough ammunition and motivation to make a deal for an additional star player.
Jon Ledecky and the new ownership group have given the fanbase no reason to doubt their willingness to invest in the on-ice product. The Islanders spent most of the early years in the cap era finding creative ways to get to the floor; recently they have been hovering close to the cap itself.
Ledecky's recent comments on Belmont should also be a positive indicator to fans that he is willing to put his money where his mouth is to keep the team near its fanbase for a very long time. Newsday's Jim Baumbach wrote this weekend about Ledecky's commitment to Belmont even including a push for a critical mass transit LIRR station. As a businessman, he knows better than anyone that the on-ice product in its first season in a new home will be crucial to the fan experience, and I have some level of confidence that he would push for the GM (maybe Snow, maybe not) to make a big splashy acquisition even if they overpay in future draft picks or prospects.
Importantly, because the Islanders will have followed Step 2, they would have the flexibility in their cap structure to accommodate a large, current star player's salary without issue.
On defense, maybe the Predators' defense-heavy cap structure and brimming young talent pool would make P.K. Subban available. Maybe the Kings' window closes and Drew Doughty could be had for the right price.
For forwards, maybe the Blackhawks' cap problems finally become big enough for them to dangle the dangliest of danglers in Patrick Kane. Or maybe the Blues decide they need to conduct their own rebuild and cash in a hefty ransom for Vladimir Tarasenko.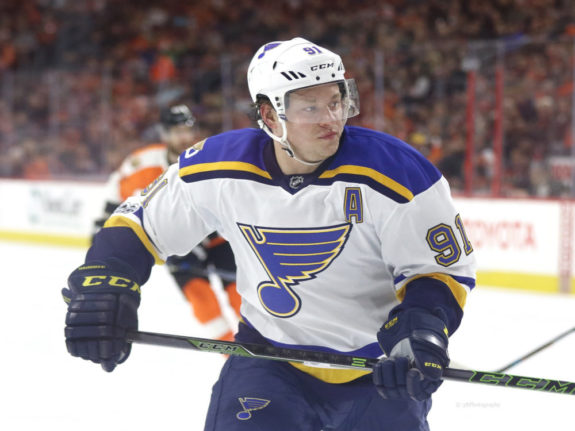 Could the Blues consider dangling Vladimir Tarasenko in a trade (2 seasons from now) if they feel their window to win has closed?
The likelihood of any of these coming to fruition is low—but if Wayne Gretzky can be traded, anything is possible.
The Bottom Line:
If Tavares walks, the Islanders will be in big trouble. There is very little they will be able to offer fans in consolation except to come up with a plan to get them back into contention as quickly as possible. These five steps are by no means easy (and probably not the only way they could achieve a similar goal), but I think they demonstrate that with some aggressive front office moves and with solid scouting/drafting in the 2018 and 2019 drafts, the Islanders have an outside shot to climb themselves out of a dumpster fire and back into contention much faster than most people would think. Let's just all hope it doesn't come to this.