Haydn Fleury, the Carolina Hurricanes' defenseman, has waited a long time to land a spot in the NHL. Now that he has landed that spot, he's determined not to give it up, as he's finally fitting into the scheme that head coach Bill Peters has in place defensively. From his play in his first full NHL month, it looks like he is in the NHL to stay.
Fleury's First Impressions
I remember watching Fleury in a couple of exhibition games after he was drafted in 2014. It was easy to tell that he had great potential, but a couple of mistakes at key times made it also easy to tell that he was overwhelmed, and not ready for the NHL. There were a couple of plays that stand out where he even looked visibly out-of-place, just not quite sure of himself or his game.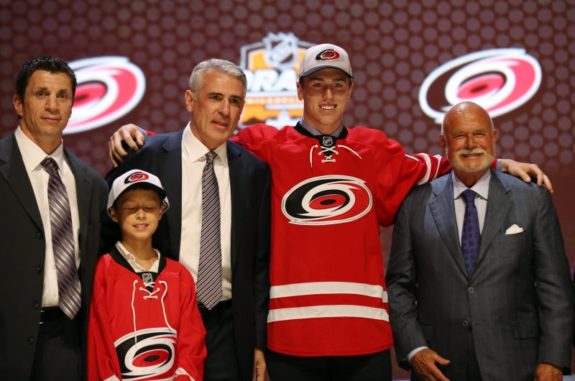 I felt bad for Fleury, as he held a great deal of promise at that time. Drafted in the 2014 NHL Entry Draft, Fleury was taken seventh overall by the Hurricanes. The Hockey Writers' prospect profile from 2014 had this to say about the soon-to-be-drafted Fleury:
In a nutshell, Haydn Fleury is a defenseman's defenseman. He uses his size and speed well to keep defenders to the outside. His skating is good, but not great, but he's a smart enough positional player that it hasn't mattered. He's physical, but not overly aggressive and his judgment – in terms of going for the body or pinching – is generally pretty good. His decision-making might need to be a bit quicker at the pro level against faster and bigger guys, and he could probably continue to develop a bit of a mean streak for the same reasons.
Basically, Fleury was a guy with a lot of upside who needed some time to mature, grow and develop his game. And, that is what he got, time to learn and develop. While necessary, it was especially frustrating for those of us who were genuinely excited about the first-round pick, the first for newly minted GM Ron Francis.
Francis seemed to acknowledge right away that Fleury might not be jumping onto NHL ice immediately. After he made the selection, Canes Country quoted Francis as having said,
You always want to be careful with young defenseman because they do take a little longer to develop. Sometimes you don't know what you have until they're 22 or 23.
Fleury is still only 21, perhaps a bit ahead of Francis' predicted schedule, but he definitely seems ready to be where he is on the team. Starting as part of the third defensive pair, Fleury is becoming an effective part of the 'Canes defense.
Related: New Season, New Start for Hurricanes
Haydn Fleury // 10.21.17#Redvolution pic.twitter.com/Ml0selmoEa

— Amanda 📸 (@ShatteredLensTX) October 26, 2017
Fleury and the Future
In 2016, I wrote that Fleury had an opportunity to grab a spot on the roster as the season approached. The team's buyout of James Wisniewski's contract created an opening that it was possible he could fill. He still needed to improve and show confidence, basically grabbing a spot and not letting it go. It was not to be, however, and Fleury spent time with the Charlotte Checkers last year.
This season, he came into training camp as almost a "sure thing" to make the team. At least that is what I was hearing on local sports radio and reading in the local media. I felt it was a similar situation to last season, and that Fleury most definitely could make the team. The question, as it has been from day one, had to do with whether or not he is ready to play at the highest level. It looks like he is showing that he is in fact ready.
Fleury got his first NHL point on Thursday night against the Toronto Maple Leafs – a secondary assist on a goal scored by Elias Lindholm.
Haydn Fleury gets the secondary assist, his first career NHL point. https://t.co/3uPlq5NMtN

— Michael Smith (@MSmithCanes) October 26, 2017
In fact, Fleury also got his second NHL point in the same game. He has two points on the season, which does not sound like a lot. But, he is averaging 13:18 of time on the ice so far and is a plus-two on the season. His game has developed in ways that are not as obvious as what shows up on stat sheets, for example in hits. He has 11 so far this season, which tells me that whatever apprehension he previously had about playing on the big stage has melted away. He is showing more confidence, and will only get better, in my opinion.
Personally, I am glad to see Fleury with the Hurricanes. I believe and hope that he will continue to improve and that he will live up to the expectations that have surrounded him since even before he was drafted by the Hurricanes. Is he Justin Faulk or Noah Hanifin? Of course not. But, he has the potential to make his own name as a top defenseman for the Hurricanes. Fleury is providing reliable minutes on the bottom pair, and that is extremely valuable. He finally fits in Carolina, and that's a good thing for both the 'Canes and for Fleury.
Mark lives in the Raleigh, NC area and covers the Carolina Hurricanes.