The Carolina Hurricanes won their first game of the season on Saturday night against the Minnesota Wild, 5-4 in a shootout. It may turn out to be their most significant win of the year. It is the first season-opener the Hurricanes have played at home in years, as well as the first season-opener they have won in seven years.
The win is significant because in recent seasons they have had to fight for their first win, often coming in the middle to end of October. They now can look beyond that goal toward building on the momentum of their season-opening win.
Yes, there are 81 more games, but the October starts this team has had of late have led to a series of seasons where they are climbing out of a hole just to sniff a chance at the playoffs. If they can build on Saturday night's win in Raleigh, they will be looking at the new season through a different lens.
#CANESWIN!!!!!#MINvsCAR #REDVOLUTION pic.twitter.com/DnTM489Ie7

— Carolina Hurricanes (@Canes) October 8, 2017
Whether or not that will translate into hockey in June is unknown at this point but, 'Canes fans must feel a lot better after this win.
New Season New Star
As always, three stars were awarded after the Hurricanes vs Wild contest. The first star went to newly acquired forward, Justin Williams. He is already a crucial part of the DNA of the team. For example, the Wild committed numerous penalties during the game, one of which led to a Hurricanes five-on-three advantage. It was painful to watch.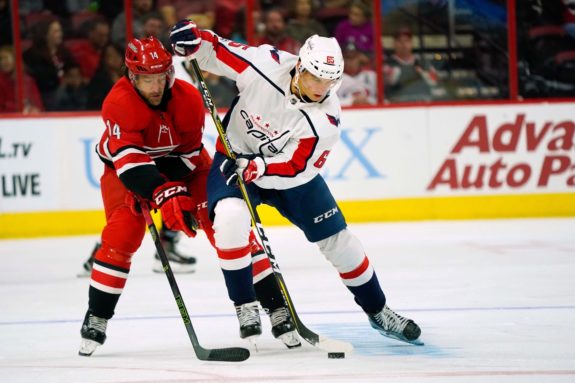 Related: Hurricanes Sign Justin Williams to 2-Year Deal
The players kept sliding the puck back and forth to one another and skating around up top like they were leisure skating. It was all I could do not to violate press box decorum and scream, "SHOOT THE PUCK!!" I was able to remain composed but was reminded of the team's power play woes from last December which prompted me to write, 'Canes Aren't Good on Power Play. These words from a year ago rang clearly in my mind last night:
Seriously, on their previous three power plays I wanted to violate all press box protocol and scream, "Shoot the freaking puck!" (You're not allowed to do that). I watched as the power play guys passed the puck around the ice beautifully, even charged the night only to fake a shot and kick the puck back out. If this were basketball, a move like that might result in a three-point shot being lobbed, but it ain't hoops, it's hockey and the idea is to get the round rubber disc into the area with the net behind it. Shoot the freaking puck, I say.
It's funny how some things are constant, yet not funny when it comes to trying to win games. Enter Williams.
Can't believe how much fun it is to see Justin Williams back on the ice for the Canes#Redvolution

— LisaMarie B Sheaffer (@lmbsheaffer) October 8, 2017
After the dismal, ineffective five-on-three chance, another power play opportunity came to pass, and Williams was the man. He blasted several shots at Wild goalie, Alex Stalock, and I knew things might be different for the Hurricanes going forward. On one of his blasts, Derek Ryan tipped the puck past Stalock, and the goal pulled the 'Canes to within one of the Wild.
I hope that Williams' veteran understanding to shoot the puck will translate into a power play unit that is consistently firing at the goal, charging the net, and trying to take advantage of every power play opportunity. In a division where every point is priceless, it will make a difference in whether or not the Hurricanes make the playoffs.
Related: Hurricanes' Nestrasil Gone, Maybe Forgotten
Other Notable Items
Other notable items from Saturday night will take several lengthy articles to do them justice. For now, suffice it to say that Scott Darling was serviceable in the game but outstanding in the shootout. Sebastian Aho looks to be gearing up for a monster season and Jaccob Slavin is a flat-out freak on defense.
This is a new season and one game in, it looks very promising. Having 18,000-plus in the PNC Arena was awesome, too. If the team starts doing more of what it did Saturday night, that fan support will persist.
Day one is done and it was a really good one. Tuesday night against the Columbus Blue Jackets will be a great test for the 'Canes, giving an early glimpse as to how they handle the success of an opening-night win.