The Carolina Hurricanes are sliding into their October groove. While they have not accumulated the full complement of points that they had legitimate shots at so far this season, they have played hard and are beginning to find a good comfort level with one another. Unfortunately, they are not winning games and this has been a trademark of their past few starts in October.
Most recently, the 'Canes blew a 2-0 lead to the Philadelphia Flyers, losing after a barrage of Flyers goals 5-3. What started as a game that looked like Carolina was going to ride the momentum of Thursday's win against the Calgary Flames, ended up as a disaster.  A seven-goal second period was exciting for hockey fans, but gut-wrenching for fans of the Hurricanes.
Still a Question of Effort
One of my biggest concerns about the 'Canes over the past two years has been the inconsistency in the
effort department. Two seasons ago and early last season the mantra, "We didn't start on time" was uttered after many games. To their credit, the team broke out of that and had a tremendous season from December on last year. Effort was no longer a question.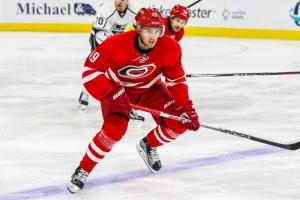 Going into this season I was confident that effort was a given. I wrote in "These 'Canes are Pressure-Ready" in September that guys like Victor Rask and Joakim Nordstrom were confident and mentally prepared for the season. Rask has lived up to expectations, leading the team at six points with Lee Stempniak and Justin Faulk. Rask had repeatedly proven he is one of the best, most consistent players on the team.
But, the "We didn't start on time" reared its ugly head again after their 4-3 loss in overtime to the Vancouver Canucks. Head coach Bill Peters rolled it out after the game, saying,
We didn't start on time, that's for sure. That's disappointing.
With a great deal of sincerity, I can tell you I hope we don't hear those words from him again this season. It is totally unacceptable in the world of professional sports, particularly for guys at the NHL level.
Stempniak a Hurricanes Plus
Stempniak is a bright spot for the Hurricanes. He is finding ways to score and is leading the club with four goals. The line of Stempniak, Rask and Skinner is a quality line, and they are doing what they are expected to do. If the trio continues to score as they have so far, the 'Canes will be competitive.
Stempniak scored his fourth goal of the season with just over a minute left in the second period against the Flyers:
What I love about Stempniak is his aggressive nature towards the net. The 'Canes have needed a player with that nature for some time, and now they have him. It's a bright spot in an otherwise gloomy October.
Aho Emerging
I wrote in the preseason an article that asked, "Are These Hurricanes Hungry?" That is still a valid question. Players like Sebastian Aho are finding their way, with Peters moving him onto last year's best line of Jordan Staal, Andrej Nestrasil and .Nordstrom. Nestrasil was a healthy extra against the Flyers, and time will tell if Aho's spot is permanent. He made a nice play to Staal last night that gave the 'Canes their second goal:
Peters said that Aho is good at holding the puck, a skill that led to the Staal goal. He has potential and seemingly unlimited upside potential. His five assists so far are impressive, and when he starts finding the net himself, look out.
Sebastian Aho has two assists tonight and five on the year now. We should probably start talking about him.

— Daniel Friedman (@DanJFriedman) October 23, 2016
While the October groove is not necessarily a good thing for the Hurricanes, Stempniak and Aho are definitely bright spots. At 1-2-2, the "Caniacs" are already restless in Raleigh. They see too much potential on this team to be reliving October's past.
Mark lives in the Raleigh, NC area and covers the Carolina Hurricanes.