These 'Canes, Joakim Nordström and Victor Rask are confident about their team's chances this season. The Carolina Hurricanes held a media day on Friday, September 9, and a common theme among the players in attendance was that they are excited about the upcoming season.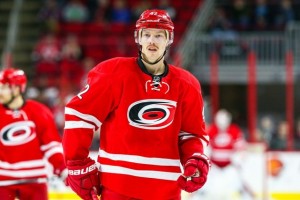 Nordström said he feels good, and that the only silver lining about not making the playoffs is, "you get to spend extra time in the gym and prepare." Of course, to a man these 'Canes would much rather their season be extended by a long playoff run, and the confidence is high that the team's chances are good. On the pressure to make the playoffs Nordström said, "I think that's the kind of pressure we want and that we put on ourselves. Everyone wants to make the playoffs, so I don't think that's going to have a negative effect on us."
Confidence Key to Consistency for Nordström
The 24-year old from Stockholm, Sweden said he has spent the summer trying to add more consistency to his game. Nordström said,
I thought I played well last year, I just want to get more consistent contributing offensively. What I thought helped me last year was working with Rod Brind'Amour working on my shot.
Nordström added that confidence in his shot is a big key, believing that when he shoots the puck is going to into the net.
As part of the group of young guns that Hurricanes GM Ron Francis has assembled for head coach Bill Peters to mold into a playoff-caliber team, Nordström is part of the team's second line that was hugely consistent last year until Andrej Nestrasil was injured in late February. Nothing has been determined of course as far as line combinations for the upcoming season, but keeping that line together is not an altogether bad idea. (Nestrasil hopes to see them together. Read here).
'Canes Rask Having Fun
Rask inked a six-year deal with the 'Canes this summer. He has earned it, starting with his chance in the 2014 Prospect Tournament, and playing hard every time he has been on the ice since. But, he's not taking anything for granted. Rask said,
I always feel like I have to prove myself. That's what you have to do in this league. But, I feel like I'm living the dream for sure. The NHL has always been my dream since I was a little kid. Just having fun every day.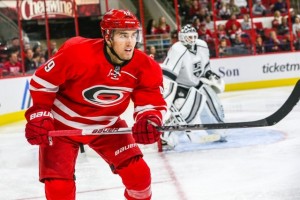 Rask acknowledged that there is a pressure on the team to make the playoffs, but that doesn't take away from the game being fun. Rask said, "It's still fun. I put a lot of pressure on myself for every game. I want to be the best out there for every game. I'm used to the pressure, but it's still a lot of fun."
Rask is a tough, consistent player for the 'Canes, and they are going to rely on him to anchor what may be their top line this season. While acknowledging he's never been what others would call a superstar he "works hard at being good at everything."
Rask said that the team feels younger with the departure of former captain, Eric Staal, and the influx of new players drafted for and traded for this summer.
Rask said,
I think we have a real solid group and I really believe we're going to do some really good stuff this year. I'm really happy that I'm going to be here for a while. We're going to be really good here for a lot of years.
The confidence Rask exudes is contagious and one can't help but believe that this team is poised to do some really good stuff. The fans are hoping that the good stuff starts this coming season with a 'Canes playoff run. With players like Nordström and Rask, that hope may be well-founded.