The Carolina Hurricanes announced their roster for the 2016 NHL Prospects Tournament in Traverse City, Michigan. The annual Prospects Tournament gives general managers and coaches a chance to see their prospects against those of the other teams that participate. The tournament can fuel hopes that a team will find a player that will go from prospect to NHL full-time. The 'Canes have seen this happen and have reason to hope that it will happen again.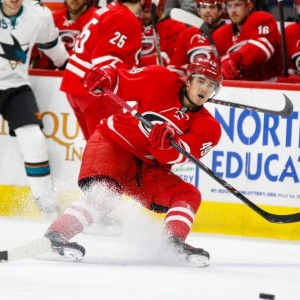 Victor Rask Blew Up the Prospects Tournament
I remember with vivid clarity the way that Victor Rask went from being just another prospect, to grabbing a spot on NHL ice and never looking back. This September 2014 summary from Mark Jones at the Bleacher Report highlights Rask's performance in Traverse City.
Victor Rask jumped into NHL roster spot contention…Rask's four goals tied him with two others for the highest total of the tournament.
Prospects like Brock McGinn and Daniel Altshuller were also participants, McGinn doing well and Altshuller not so well.
McGinn has been trying to cement a spot in a Hurricanes sweater, but Rask became and is a legitimate NHL forward. The Prospects Tournament is a few days that can launch a career at the next level. It can also give management and coaches pause as to whether or not a player is ready to make the jump.
In December 2014, I wrote 'Canes Victor Rask Proving He Belongs. In just three months Rask had silenced the doubters, proving by his consistent play that he belonged in the NHL. His play in the face of circle and his consistency all-around earned him a long-term deal with the 'Canes. The team's website posted the announcement of the deal on July 2, 2016 which is a six-year contract that will pay Rask $4 million per year through the 2021-22 NHL season. Francis said,
Victor has gotten better every season that he's been a part of our organization. He is a big part of this team's present and future, and we are thrilled to sign him to a longer-term deal.
From Traverse City and the Prospects Tournament to $4 million a year after two years of play is outstanding, and Rask has earned every penny.
The #Canes Traverse City roster was announced today with first-round picks @fleury96, @JakeBean_2 & @ju_gauth12: https://t.co/uU8Z4CWJGj

— Carolina Hurricanes (@Canes) August 24, 2016
Prospects Tournament to Have Old and New 'Canes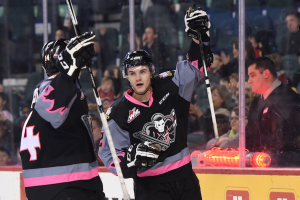 The roster that the Hurricanes announced has a couple of players from previous drafts and a few from this year's draft. Their press release noted, "The Hurricanes' squad for the 2016 tournament includes 16 players drafted by Carolina, including first-round draft picks Haydn Fleury (2014 – 7th overall), Jake Bean (2016 – 13th overall) and Julien Gauthier (2016 – 21st overall) and second round picks Alex Nedeljkovic (2014 – 37th overall) and Janne Kuokkanen (2016 – 43rd overall)."
Fleury is a guy that needs to not only stand out in this year's Prospects Tournament, but make the most of every chance he gets on the ice. I wrote a few weeks ago in Fleury Can Grab Spot that it is really his time to shine. The real issue is his comfort level on NHL ice. He has the size and the skill to make it, now he just needs to believe in himself and prove he belongs.
Bean will likely need a few years of growth before he is ready to play in the NHL. The Hurricanes are a young team, but Bean just turned 18 and will have a tough time breaking into an already solid defense. Yes Noah Hanifin made the jump at 18, but Bean has yet to show that he is at the same level. The Prospects Tournament will be his chance to show what he can do and if his size, 6'1″ and 170lbs will need some growth.
"I think we have something really good going on here." —@VictorRask on his six-year contract: https://t.co/a9AJo7CxoZ #Redvolution

— Carolina Hurricanes (@Canes) July 13, 2016
The Prospects Tournament is a great precursor to the regular season. It signals that hockey is almost back, and can be the launching pad for NHL careers. Just ask Rask.
Mark lives in the Raleigh, NC area and covers the Carolina Hurricanes.