While Jimmy Vesey's highly-anticipated decision to sign with the Rangers has taken up most of the free agency news in the NHL over the past two weeks, two other notable deals occurred this week that could end up paying huge dividends for the teams that pulled them off. And while the free agent pursuits of Jiri Hudler and Brandon Pirri didn't warrant national press coverage and recruiting sessions with Patrick Kane, the veterans could still end up being two of the most productive free agent signings of this offseason.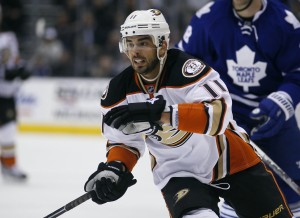 While 29 teams out there were disappointed with being unable to land Vesey, there should be just as many questioning why they didn't move sooner to lock up Hudler and Pirri, especially at the price tag each evidently had; Hudler signed with Dallas for $2 million, and Pirri with New York for $1.1 million. However, the team that should be most upset with its inability to sign one of these three players, is the Chicago Blackhawks.
The Hawks Have Roster Holes
After aggressively filling the team's largest hole on defense early in the offseason, Stan Bowman was left with one major need on his roster: a top-six left wing. Outside of Artemi Panarin, the Hawks don't have any players currently capable of filling that role on the roster, and their best current option is Richard Panik. Panik isn't a terrible player, but the fact that he has 25 career goals in 181 games over four seasons should be enough to tell that he isn't the player you want next to Jonathan Toews every shift.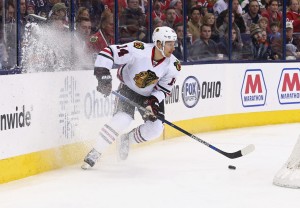 I imagine that much of the team's pitch to Vesey revolved around the opportunity to fill this need, something he could have done better than Panik in all likelihood. But he, like Hudler and Pirri, chose to sign elsewhere. It is unknown whether or not Bowman reached out to either Hudler or Pirri about signing with Chicago, but he would have been foolish not to.
Hudler is one season removed from 76 point campaign with the Flames and has traditionally played on the right wing since breaking out in the NHL. But he is still a left-handed shot who could have easily slotted on the left side of Toews, and his $2 million cap hit would have fit under the salary cap for the Hawks at the moment.
Pirri, a former Blackhawk who was eventually traded to Florida, is a young sniper who has yet to be given a consistent top-six role despite his production. He scored 29 goals in his first 70 games with the Panthers, but still settled for a $1.1 million contract after a trying season that he split between Florida and Anaheim.
Both of these overlooked veterans could easily breakout for over 20 goals and 50 points this season, but neither one will be doing that in Chicago after this week's disappointments.
Moving on from the Disappointment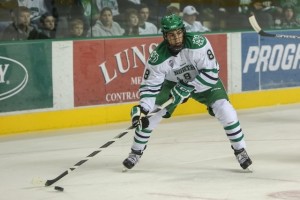 Striking out on a trio like this is unusual for the Blackhawks, especially considering their track record for recruitment with players like Brian Campbell, Brad Richards, and Panarin. It's difficult to say why none of these situations worked out for Chicago, but dwelling on the situation makes little sense for the team. There is still a hole on the top line's left wing, so filling that hole needs to be the top priority.
I have previously written about Nick Schmaltz and Tyler Motte stepping up and taking on that role, but both still have some ways to go before that happens. Vincent Hinostroza is another intriguing option because of his skill and offensive awareness, but he too will need time.
The optimist in me says that all three of those young players are better for the Hawks long-term because of their developmental potential, but losing out on Vesey, Hudler, and Pirri will hurt at the start of the season.
David is entering his final year as a sport management and operations and information management double major at UMass Amherst. Originally from the West Suburbs of Chicago, David has enjoyed watching the Blackhawks for as long as he can remember. When not watching or writing about hockey, he can be found working on the McCormack Future Leaders Conference on the UMass campus.