The Blackhawks entered the third period of their last game of the season in the middle of a 2-2 battle. The gameplay was as tight as the score, filled with surges of play by both sides that made for an exciting end-to-end style of hockey. The third period saw the Hawks get off to a quick start before disaster struck twice in less than six minutes.
The first such disaster occurred when recent lineup insertion David Rundblad was caught flatfooted against Kyle Brodziak (the same player who hasn't scored a playoff point since 2014) before taking a slashing penalty that still didn't prevent the Blues center from generating a quality scoring chance. The ensuing penalty kill stopped Chicago's momentum almost instantaneously, and the team suddenly seemed far less in control of the game.
Minutes after the penalty kill ended, Rundblad's fellow defenseman, Erik Gustafsson, tried to carry the puck out of his zone and was stopped in neutral ice by a pinching Robbie Fabbri. Gustafsson lost the puck and was late in coverage against Paul Stastny, who centered the puck to Fabbri before Troy Brouwer poked home a rebound for the game-winning goal. Neither Rundblad nor Gustafsson would see the ice after their fatal mistakes.
Both players began the game in the same role: bottom-two defensemen for the Blackhawks. They were played over previously ineffective options such as Michal Rozsival and Christian Ehrhoff, while an inexperienced Viktor Svedberg also rode the bench for Joel Quenneville. One would think that having so many options to fill the last two spots on his blue-line would benefit Quenneville in some fashion, but none of these players ended up solving any of Chicago's defensive depth problems.
So with their season over, it is now time for the Blackhawks to address their most pressing team needs, starting with their defense corp.
Team Comparisons
Before the team can go about addressing the issues with their current group of defensemen, they must first determine exactly what their problems are. To aid in the identification of those problems, it can be helpful to compare Chicago's situation to that of contending teams around the league.
The below chart shows how the bottom half of Chicago's group from this season compares to that of the Pittsburgh Penguins: the team that appears to have the best shot at the Stanley Cup as of right now.
Several points jump out right away when examining this graphic. For one, the strategy that the team took with Ehrhoff and Gustafsson seems overly clear; the two offensive-minded defensemen were given favorable zone starts, weak competition, and hardly any ice-time (represented by the size of each player's circle in this graphic). Each player had positive possession numbers, but they seemed to generate those by being shielded from challenging situations, something that would force tougher matchups on the top-four of Duncan Keith, Brean Seabrook, Niklas Hjalmarsson, and Trevor van Riemsdyk.
As a result, van Riemsdyk had to take on some of the toughest assignments on the team, and his possession suffered. This could potentially explain some of the growing pains and fluctuations in play he experienced for much of this season.
Meanwhile, bottom-three players like Ben Lovejoy and Brian Dumolin were not only able to take on the toughest opponents of any other defensemen on the Penguins, but they were able to maintain respectable possession numbers as well. As a result, players like Kris Letang and Trevor Daley drew easier match-ups and ended up playing extremely well.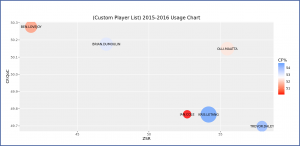 In case you were wondering, charting Hawks and Blues defenders reveals a similar trend. This time, Carl Gunnarsson, Joel Edmundson, and Colton Parayko take on better opponents so that Kevin Shattenkirk could produce against inferior players. All told, this evidence leads me to believe that the Blackhawks will absolutely need to upgrade the bottom half of their defense corps if they want to have a shot at competing in 2016-17.
Solving Their Problems
Unfortunately for Chicago, limited salary cap space means that fixing their blue-line problems won't be as easy as signing a premier free agent or swinging a trade for a proven veteran. Instead, it will be up to Stan Bowman and his staff to be creative in filling the obvious holes that exist at the bottom of his lineup.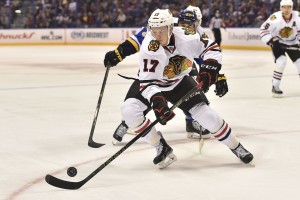 With that in mind, it seems most likely that the player to step up will come from within the organization. I have admitted to being a fan of Gustafsson's play in the past and I would like to see him receive another shot to lock down a spot this upcoming season, at least in a rotational role. His skating ability and offensive instincts are impressive for a young player and those valuable skills should not be wasted by the Blackhawks.
However, I have my doubts as to whether further development on his part will be enough to fill Chicago's void. Even when he was playing well and producing points, he mostly did so in situational play that maximized his offensive skillset. What the team really needs is another player to lock in defensively. I believe Ville Pokka is that player.
Pokka has quickly become the Blackhawks' top defensive prospect since being acquired in the Nick Leddy deal with the New York Islanders. He earned a call-up for the first time this season but never actually played in a game. I suggested that he would be a player to watch earlier in the year and fully expect his added experience in Rockford this season to help him contribute to the Hawks in 2015-16.
FINALLY we get to start the Ville Pokka era, right?? RIGHT??!?!?!?!?!? pic.twitter.com/MtUCrZafWB

— Second City Hockey (@2ndCityHockey) April 26, 2016
One key aspect of the time he spent in Rockford was the chance he received to work as the team's number-one defenseman, a role that forced him to play against top competition and carry a heavy workload. He ended up excelling in this role en route to leading the team in shots on goal and assists, and finishing third in points. Numbers like that would not be expected from him at the NHL level, but solid production and smart play with the puck would probably be enough to earn him a regular spot in the lineup.
Looking Ahead
At the end of the day, fixing Chicago's depth problems on defense won't be as easy as making one trade or recalling one prospect. The team will have to rebuild the core of this unit over the coming years if they want to see the blue-line return to 2014-15 levels anytime soon. However, there is a clear deficiency that the team can begin to address this offseason in the hopes of once again competing in 2016-17.
David is entering his final year as a sport management and operations and information management double major at UMass Amherst. Originally from the West Suburbs of Chicago, David has enjoyed watching the Blackhawks for as long as he can remember. When not watching or writing about hockey, he can be found working on the McCormack Future Leaders Conference on the UMass campus.