When it comes to the Pittsburgh Penguins faithful and Kris Letang, there are very few that don't recognize his talent and contributions to this team. However, outside of Pittsburgh, Letang doesn't necessarily get the credit he deserves. Conversations about the best defensemen in the league rarely boast his name and he's hardly ever considered as highly as he should be when it comes to Norris Trophy candidacy. Unfortunately, overlooking Letang is becoming a common trend and this exact conversation pops up year-in and year-out. This season, after a slow start to his most recent campaign, he again seems to be on the outside looking in but considering his play since returning from injury on December 26th, how long can he be ignored?
There's no question that Erik Karlsson is the front-runner this season and for good reason. Karlsson is putting up historical numbers and currently sits in a two-way tie for second place in the league's scoring race. While some knock his defensive abilities, I disagree whole-heartedly. Karlsson is very responsible in his own end and his numbers back that up. Plus, the best way to play defense is burying your opponent in their own end, which he's a catalyst for in Ottawa. What many people overlook is that in Pittsburgh, Letang plays a similar role for the Penguins.
As of right now, the names in the race for Norris candidacy are the usual suspects. According to ESPN.Com's Trophy Tracker, they list John Klingberg, Duncan Keith, Karlsson, P.K. Subban and Drew Doughty as their five favorites. That list complies with what you'll hear from most analysts. But, it's time to move Letang up drastically in that race, as he should likely fall right behind Karlsson at this point.
Kris Letang By the Numbers
From a pure points perspective, Letang currently sits in fifth place among defensemen with 40 points. The interesting takeaway though, is that every other defenseman in the top-15 has played at least ten more games than Letang. His .95 points-per-game on the season trails only Karlsson, who is currently clicking at 1.11 points-per-game. He has also played a major role in restoring the Penguins' power play, with 19 of his 40 points coming with the man-advantage. Looking at Letang's impact on his teammates, the chart below represents various line combos' shots per 60 minutes with Letang, courtesy of hockeyviz.com.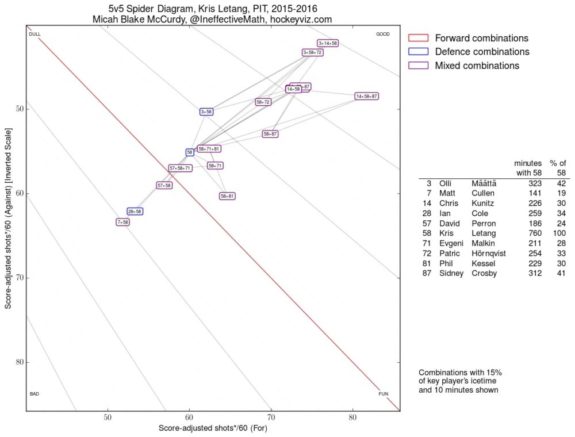 To simplify this, it's as easy as wanting to be as high up and as far right as possible. This chart represents just how much impact Letang has on shot rates, evident in the fact that almost all line combos are located in and around the "good" section. Like Karlsson, Letang is often criticized for his defensive play. However, like Karlsson, he suppresses his opponents' chances by simply pinning them in their own end. The best defense is a good offense, right?
Recently, Letang's teammate and the face of the league has garnered a ton of attention for his surge in scoring. Sidney Crosby is assaulting the NHL right now, having jumped from 87th in the league's scoring race to top-five in recent weeks. Letang has played a major role in that surge, with the two of them finding magic unlike any other forward/defenseman duo in the league.
According to Puckalytics.com, Crosby and Letang have recorded a little over 134-minutes of even-strength ice time together since returning from the holiday break on December 26th. In that time, they've recorded 12 goals-for to only six goals-against and a Corsi-for percentage of 65.3-percent. They're clicking at nearly six goals-for per 60 minutes of play, which is an unbelievable accomplishment in today's NHL. Without Letang, Crosby has recorded just five goals-for to four goals-against in a hair over 131-minutes. Clearly, having a dynamic player like Letang on the ice is a huge boost and his recent play arguably rivals anything we've seen from him throughout his career.
It's also imperative to bring Pittsburgh's coaching change into the conversation, as Letang's numbers have skyrocketed since the Penguins changed their bench boss. Mike Sullivan has instituted a new mindset in Pittsburgh but most importantly, he employs a system that allows for players like Letang to be creative with the puck and generate offense as only they can. It's tough to hold the first few months of the season against him when the team was struggling as a whole under Mike Johnston. Plus, his recent results speak for themselves.
Iron Man
Letang is averaging over 26-minutes per game. If that isn't impressive enough, he's doing so despite a recent hand injury that is clearly nagging him. Courtesy of Dejan Kovacevic of DKPittsburghSports.Com…
Kris Letang couldn't shake my hand.

I extended my right hand to thank the man for his patience in answering a few questions after the Penguins' 6-2 carving of the Ducks tonight at Consol, and he offered back his left hand, awkwardly inverted over mine to try to make it work.
That's right, Letang isn't able to shake someone's hand. In response to Dejan's surprise at this, Letang responded with "It's Ok. All I've got to do with it is play hockey."
Injuries have played a major role in Letang's lack of Norris candidacy but my question is, how much impact should his absences have? Last season, Letang missed 13 games and still finished seventh in scoring among defensemen. He led the league in points-per-game but still, he wasn't nominated. Is 13 games enough to nullify the success that he had? I can't imagine why it would be.
Letang has battled through injuries and health scares that would almost certainly force many into retirement considerations. From numerous concussions to a stroke, he returns time-after-time as one of the best blue-liners in the league. I'd even argue that he's one of the best in the world. Will he get nominated this season? If he continues this level of play and stays healthy, it'll be tough to justify not including him despite his slow start. And honestly, when you consider the Penguins' struggles without number 58 in the lineup, his recent play may eventually warrant MVP talk. I won't get too carried away just yet but I'm confident that by the time spring rolls around, that notion won't sound all that far-fetched.