After drafting first overall in four of the last six years, it seems as though certain chunks of the Edmonton Oilers fan base have started to lose their collective marbles. How else can one explain the notion that Peter Chiarelli and company should seriously consider trading their first-round pick if they happen to win the 2016 NHL Draft Lottery? While the masses may have had their fill of watching one losing season after another, giving away the chance to add a player as talented as Auston Matthews to this organization would be bordering on insanity.
"Auston Matthews is clear cut the best prospect available in the draft." Dan Marr on Oilers Now.

— Brenden Ullrich (@BrendenUllrich) April 14, 2016
[Related Article: Time For Chiarelli To Prove His Worth]
Barring an organization coughing up an absolutely ridiculous return, and I do mean ridiculous, why on earth would the Oilers even consider pulling the trigger on such a move? We all know this team badly needs to upgrade their backend but we are talking about an 18-year old kid who while not in the same class as Connor McDavid, according to those in the know, he is every bit as good as Jack Eichel with a similar ceiling. Sorry but even if the Ottawa Senators were to offer up Erik Karlsson in a straight up swap, Edmonton would have no choice but to say no thanks.
Oilers Would Have To Be Wowed To Move No. 1
Think about it for a minute. Obviously, the talented Swedish rearguard would be a massive addition to any roster but he is also three years away from becoming an unrestricted free agent. Unless we are talking about a club on the cusp of putting together dynasty type run over the foreseeable future, something which the Oilers are nowhere close to being, no organization in their right mind would even consider trading away seven years worth of control for a potential superstar player for three years of the former Norris Trophy winner.
Oilers 1st overall pick (after they win lotto) to Ottawa for Karlsson? Ok, where do I sign?

— MaskedJerms (@maskjerms) April 12, 2016
[Read Article: Trade Partners – Oilers, Avalanche, Tyson Barrie]
Again, it would have to be an absurd return and acquiring Karlsson for a handful of seasons does not fit that bill. Now, if a team wanted to hand Chiarelli the second-overall pick, hello Patrik Laine, and a top flight defender or a top pairing guy entering the prime years of his career and an additional pick inside the top ten of the first round, it would be a completely different conversation. However, the question then becomes why would that organization make such a move? No matter the team, it's all about asset management and looking to the future.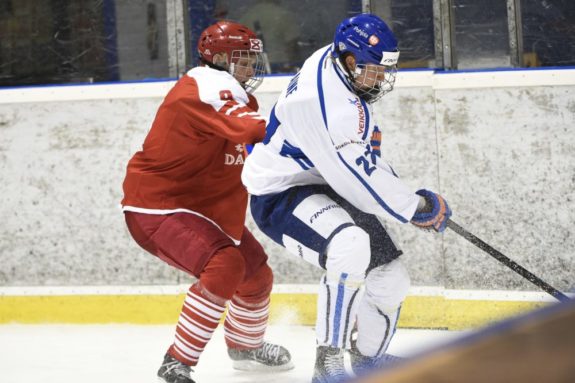 Matthews Is the Real Deal
It is no secret that a player with Laine's skill-set and total package would be a perfect fit for the Oilers but let's not be silly here. If they happen to have Matthews fall into their lap as they did with McDavid, the focus would need to immediately shifts towards moving pieces they currently have in-house and not the young American sniper. Be it Leon Draisaitl, Jordan Eberle, Taylor Hall or Ryan Nugent-Hopkins…any of the four would have to be in play.
If the Oilers win the Draft Lottery (sorry…WHEN they win it) I bet good money that they take Patrik Laine over Auston Matthews

— Derek Neumeier (@Derek_N_NHL) April 26, 2016
[Related Article: Oilers Trio Should Lead Team Canada in Russia]
I have repeatedly made it known that my preference would be to see both Hall and Nugent-Hopkins remain in Edmonton but any of the four names mentioned would have to be in play for the right return. While it may be difficult for some to fathom, that list would include Draisaitl and it has nothing to do with the player and everything to do with what other teams would require in order to part with a top flight defenceman in any deal. Like it or not, the Oilers are not exactly in the driver's seat but they certainly do have many pieces to play with.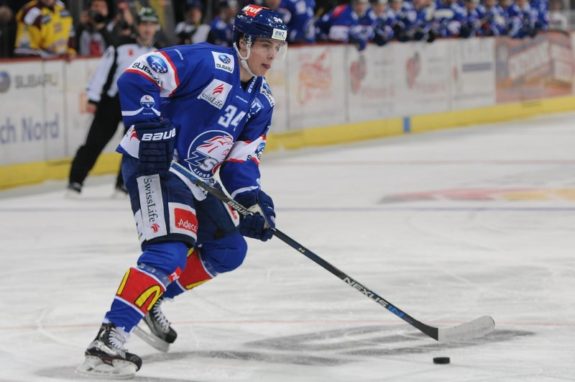 Again, as good as Patrik Laine, Jesse Puljujarvi or any other top-rated prospect in the 2016 NHL Entry Draft may turn out to be, Auston Matthews remains the cream of the crop of this year's class. The following quote from NHL Central Scouting director Dan Marr says it all. "Just talent wise, Connor has the cleverness, creativeness, and finesse to his game where I would say Auston has more the power forward game where he's really driven on the play but his puck skills are just as good." Sorry folks but there is no need to over think things here…this kid is the real deal.
Rob Soria is the Author of Connor McDavid: Hockey's Next Great One. He has chronicled the Orange and Blue since creating his Oil Drop blog in 2011 and has also had his writings featured over at HometownHockey.ca and Vavel USA, where he has covered the NHL, MLB and ATP Tour. Rob was born, raised and still resides in Edmonton, Alberta and can be reached via twitter @Oil_Drop.