It is no secret the Edmonton Oilers will be looking to give their roster a new look over the coming months. While the organization could go in any number of directions when it comes to addressing their lineup, a potential swap with the Colorado Avalanche could be something worth exploring. With defenceman Tyson Barrie about to receive a massive hike in pay via restricted free agency this summer and Matt Duchene no longer an untouchable piece of the puzzle, Peter Chiarelli would be nuts to not give Joe Sakic a call and talk a little shop leading up to the 2016 NHL Entry Draft.
No question Oilers need to upgrade adding a right shot D who can run PP. Often RFA's end up in play. Tyson Barrie or Sami Vatanen make sense

— Bob Stauffer (@Bob_Stauffer) April 10, 2016
[Related Article: Time For Chiarelli To Prove His Worth]
While the notion of a blockbuster deal involving both Barrie and Duchene would be a rather intriguing one to try to piece together, the talented blueliner is the guy Edmonton would obviously have their sights set on. After putting together what was essentially back-to-back 50 point campaigns, (53 in '14-'15 and 49 in '15-'16), you can bet the 24-year old would cost the Oilers a fairly significant asset or two in order to pry him loose from the Avalanche. With that said, if the ask were reasonable…Chiarelli would have no choice but to seriously consider making such move.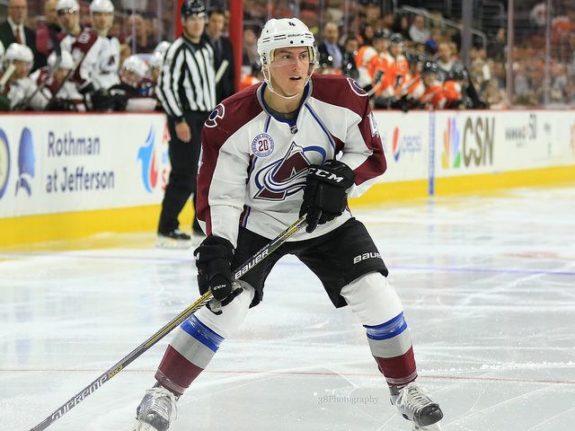 Barrie Is Exactly What the Oilers Need
While Barrie is not "just" a power play specialist by any means, his challenges in the defensive zone are well-known and his lack of size is something that would certainly not sit well with the Oilers current GM, though he has proven to be more than willing to stand up for himself when called upon. However, his ability to move the puck up ice is undeniable. Despite this club's continued struggles in their own end, it is the backend's inability to consistently get the puck to this talented group of young forwards which continues to hamper this group more than anything else.
[Related Article: Changing Core Won't Necessarily Fix Oilers Culture]
Problem being, it is not as though the Avs have a plethora of offensively gifted blueliners to choose from. With a defence that featured a top four of Barrie, Francois Beauchemin, Nick Holden and Erik Johnson it is a backend that would never be confused with the likes of the Nashville Predators. On the other hand, all four had at least 22 points beside their names at the end of the 2015-16 season…which is something only Andrej Sekera, (30 points in 81 games), could say when it came to the Oilers collection of defencemen.
https://twitter.com/NateInVegas/status/722505232224116736
One would think any potential deal involving the two teams would have to include a blueliner plus another significant piece going back Colorado's way. While Edmonton has a couple of players that fit the bill, perhaps a Brandon Davidson or Darnell Nurse, my guess is Chiarelli won't want to part with multiple pieces and Sakic likely won't bite for anything less. However, some seem to think the situation surrounding Duchene could change things and allow the two sides to broker a deal on the heels of the Avs making another move but then again…it might not.
No Guarantee the Avs Move Duchene
After suffering through another disappointing season in the standings and watching Patrick Roy call out his top scorer for celebrating his 30th goal of the season in a nothing game which the Avalanche were being pummeled in, the narrative pretty much wrote itself. Having said that, to assume Colorado would simply look to move Duchene in exchange for a top flight defenceman and in turn flip Barrie for a replacement for the former third overall pick, does seem like a bit of a stretch. Could it happen? Possibly but would Sakic and company really be any further ahead?
Stauff figures Avs are gonna trade Duchene for a D & then move Barrie for a C; suggests a Barrie/Nuge swap (he's just speculating here).

— Tye Kalyn (@akaRCN) April 18, 2016
As the Oilers have found out, trying to trade a talented forward for a defenceman isn't quite as easy as it seems. Despite being shifted to the wing for a good chunk of the season, Duchene is still viewed as a centre and that alone makes him a more valuable trade chip but would the 25-year old score the Avs a better blueliner than Barrie? That is debatable and to be fair, at this stage of game Ryan Nugent-Hopkins is not as good as Duchene but is signed at the same exact $6 million cap hit for a couple of extra seasons and is two years younger .
[Related Article: Trade Target, Darnell Nurse for Travis Hamonic]
At best it is a sideways move but we are talking about the Colorado Avalanche. History suggests they are a franchise who is willing to take a risk and think outside the box. As suggested in my piece from a few days back on New York Islanders defenceman Travis Hamonic, the Edmonton Oilers have no choice but to add a couple of pieces to their backend prior to the start of the 2016-17 season and will likely costing them a couple of players this fan base may not be happy to see leave town. With that said, Tyson Barrie would arguably be the perfect fit for this group.
Rob Soria is the Author of Connor McDavid: Hockey's Next Great One. He has chronicled the Orange and Blue since creating his Oil Drop blog in 2011 and has also had his writings featured over at HometownHockey.ca and Vavel USA, where he has covered the NHL, MLB and ATP Tour. Rob was born, raised and still resides in Edmonton, Alberta and can be reached via twitter @Oil_Drop.