In a perfect world, fans of the Edmonton Oilers would love nothing more than to have their general manager go big game hunting this summer and come back with one of Erik Karlsson or P.K. Subban in his back pocket. Unfortunately, the chances of Peter Chiarelli pulling off such a move with either the Ottawa Senators or Montreal Canadiens are likely next to non-existent and could ultimately lead to him parting with a piece he probably has no real interest in moving in order to improve his backend.
https://twitter.com/NicholsOnHockey/status/670258903775473664
[Related Article: Time For Chiarelli To Prove His Worth]
It is no secret that Darnell Nurse is the exact sort of player that Chiarelli is hoping to add to his lineup. A big physical guy who is not only difficult to play against but also has a solid future in front him. With a grand total of 71 games of NHL experience under his belt and still just 21-years of age, the kid is nowhere near becoming the player he will be down the road. With that said, the Oilers find themselves in a situation where they need to get better in a hurry and can't wait for all their prospects to develop…those days are done.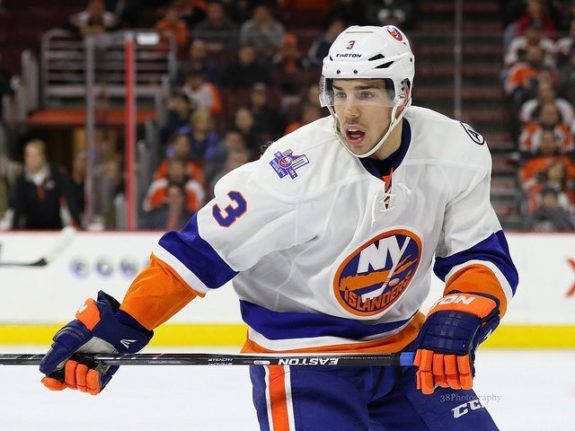 Hamonic Would Be a Perfect Fit
Enter the New York Islanders and Travis Hamonic. While much of this fan base continues to throw out the name of Jordan Eberle as a potentially perfect fit in almost every trade scenario involving the talented 25-year old, the fact of the matter is he is in no way shape or form what Garth Snow would be looking for in a deal involving the Manitoba native. In my mind, the Isles GM would be trying to pry loose one of three things:  1) a comparable NHL-ready blueliner; 2) a highly regarded prospect (preferably a defenceman); 3) a potential lottery pick in the upcoming Entry Draft
How good would Travis Hamonic look on the Oilers blueline.

— Stew (@StewbieDoobyDo) April 15, 2016
While that is all well and good, there are two problems with those expectations. One, the chances of getting a defenceman as solid as Hamonic, at or near his current cap hit and term, are limited and the Islanders are likely in no position to be adding substantial dollars to their payroll. Second, as good as the 2008 second-round pick is, he is not getting New York a lottery pick in a one-for-one swap. So in other words, Snow may not have as many options as he would like but by no means is he in a no-win situation.
[Related Article: Changing Core Won't Necessarily Fix Oilers Culture]
From an Oilers standpoint, they would be able to offer up either Oscar Klefbom or Nurse. With the talented Swedish blueliner set to start the first of his recently inked seven-year extension in 2016-17, my guess is Chiarelli would be in no hurry to make such a deal. While a Hamonic for Klefbom swap has one-for-one written all over it, Edmonton would certainly need to sweeten the pot if they were offering up the former Sault Ste. Marie Greyhounds captain as the centerpiece in such a deal.
Moving Nurse Would Not Go Over Well With Fans
In the eyes of most Oilers fans, moving Nurse is a non-starter but in the grand scheme of things, it might be the way the organization has to go. In my mind, Chiarelli will take a serious run at signing Jason Demers in free agency and if you insert the former San Jose Sharks blueliner and Hamonic into Edmonton's defence, suddenly things start to look completely different. In the blink of an eye, Todd McLellan's blueline could feature the pairings of Klefbom – Hamonic, Brandon Davidson – Demers, Andrej Sekera – Mark Fayne…not too shabby and a massive step in the right direction.
"We have a surplus of forwards & a lack of defencemen… I would like to upgrade our defence." Chiarelli on #Oilers roster makeup

— Edmonton Oilers (@EdmontonOilers) April 10, 2016
Be it Demers, Anaheim Ducks youngster Sami Vatanen, Tyson Barrie of the Colorado Avalanche or another potential target, adding one of the aforementioned players and Hamonic to the equation would give the Oilers a fighting chance. While not a star-studded backend by any means, it is one that would allow this coaching staff to run three balanced tandems on a nightly basis and still give inexperienced guys like Davidson and Kelfbom more time to develop. Would that not be worth parting ways with the seventh overall selection in the 2007 Draft?
[Related Article: Will Jason Demers Injury Adjust Oilers Approach?]
Again, none of these names are new to anyone who follows the Edmonton Oilers but in order to acquire a player like Travis Hamonic, you have to part with something that fits the other teams needs and/or wants. While the Oilers may have a plethora of young forwards to offer up via trade, my guess is trading Taylor Hall or Leon Draisaitl in such a deal would not be a road anyone wants to go down. With that said, someone else will need to go and it could very well end up being Darnell Nurse…even though Peter Chiarelli would rather go in a completely different direction.
Rob Soria is the Author of Connor McDavid: Hockey's Next Great One. He has chronicled the Orange and Blue since creating his Oil Drop blog in 2011 and has also had his writings featured over at HometownHockey.ca and Vavel USA, where he has covered the NHL, MLB and ATP Tour. Rob was born, raised and still resides in Edmonton, Alberta and can be reached via twitter @Oil_Drop.