With last night's 2-1 win over the Minnesota Wild, it looks as though the Edmonton Oilers are headed down an all too familiar road to close out their 2015-16 campaign. Collecting meaningless points down the stretch is something this club has specialized in for far too many seasons but with five wins in their last season seven games, Edmonton has managed to finally hit the 60 point mark thanks in large part to play of netminder Cam Talbot and rookie sensation Connor McDavid.
Jason Demers is out a minimum of six weeks, said Lindy Ruff. Shoulder injury. Demers said he will battle to get back ASAP.

— Mike Heika (@MikeHeika) March 10, 2016
Considering the Oilers on the verge of missing the playoffs for a tenth consecutive season and have been out of the post-season picture for some time now, all that really matters is what comes next. With that said, you can bet Peter Chiarelli has been scouring over the list of potential unrestricted free agent defenceman who will be hitting the open market this summer. While he managed to reel in last year's big fish in Andrej Sekera, recent events could make him think twice about going down a similar path with current Dallas Stars blueliner Jason Demers.
Demers Is Clearly the Cream of the Crop
One can't help but wonder what was running through the head of the Oilers general manager after seeing footage of the talented rearguard make his way to the Dallas bench with what appeared to be a serious shoulder injury during the second period the Stars 4-3 loss to the Montreal Canadiens earlier this week. Those fears were confirmed a couple of days later when the Stars announced Demers would be out of action for the remainder of the regular season and likely on the shelf for up to six weeks. Not exactly news a team headed to the playoffs or potential off-season suitors wanted to hear.
Demers plays huge minutes on the PK, takes a ton of defensive zone starts, and is only one of two right-handed shots on the blueline. Huge

— Derek Neumeier (@Derek_N_NHL) March 9, 2016
[Related Article: Running Out of Potential UFA Targets]
From an Oilers standpoint, this could throw a bit of a wrench into their plans. It is not exactly a secret that Chiarelli will be looking to improve his backend during the off-season and while there is one obvious target on the table, there are far fewer options than some might think. We all know Edmonton is one of the destinations on the list of New York Islanders defenceman Travis Hamonic but are likely not the front-runners to land the 25-year old, as that continues to be the Winnipeg Jets. With that said, no one would be surprised to see the Manitoba native find his way to the Alberta capital.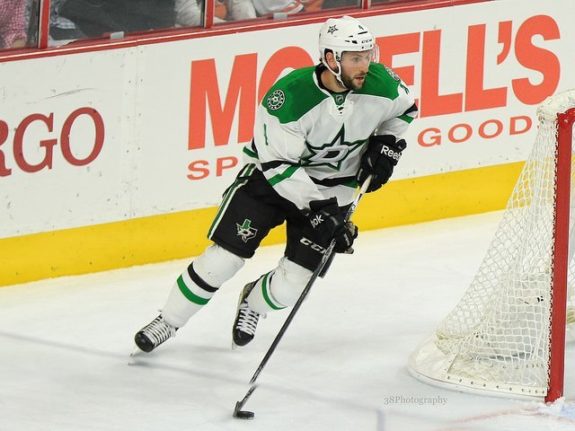 Will Injury Cost Demers Money?
Could they make a pitch for a pair of restricted free agents such as Anaheim Ducks blueliner Sami Vatanen or the Jets Jacob Trouba? Of course and while either would surely help improve the Oilers backend in the immediate future and certainly over the long haul, neither one is likely ready to step in and take on the sort of responsibility and minutes that Todd McLellan will be looking to give to whoever the organization decides to bring in prior to the start of the 2016-17 campaign. Which is what makes Demers such an intriguing option and one that would not cost any assets to acquire….outside of money from Daryl Katz' pocket and potential long-term cap space.
[Related Article: Sami Vatanen, Jordan Eberle and the Edmonton Oilers]
By the time free agency hits, the former seventh-round pick of the San Jose Sharks will have just celebrated his 28th birthday and about to enter the back half of his "prime" years as an NHL player. While no player wants to head into unrestricted free agency on the heels of a serious injury, that is the situation Demers now finds himself in. However, his age, handedness, versatility and ability to transition the puck up ice puts him in a select group and one that teams generally tend to throw big money and a ton of term at.
https://twitter.com/DKingBH/status/707675436764041217
Again, the thought of the Edmonton Oilers targeting Jason Demers on July 1st is nothing new. It has previously been mentioned in this very spot, as well as many others over the past few months. There is no arguing the fit but with a serious shoulder injury now on the books, Peter Chiarelli may not be in such a hurry to offer up the kind of deal that will be required to have the Quebec native sign on the dotted line.
Can't get enough hockey? Want to talk about it with our writers, and fellow fans? Join The Hockey Writers Group on Facebook today for the best hockey conversations on the web!