Of all the Edmonton Oilers trade rumours that have bounced around social media over the past few months, the one which seemed most plausible involved Jordan Eberle and Anaheim Ducks defenceman Sami Vatanen. While no one should have been expecting such a move to happen prior to the NHL Trade Deadline, the opportunity for a potential swap did appear to make sense for both sides. Though upon further examination, that may not necessarily be the case.
https://twitter.com/thewildman111/status/704119663932936192
From the standpoint of an organizational "wish-list", acquiring a player with Eberle's finishing abilities and skill-set would likely be an option general manager Bob Murray would seriously consider. Anaheim certainly has the room under the salary cap, both now and in the immediate future, to bring in a player with a $6 million price tag. However, the idea of using those funds on a complimentary piece may not exactly be how the 61-year old Kingston native envisioned doing his business.
Ducks Have Plenty of Options
While the Ducks lineup would benefit greatly from adding a player like Eberle, at that ticket it may not exactly be the wisest of decisions. As of this moment, the trio of Ryan Getzlaf, Ryan Kesler and Corey Perry are slated to eat up roughly $24 million in cap space and earn just over $27 million in real money for the upcoming 2016-17 campaign. Dropping another high-priced forward into that mix, for the next three years and on a team that tries its best to run on a "self-imposed" cap number whenever possible, just doesn't seem to add up.
[Related Article: Would Oilers Trade Jordan Eberle and Taylor Hall?]
With fellow blueliner Hampus Lindholm set to join Vatanen on the restricted free agent market at the end of this season, would it not make far more sense for Anaheim to get the pair signed and have them join Cam Fowler, Simon Despres and Josh Manson on a ridiculously young and talented backend? In my mind, going that route and re-signing a guy like David Perron or a replacement via free agency and moving one or two of Kevin Bieksa($4M), Andrew Cogliano ($3M) or Clayton Stoner ($3.25M) to create cap space would be the much smarter way to go.
According to an NHL source, Sami Vatanen wants a 6-yr deal worth $6 mill per. Ducks not doing that now and are listening to trade offers.

— MurphysLaw74 (@MurphysLaw74) February 28, 2016
Problem being, if the rumour of Vatanen wanting a six-year extension that would pay him $6 million a season have any legs, that could prove to be rather tricky. Though to be perfectly honest, if Anaheim wants to play hardball with both Vatanen and Lindholm and not offer them long-term deals, there is little either one can do about it. Could it cost the Ducks in the long run? Perhaps but it would also allow the organization the opportunity to determine exactly which of these young defencemen, not mention youngsters Jacob Larsson, Brandon Montour and Shea Theodore, that they want to move forward with.  Lord knows, if the players continue to deliver, their value will only continue to rise.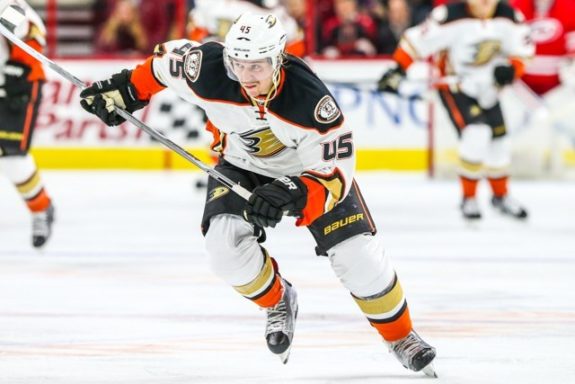 Vatanen Has All the Tools But…
As far as the Oilers are concerned, bringing in a player with the talented Finn's ability to both transition the puck up ice and quarterback a power play would be an absolute godsend. In fact, one could argue the 24-year old is the exact sort of player this team needs to add to its backend. Unfortunately, he is not a top pairing defenceman and has his limitations in his own end of the rink. Hence, making his contract demands a potential problem down the road and a risk to acquire in a deal for a player who is signed for another three years and produces offence on an annual basis.
[Related Article: Steven Stamkos, Connor McDavid and the Edmonton Oilers]
Now does that mean Peter Chiarelli should not pull the trigger on such a deal? Not at all but it is far from a slam dunk. With Connor McDavid set to make some major money starting in 2018-19 and their plethora of young forwards, whichever ones end up surviving this summer's purge, set to earn serious increases of their own, cap space will become an issue. With that being the case, how exactly would paying a second pairing defenceman a salary somewhere in the neighbourhood of $6 million help ease that situation? Obviously, it doesn't and that is a problem.
Hearing a name I thought I would have heard a lot more often past few days but have not…. until today. Jordan Eberle this is interesting!

— Brian Lawton (@brianlawton9) February 28, 2016
Be it during the final hours of today's NHL Trade Deadline or leading up to this summer's Entry Draft, this franchise is going to have to eventually take that leap of faith and make that move in hopes of improving their roster. As we all know, there are no guarantees and while a potential deal may seem to make perfect sense, it takes two to tango and you can bet no one will be lining up to do the Edmonton Oilers any favours. One thing we can be certain of is this will be an ongoing theme in this neck of woods for the foreseeable future.
Rob Soria is the Author of Connor McDavid: Hockey's Next Great One. He has chronicled the Orange and Blue since creating his Oil Drop blog in 2011 and has also had his writings featured over at HometownHockey.ca and Vavel USA, where he has covered the NHL, MLB and ATP Tour. Rob was born, raised and still resides in Edmonton, Alberta and can be reached via twitter @Oil_Drop.