So we are finally here. It has been nearly six full years since the Edmonton Oilers selected Taylor Hall first overall in the 2010 NHL Entry Draft and after years of doing nothing more than chasing their tail, it appears as though this organization has reached its boiling point. With yet another bottom five finish in the standings a near certainty, you can bet Peter Chiarelli will be moving one or perhaps even two of the "original" core pieces in the off-season.
https://twitter.com/Sun_Tychkowski/status/703028890621444096
While the chances of such a deal being made prior to next week's Trade Deadline are essentially non-existent, it is just a matter of "which one" and not "if" the likes of Jordan Eberle, Taylor Hall and Ryan Nugent-Hopkins will be in a different locale for the 2016-17 campaign. As hard as it might be to stomach just how bad Edmonton has been in recent years, the days of watching management do nothing but tinker with secondary pieces on this roster are about to come to an abrupt end.
Chiarelli Won't Rush Into Decision
After sitting on their hands and wasting the first six years of Hall's career, suffering through the same song and dance with Connor McDavid is simply not an option. Considering the Oilers have two more years to make something happen before shelling out some major dollars to pay this kid, time is of the essence. While patience will still be required with this group, there does appear to finally be a sense of urgency in getting this ship pointed in the right direction.
[Related Article: Should the Edmonton Oilers Trade Nail Yakupov?]
With that in mind, there really is no untouchable on this roster other than the guy wearing No. 97 on his back. Which means if the potential return is good enough to fix what is wrong with this lineup…it is not only the so-called "big three" that could be had. Yes, it is unlikely that Chiarelli moves a Leon Draisaitl, Darnell Nurse or Oscar Kelfbom but at this stage of the game, it is about figuring out what makes sense for both the present and foreseeable future.
Bringing us back to the more likely scenario of Eberle, Hall and/or Nugent-Hopkins being the chips the organization will dangle in hopes of improving the club. The rumours surrounding the possible departures of either Eberle or Nugent-Hopkins have been making the rounds for ages and by the sounds of it, the return may not be what the masses or organization were hoping for. If that turns out to be the case, exploring what once seemed unthinkable may be a path worth going down.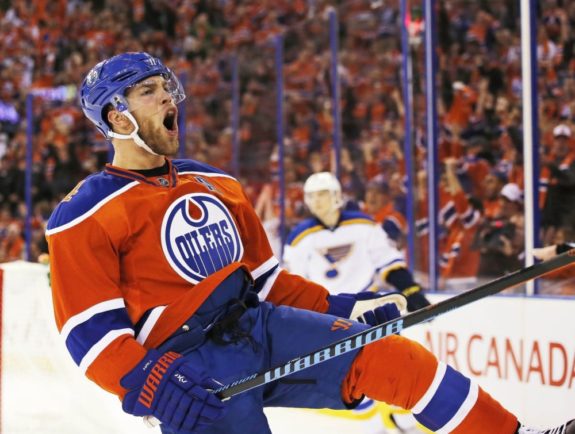 Oilers May Have Little Choice But to Trade Hall
Yes, trading away a player as good as Hall seems ridiculous but if such a move could secure the organization a top pairing defenceman entering the prime years of his career, how do you not seriously look at it? As we all know, Edmonton will not find that player via free agency and developing one will take time…which is a luxury this franchise no longer has. Again, the return would have to be substantial but it would address the one major concern with this lineup.
[Related Article: Oilers Have No Reason to Make Splash at Trade Deadline]
In fact, if Chiarelli was able to pull off such a deal, one could argue moving Eberle for additional help on the backend may make even more sense. While this would certainly change the look of things up front, the Oilers actually do still have options already in place. The one thing fans need to stop going on about is the need for three so-called scoring lines. Guess what, in today's NHL that really doesn't exist.
Having two scoring lines and two more that can hold their own at even strength and chip in some offence from time to time is all you need. With that in mind, does a top six revolving around Draisaitl, McDavid, Nugent-Hopkins, Nail Yakupov and two veteran quality wingers not sound appealing for next season? And that doesn't even take into account Benoit Pouliot and whomever the Oilers select with what will surely be another lottery pick.
Getting McDavid Changed Everything
There is no doubt that removing Eberle and Hall from the equation would create a hole but we already know the general manager will be looking to add size and skill to the forward ranks in the off-season. In my mind, expecting a solid bounce back season from Nugent-Hopkins is not asking much and if McDavid stays healthy, we are talking about a guy who will push for the Art Ross Trophy in his sophomore year. Also, it would give the Oilers three centres inside their top six and Todd McLellan a ton of flexibility…which is something he currently does not have.
Peter Chiarelli's morning-skate message — sellers, only McDavid is untouchable — has made its way to #Oilers fan base…

— Larry Fisher (@LarryFisher_KDC) February 24, 2016
Again, none of this occurs without an impact player being added to the Edmonton Oilers backend. You are not going to trade one of the best wingers in the game for complimentary pieces and spare parts, as Peter Chiarelli did when decided to give Tyler Seguin to the Dallas Stars. Something tells me the former Boston Bruins GM has learned his lesson but expecting him to be gun-shy because of his previous misstep would be a mistake. With that said, for his sake, he had better get it right this time around.