Yesterday was just another run-of-the-mill day for the Edmonton Oilers in 2015-16. Things got started early in the day when Peter Chiarelli felt it was necessary to come out and "officially" declare his club as sellers heading into next Monday's NHL Trade Deadline and came to an end with another uninspiring effort in falling 4-1 to the Ottawa Senators over at Rexall Place. Sandwiched in between were more rumours surrounding the potential trading of Nail Yakupov courtesy of TSN's Darren Dreger and Bob McKenzie.
Insider Trading: Are the Oilers shopping Nail Yakupov? VIDEO: https://t.co/r9zcX3PCGi pic.twitter.com/fSp3neb32P

— TSN (@TSN_Sports) February 23, 2016
While the notion of possibly moving the talented Russian is nothing new, it does appear as though we may have finally reached "decision day" when it comes to the former first overall selection. Barring another team offering Chiarelli a return he simply could not refuse, the chances of the former Boston Bruins general manager shipping the youngster out-of-town by next week's deadline are quite low. With that said, the question that needs to be answered is rather obvious. Simply put, should the Oilers be looking to trade Yakupov prior to the start of the 2016-17 campaign?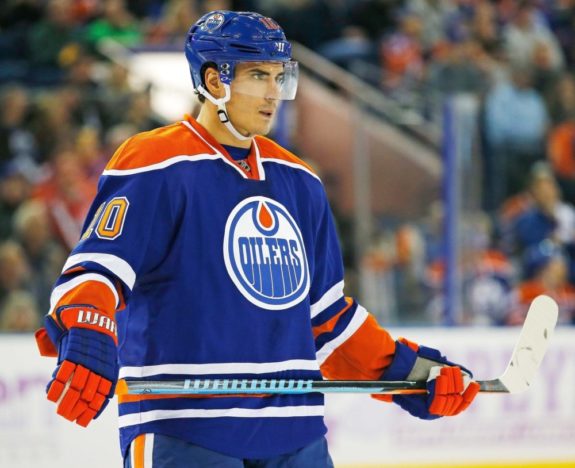 Yakupov's Lack of Production Speaks for Itself
Unfortunately, the answer to that question is not so clear. On the surface, it is obvious the 22-year old has fallen well short of expectation. While some will point to secondary stats to suggest Yakupov is actually enjoying a relatively good season in what is his fourth year in the NHL, those people are doing nothing more than grasping at straws. Let's be honest here. When a team has a one-dimensional player who is proving to be incapable of delivering on his one skill-set, that player can be viewed as nothing other than a disappointment. Sorry but that is not up for debate.
[Related Article: Please, No More P.K. Subban Trade Rumours]
With a grand total of 47 goals and 103 points in 231 career games, Yakupov hasn't exactly hit it out of the park and is actually going backwards from a production standpoint. After posting a .65 PPG clip in his rookie year, he has followed it up with a .38 PPG showing in 2013-14, .41 PPG in 2014-15 and is currently on a pace to finish the year with a .39 PPG. While it is true his development has been hampered by the Oilers coaching carousel, we cannot go back in time and change what has been done.
There is no question Yakupov has not been given the same opportunity as the other high-end picks currently on the roster but to be fair, those players did more with their chances and kept themselves in front of him on the depth chart. So instead of talking about a kid taking a step forward in his career, we are sitting here wondering if the Oilers No. 10 will join the likes of Alexandre Daigle and Patrik Stefan as the biggest flops in NHL Entry Draft history. Can you say disaster?
Nail Yakupov Could Still Flourish
Having said all of that, moving Yakupov out-of-town may not be the answer. If we are talking about a potential return on the asset, Edmonton would not exactly be getting "pennies on the dollar" but they would certainly not get the sort of return one would expect from No. 1 overall pick. While the ship may have sailed on the latter ever occurring, perhaps keeping the fan favourite and his $2.5 million cap hit around and feeding him top six minutes, in hopes he can regain his finishing touch, is the way to go.
https://twitter.com/Sun_Tychkowski/status/702357878980608000
Again, this organization has had a big hand in the failure of both Yakupov and defence Justin Schultz. The lack of confidence both play with is painful to watch but the skill is there. While Schultz is currently in the midst of what will certainly be his final days in an Oilers jersey, the opportunity to salvage Yakupov is real. In my mind, Edmonton cannot ship Teddy Purcell out-of-town soon enough…though it is unlikely he moves prior to Monday.
[Related Article: Oilers Have No Reason to Make Splash at Trade Deadline]
At this stage of the game, perhaps Todd McLellan can make Nail Yakupov a pet project of his over the final month and a half of the season. What can it hurt? In my mind, it can't and it could potentially lead to saving what appeared to be a lost cause. Be it on a line with Connor McDavid and Jordan Eberle, Taylor Hall and Leon Draisaitl or with Ryan Nugent-Hopkins when he returns from injury, the time to give this kid an extended look has arrived. Give him the final 20 games to see what he can do and then decide what road to go down.